Best practices: From the retail store to the DC
Efficiency in the warehouse has traditionally driven the distribution process. Now, some leading retailers are looking at the DC to lower the cost of operating their stores.

Technology in the News
2018 MHI Innovation Award finalists announced
The Overlooked Competitive Advantage: Connected Teams
How Industry 4.0 Design Principles are Shaping the Future of Intralogistics
Supply chain management survey indicates greater pressure on companies to demonstrate sustainability
Other Voices: How a warehouse execution system provides product traceability
More Technology News
Technology Resource
The Overlooked Competitive Advantage: Connected Teams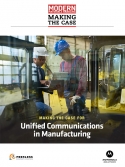 57% of surveyed manufacturers believe they could reduce downtime by 10-30% by unifying their workgroup communications. What does a minute of downtime cost you?
All Resources
By
Bob Trebilcock
·
November 1, 2011
In late September, Macy's announced an initiative to adopt item-level RFID tracking technology in all of its Macy's and Bloomingdale's department stores by the fall of 2013. The idea is to provide Macy's suppliers with real-time information from the store to drive replenishment and distribution processes.
Beyond the adoption of item-level RFID in the retail supply chain, the Macy's initiative represents another emerging trend: Instead of managing a distribution process from the DC to the store, some leading North American and European retailers are driving their distribution processes from the store back to the DC.

Modern has recently published the stories of two retailers who have adopted store-to-DC distribution processes.
• Kroger is building aisle-aligned, store-ready pallets in three distribution centers in Colorado, Arizona and southern California. These mixed SKU pallets are built in the sequence that the product will be placed on the shelf as the worker moves down the aisle.
• Office Depot built a new DC in Pennsylvania that features a goods-to-person order fulfillment system that enables a demand-driven store replenishment strategy. Office Depot is sending its stores one mixed SKU pallet a day that can go straight to the shelf to replenish items recently sold and still in demand.
In these new models, retailers are looking at their distribution processes from the opposite end of the telescope. Instead of designing materials handling systems that produce the lowest cost for handling a pallet or carton in the DC—even if those processes increase the cost of handling the product in the store—these retailers are looking at "the total landed cost to the shelf," says Bryan Jensen, vice president of supply chain consultancy St. Onge.
In some cases, the new approach may actually raise handling costs in the DCs and lower the cost of labor in the store. But, the math works because there are so many more stores than DCs. "Stores represent 75% of the total operating expenses for many retailers," says Brian Sherman, a senior engineer at Witron. "An incremental increase in costs in one warehouse can result in savings across 200 to 300 stores in a region."
The idea also works if a retailer can link store management systems with warehouse management systems (WMS). "We have the ability to track labor costs at the DC and capture labor savings at the store to get a picture of the greater good," says Tom Kozenski, vice president of product marketing for RedPrairie. "To make that case, you need someone at the C-level who understands the greater good. That's not going to resonate with the warehouse manager who is going to see his costs go up."
Everything old is new again
The concept itself is not new, says Jensen. Twenty years ago, he worked for a national toy retailer that designed DC processes to pick everything for an aisle or two in its stores, not unlike what Kroger is doing today. The limitation then was that "there was just too much of a labor premium in the DC to do it economically," Jensen says.
Today, technology has caught up with the concept. "All the things we wanted to do then can be done with less labor because of new automated materials handling technologies," says Jensen. "And, the systems allow us to fold store operations into the distribution flow."
Those technologies include automated storage and retrieval systems (AS/RS), goods-to-person picking systems, robotics and especially sophisticated warehouse management, warehouse control and order fulfillment software systems. They also take a different approach to traditional order fulfillment.
"The systems we're building to do that don't rely on pick faces for every SKU," says Brian Keiger, technology sales leader for Kuka Systems. "Everything is brought out in sequence to build a store-ready mixed SKU pallet or to build a display pallet. What's more, the system can adapt to the hundreds of SKUs being added to the system in the coming years without adding more pick faces."
Kuka Systems, for instance, is working with one grocer to fill orders for frozen, refrigerated and dry goods from one facility with deliveries on one truck. "They will only need a fraction of the employees they would normally need, but those associates have to be more highly educated and technically savvy than the typical warehouse worker," Keiger says.
What do some of those solutions and strategies look like, and what does it take to operate from the store back to the DC? Here are several different approaches.
Direct store delivery
Direct store delivery, or DSD, is a replenishment strategy that bypasses the traditional distribution network of shipping from a manufacturing plant to a retailer's DC and then to the stores. In a DSD system, a product manager working for a manufacturer generates a replenishment order from a retail store using a mobile computer. That order flows directly into a WMS. Orders are picked and loaded onto a route delivery truck in the sequence of the route stops that will be made by the driver. The last product in is the first product out.
"In a DSD model, deliveries bypass a traditional distribution network and go directly to the store," says Chad Collins, vice president of marketing and strategy for HighJump Software.
DSD is most commonly used by retailers of very fast-moving items like food, beverages, snacks and household staples. The kinds of products you find in a grocery store, a convenience store or certain aisles in a pharmacy or big box retailer.
The benefit to the retailer is the speed of replenishment. "Direct store replenishment is very quick and it's very accurate," says Lora Cecere, an analyst and partner with the Altimeter Group.
How quick? "With direct store delivery," says Cecere, "the demand data moves as much as five times faster than in a traditional distribution environment."
There are three DSD models, according to Cecere:
One-step: The product manager replenishes a cooler with product that is already on his truck. This is common with highly perishable products such as milk. The time between identifying a need and replenishing a store, known as a latency period, is a day or less.

Two-step: A product manager sends an order to a WMS and a route truck driver delivers the merchandise and stocks the shelves. The latency period is a little more than two days.
Three-step: A product manager sends an order to a WMS and the product is delivered to the back room of a retail store. After the delivery, a manufacturer's rep will come in and merchandise the store. The latency period in that model is 3.5 days.
Store- and aisle-friendly pallets
All retailers talk about smaller and more frequent deliveries. Instead of shipping large deliveries to a store several times a month, retailers want to receive deliveries once or twice a week. In a store-to- the-DC model, retailers are receiving deliveries as frequently as once a day. Think of these as store-friendly pallets because they go directly from the truck to the selling floor rather than a stock room.
"When you're shipping every day, you're giving a store what it needs rather than putting excess volume in the back," says Witron's Sherman. Shipping just what a store needs also eliminates the double handling that comes from unloading a portion of a pallet on a shelf and then wheeling it back into the stock room.
While store-friendly is an improvement over traditional retail distribution, there are still inefficiencies if the pallets aren't built with the layout of the store in mind. "There are stores where an associate has to go back and forth to 10 or 12 aisles to put the product away because there was no rhyme or reason to how the pallets were built," Sherman says.
That's led to the next step, which is to use automation to build aisle-friendly pallets. "The goal is that all of the products on the pallet can be put away in two adjacent aisles," says Sherman.
Aisle-friendly pallets are most commonly found in geographies where stores are close enough to the DC that daily deliveries are still economical despite rising fuel prices.
Companies doing this most effectively, like Kroger, are using automated storage, robotics and software to build aisle-friendly pallets using a minimum of labor. Reserve pallets are stored in an AS/RS to reduce the footprint of the facility. Active SKUs are broken down to case or unit levels and stored in totes in a mini-load AS/RS.
In the most automated examples, the cases or items required to fill an order are dispensed in the right sequence and then built robotically. Since the system automatically determines the next item in the sequence, there's no need for pick faces. "The cranes do the dynamic sequencing," says Sherman.
Getting granular
The next step beyond aisle-friendly pallets is to get more granular than the pallet by building counter- or display-friendly totes. "If you go into a retail store and see a stack of T-shirts or sweaters perfectly aligned with a mix of sizes, you can do that in the store," says Larry Strayhorn, president of TGW Systems. "Or, you can pick orders in a way that an associate in the store can simply open the tote and put the materials directly on the counter in a specific department."
As with aisle-friendly pallets, the ultimate goal is to maximize an associate's selling time. "You don't want that sales person setting up displays on the counter or organizing the product by size on the shelf," says Strayhorn. "You want them available to help the customer."
In this kind of system, which TGW has implemented for an apparel retailer in Europe, point-of-sale information from the stores is turned into a replenishment signal that is sent to a WMS. "The system allows our customer to do replenishment based on demand," says Strayhorn. "They know what items from the new collection they want on the floor and in what sizes because they know from history what's selling." Once the WMS passes the order requirements to a warehouse control system, the WCS sequences the delivery of totes with the right material to a work station in a goods-to-person fulfillment system. A smaller vertical buffer system is installed in front of the workstation: If a tote is delivered out of sequence, it goes into the vertical buffer until it is ready to be picked.
According to Strayhorn, these types of solutions illustrate not just a new way of thinking about distribution strategies, but also an evolution in how automated storage technology is being used. "To get the sequence right is sophisticated and challenging," he says. "In this kind of setting, the AS/RS is a tool for logistics. Instead of just storage, it's being used for buffering and sequencing."

March 31, 2016
About the Author
Bob Trebilcock Bob Trebilcock, editorial director, has covered materials handling, technology, logistics and supply chain topics for nearly 30 years. In addition to Supply Chain Management Review, he is also Executive Editor of Modern Materials Handling. A graduate of Bowling Green State University, Trebilcock lives in Keene, NH. He can be reached at 603-357-0484.
Subscribe to Modern Materials Handling Magazine!
Subscribe today. It's FREE!
Find out what the world's most innovative companies are doing to improve productivity in their plants and distribution centers.
Start your FREE subscription today!
Latest Whitepaper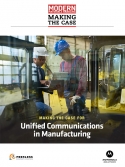 The Overlooked Competitive Advantage: Connected Teams
57% of surveyed manufacturers believe they could reduce downtime by 10-30% by unifying their workgroup communications. What does a minute of downtime cost you?
Download Today!
From the January 2018 Modern Materials Handling Issue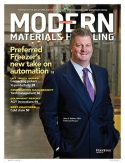 Lift Truck Series Part 1: Lift truck technology connects pickers to productivity
Breaking Through On Yard Visibility
View More From this Issue
Latest Webcast
Emerging Technologies for Your Distribution Center
Come get an insider's view of the latest technologies for inside your Distribution Center. You'll learn which technologies are being piloted, which are having success and moving from concept to implementation and into production on the maturity scale, and what's coming on the horizon.
Register Today!