Cold storage: Planning for unpredictability
Amid demands for innovation and customer service, public refrigerated warehouses are challenged to provide flexibility and efficiency for a fickle customer base.

Josh Bond, Senior Editor
·
June 1, 2013
The challenges of refrigerated spaces are amplified versions of those faced by dry goods facilities. Associates are exposed to the harshest conditions in the materials handling industry. The cost of operating a refrigerated warehouse makes the hunt for efficiencies even more critical. And, the concept of product traceability is subject to the legal repercussions of an ever-stricter regulatory landscape.
In recent years, more and more manufacturers have looked to outsource their cold storage to third-party logistics (3PL) providers in an effort to separate themselves from these concerns. Similarly, refrigerated 3PLs have seen significant consolidation as those with successful strategies swallow up those without. This has been good for 3PLs, but the increased level of competition means customers will gladly take their business elsewhere at the promise of a dollar's savings. While many customers will leave a 3PL on a dime in pursuit of a nickel, price only ranked fifth most important to customers in a recent survey by Gartner Research. Most important was customer service, while innovation ranked third.
For decades, public refrigerated warehouses simply needed to do three things very well, says Joe Couto, senior vice president and general manager for Accellos, which serves 14 of the 25 largest refrigerated warehouses in North America. "The basic needs were to receive inventory well, manage the inventory well, and ship it accurately and timely, but you didn't have many fancy capabilities beyond lot and cold chain management control," he says. "It was mostly pallet-in, pallet-out, and it was a simple business."
New challenges
The modern cold storage challenge centers on the transition from simple pallet-in, pallet-out operations to increased case handling, value-added services and meeting the various demands of customers and their clients.
"There's an increase in outsourcing, but not just in storage and distribution," says Corey Rosenbusch, vice president at the Global Cold Chain Alliance and president of the International Association of Refrigerated Warehouses (IARW). "Our members are also asked to provide value-added services, whether it's repack operations, actual manufacturing or consolidation."
The combined pressures of labor needs, efficient operations, and unstable customer base have put cold 3PLs in a tough spot. If they innovate, automate and update, there's no guarantee the customer will stay with them long enough for those investments to prove worthwhile. If they don't, there's an even better chance they will lose business. Refrigerated warehouses, much like dry goods facilities in the face of the multi-channel boom, are working to turn a fickle customer base into long-term partners.
To do that, the fundamental business models of cold storage are up for grabs. The concept of "one size fits all" facilities is becoming untenable in many cases, as purpose-built, specialized facilities work to target specific customers, products and service requirements. Again, the challenge to this approach is the permanence of customer tenants. "There might be a 3PL who says, 'I can do better than that with a customized, modern facility, but I'll need you to sign a 10-year agreement.' That idea is startling to most customers, but if the numbers are there, they'll sign," says Carlos Oliver, president of Frazier Industrial Company. "But they won't sign for a conventional solution."
Cutting costs
Customers (the manufacturers with product to sell) have cold storage 3PLs over the barrel. As customers' clients (the retail entities that sell a manufacturer's frozen goods) demand increased services in terms of pallet building and traceability, the customer increasingly passes the cost for these services to the 3PL.
"For a long time, while people were working to outsource cold storage, the competition was not as high as dry goods storage," says Oliver. "But in the last five years, there's been much more competition, there's less capacity available, and the same people are competing for smarter customers. A lot of 3PLs haven't changed their mode of operation for 30 years because they have not been inclined to design a custom solution in the face of that volatility and the potential for the customer to leave."
For example, 20 or 25 years ago, the customer would tell the 3PL which lot to ship, and then the customers left it to the 3PL to figure out which one was the oldest based on date of production, lot number or first-in, first-out, says Couto. Now, if one retailer asks for a 90-day shelf life and another wants 100-day shelf life, the 3PL needs to be ready for that. If shipping direct to a store, not only do they have to assemble a perfect order, many stores have specific requirements in terms of pallet height or pallet type for a 3PL to ship on. "Now the customer's clients and their rules are in the mix," says Couto. "The 3PL's capability needs to be greater, and the complexity gets higher and higher, but the customer will probably not want to pay more."
With the level of competition, the 3PL's choices are to provide the service or lose the business. "There's real pressure on rates right now, based on manufacturers' desire to reduce landed cost to the consumer," says Rosenbusch, who says 3PLs are looking for efficiencies with technologies, with many pushing to ensure they have a robust warehouse management system (WMS) in place. In addition to facilitating more product visibility and USDA inspector-friendly facility layouts, a WMS can also address the goal of customer retention.
"We're over the peak where most cold storage companies have a good baseline WMS in place. Now we're trying to get past the challenge of multi-level product handling that the client base is demanding. They need to handle a pallet, break it down, pick eaches, pack it all back up, and get it to the store. I see that as a big struggle," says Jeff Hedges, president of OPEX Corporation. "But if you can offer a WMS the client can somehow interface directly to, you can develop a bond with the customer and it might be harder for them to shop around for alternatives."
Balancing labor and automation
Assuming customers will always come and go, the question of cube optimization in refrigerated spaces is somewhat relative. With the occasional rapid influx or exodus of stock keeping units (SKUs), customer acquisition and departure can severely undermine a 3PL's efforts to optimize storage space and processes. This challenge is most pronounced in the evaluation of automation technologies, which work best in more predictable environments.
The case for automation is made stronger by the difficulty of manual labor in cold conditions. High turnover, frequent breaks, more frequent battery changes and lower productivity all point toward automation. But with the volatility of SKU profiles and increased demand for value-added services requiring manual labor, how can automation expenses be justified?
A big lesson in terms of automation that is unique to cold storage is the need for flexibility, says Todd Hunter, strategic account manager for Dematic. "Most manufacturing and distribution systems we develop can be shaped around a snapshot of the operation. But with cold storage, they might have some good consistency with maybe 50% of what they're handling, and the rest is under contracts six months long. That makes a lot of automation difficult to justify."
The kind of automation that is successful, says Hunter, targets the consistent part, whether that is a particular package type or a long-term customer. "The evolution of these facilities began as 'I've got a space, it's cold, and I have to put things in it.' Now it's about putting things in there intelligently," says Hunter. "I can't take one approach and expect it will meet all my needs. All automation won't work, and all labor won't keep you competitive."
In some cases, automation is being used not to replace labor, but to decouple it from the necessity of working in a sub-zero environment. Dan Labell, president of Westfalia Technologies, offers the example of automation being used to deliver product from a freezer to a warmer environment for picking.
Jon Schumacher, director of marketing for Rite-Hite Doors, suggests he has seen this trend bear out in the types of doors installed between cold and ambient areas. "We are seeing more conveyor doors for freezer applications than ever before, from next to none 10 years ago to a few hundred last year," he says. "If you're opening a 3 x 4- foot door instead of an 8 x14-foot one, that's a big savings opportunity."
A pick tunnel located in the freezer is another alternative, which might be coupled with automated dynamic slotting or static slotting for fast movers. "I see order picking in a 3PL cold storage environment remaining mostly manual, but becoming as ergonomic as possible," says Labell. "Routing product to a warmer 'flex space' whenever possible might be ideal. The pick tunnel is also flex space, and a customer might pick in one, the other or both depending on need."
Purpose-built
3PL companies are increasingly entertaining the idea of constructing purpose-built buildings around a specific function, such as case handling and picking, then looking at customers to fill it, says Hedges. Or, they will approach a few customers with a proposal for a long-term commitment in something automated or otherwise purpose-built.
"Cold storage companies have tried to define themselves by being one-stop shopping for everyone, and that's becoming more difficult," says Hedges.
The model is now changing to one centered around specializations. When a facility needs to only perform one task or a small assortment of tasks very well, it might work to justify automation. With automation, a customer might find efficiencies that save money for all involved. With better rates for a targeted service, that provider might find customers more inclined to stick around for the long term.
"For the longest time, they've all had their select customer niche, but to acquire new customers, they are looking at driving cost out with automation, efficiency and product accessibility," says Frazier's Oliver.
The core concept here is to break out specific products by commonality and consistency and build a materials handling system around them. "Instead of building the facility to suit all products, build it to suit some of them very well," says Hedges, "and bring products to the facility where it makes the most sense to handle them."
With facilities performing specialized roles in the cold chain, the flow of product from factory to consumer is also changing shape. Some 3PLs are consolidating distribution centers to bundle services for multiple 3PL customers, says Labell. He sees things heading toward more 4PL consolidation, as "mega-centers" leverage their size for efficiencies. "This massive center receives truckloads of products from other 3PLs. This would reverse the trend of adding order selection and picking to the 3PL world because these facilities would handle it in the mega-center," explains Labell. "That's a model that is going to gain traction in the next 20 years."
From the front lines
Larry Rauch, president of Los Angeles Cold Storage, an IARW member that helps customers distribute across 48 states, says the transformation in cold storage means 3PLs are not just warehouse companies, they are logistics providers. He echoes the issue of long-term customer retention, saying information technology has played a role in combating that trend.
"We're giving the customer access and the ability to run reports themselves and track inventory closely in real time," says Rauch. "There's been a significant movement in the last few years toward that. You hope that by offering your customers a variety of services, including the technology, they will be more inclined to stay."
Inspection and traceability, grouped together, is a trend that is increasingly costly, says Rauch. "It's being asked of us by both governments and customers," he says. "It's something we'll be increasingly struggling with, and costs will be transferred to customers. You can make the case that some of those requirements will create better companies, but some will not translate into more efficient companies."
Dematic's Hunter agrees, and says advancement among cold storage 3PLs happens on a relative basis. "If someone develops some cost-saving strategies, everyone else is compelled to follow," says Hunter. "The cold storage industry has been content, but they are being forced by competitors to innovate."
The refrigerated warehouse landscape in the United States
Occupancy for North American International Association of Refrigerated Warehouses (IARW) members averaged 79.19% during the second half of 2012, a decrease from the occupancy rate of 84.73% reported in the first half of 2012, but comparable to the 77.9% for the same period in 2011.
Each year, the IARW releases a list of Top 25 North American and Top 25 Global public (3PL) refrigerated warehouses. According to the USDA's latest report, the U.S. members of the North American Top 25 list represent 2.59 billion cubic feet, which is 65% of gross refrigerated capacity and 85% of public refrigerated warehouse space in the U.S.
IARW's total U.S. membership is 2.9 billion cubic feet, which is 96% of public refrigerated capacity in the U.S. and 73% of U.S. gross refrigerated capacity.
Companies mentioned in this article
Frazier Industrial Company: frazier.com
Dematic: dematic.com
International Association of Refrigerated Warehouses: gcca.org
Accellos: accellos.com
Rite-Hite: ritehite.com
Los Angeles Cold Storage: lacold.com
Westfalia: westfaliausa.com
OPEX Corporation: opex.com

June 1, 2013
About the Author
Josh Bond, Senior Editor Josh Bond is Senior Editor for Modern, and was formerly Modern's lift truck columnist and associate editor. He has a degree in Journalism from Keene State College and has studied business management at Franklin Pierce University.
Subscribe to Modern Materials Handling Magazine!
Subscribe today. It's FREE!
Find out what the world's most innovative companies are doing to improve productivity in their plants and distribution centers.
Start your FREE subscription today!
Latest Whitepaper
Corrugated Boxes Deliver for E-Commerce
Corrugated box can and should be thought of as one of the key technologies for e-commerce-era fulfillment.
Download Today!
From the January 2018 Modern Materials Handling Issue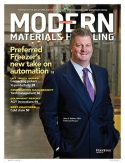 Lift Truck Series Part 1: Lift truck technology connects pickers to productivity
Breaking Through On Yard Visibility
View More From this Issue
Latest Webcast
Emerging Technologies for Your Distribution Center
Come get an insider's view of the latest technologies for inside your Distribution Center. You'll learn which technologies are being piloted, which are having success and moving from concept to implementation and into production on the maturity scale, and what's coming on the horizon.
Register Today!