Equipment Report: Sorting it all out
New distribution requirements are driving dramatic changes in the way end users deploy conveyor and sortation systems. Here are a few of the most important trends impacting on today's systems.

Bob Trebilcock
·
February 1, 2013
Not so long ago, the number of miles of conveyor in a warehouse or distribution center was a badge of honor. You had to be doing something right if you installed 7 miles of conveyor and your competitor only had 5 miles.
Last year's survey of Modern's readers' plans for conveyor and sortation revealed a change in that dynamic. After several annual surveys that indicated growth in conveyor purchases, readers said that they planned to purchase less conveyor in 2012 than in 2011.
While those findings surprised us, the reduced spending plans made perfect sense to many systems integrators. That's because changing requirements and market forces are driving significant investments in automation. However, many of those solutions operate with lean conveyor and sortation systems. Take this month's cover story on Wet Seal: The fast fashion retailer installed three bomb bay sorters capable of servicing 750 stores with a total of 30,000 sorts per hour in just 70,000 square feet with room to grow.
What will conveyor and sortation systems look like in the coming years? Here's what seven leading suppliers had to say.
Beumer Group: Meeting the multi-channel challenge
Multi-channel order fulfillment is today's order fulfillment buzzword. Retailers and wholesale distributors are struggling to fill online orders, replenish stores and ship large wholesale orders from the same facility. "The trend is to find a single piece of sortation equipment that allows a company to handle e-commerce and store replenishment in the same facility," says John Sarineck, chief sales officer for Beumer Group. "The sorter can provide the flexibility to commingle inventory for both of those sales channels."
That requirement is leading to more tilt tray and cross-belt sortation systems that deliver cartons or individual items to a packing station. The sorter doesn't care whether the item is for a store or an individual consumer. The advantage is tilting toward cross-belt units. "When you require volumes of 15,000 units per hour, a cross-belt sorter is more accurate, can service more destinations and operate at higher speeds than other types of equipment," says Sarineck.
Those systems are also capturing more operational data than in the past. "We are designing systems that speak to operational management so they understand how they are operating," Sarineck says. "A system designed for 15,000 units might only be sorting 10,000 units. There could be a problem with the system. Or, items may be recirculating because half of the chutes are full. We're reporting the statistical information that will allow an operator to pinpoint the bottlenecks in their operations."
Dematic: Less is more
"We have done more each picking in the last two years than we have ever done," says Mike Khodl, vice president of solutions development for Dematic. "That trend alone is driving a different system design and reducing the lineal feet of conveyor in the warehouse."
As Khodl points out, it's not just the demand for each picking that is driving smaller conveyor and sortation systems. Network design is also playing a role. Rather than build a million square foot distribution center in a rural area, today's retailers and e-tailers want to create distribution networks close to major metropolitan areas to lower their transportation costs and increase their service levels. "If I want to provide same-day service to New York, I'm not going to build a DC in Virginia," Khodl says. "I'm going to build in the Northeast where space is a constraint and land is expensive. Instead of a million square feet, I'm going to put up 500,000 square feet."
That has led to more mini-load AS/RS and shuttles. In those solutions, automated storage technology takes on the role of buffer that was previously filled by accumulation conveyor. The storage technology also sequences delivery of product to a workstation much like a sorter did in the past. Finally, the workstations themselves are more compact. "I can route product to a goods-to-person workstation with 20 feet of conveyor rather than 60 to 80 feet of conveyor," says Khodl. "It's changed the way we've designed the whole front end of a workstation."
Hytrol: Conveying non-conveyables
Customers are attempting to automate the handling of non-conveyables that are manually sorted and handled because of their size, weight or shape, says Boyce Bonham, director of integrated systems and controls for Hytrol Conveyor Co. "They can't convey them all," Bonham says. "But they're trying to get a larger percentage."
Bonham attributes the trend to two, intertwined pressures: despite a high unemployment rate, distribution centers are struggling to maintain dependable workers; once a company makes the decision to automate, they want to get a better ROI by using the equipment across a wide range of product.
That mix of products may include large, bulky items. Hytrol, for instance, designed a system to handle post driving mauls for a customer selling tools, and large rolls of aluminum foil and waxed paper for a restaurant supplier. But it also involves handling more small and bagged items that may not convey or sort easily.
"What we find is that we're using more belt conveyor than in the past and we might be using more shoe sorters than wheel sorters," says Bonham. "More importantly, we're doing more testing up front to establish a new norm for what is defined as conveyable."
Intelligrated: It's better to be smart than fast
Not so long ago, conveyor and sortation companies touted speeds and feeds—how many pieces could be inducted onto a conveyor or sorter and how fast the line moved. Today, the focus is on accomplishing the same amount of work, or more, at slower speeds.
The difference? Software has made the equipment smarter, not faster, says Chris Arnold, vice president of operations and solutions development for Intelligrated. "Software allows us to make more strategic decisions about how we drop orders to the floor," says Arnold. "It also allows us to close the gaps on a conveyor and sortation system."
The latter is the easiest to explain. Thanks to software-driven controls that make decisions in milliseconds, conveyors and sorters alike can operate with gaps between cartons as short as a few inches. That allows for shorter conveyor systems. What's more, precise sortation technologies can more accurately hit smaller destination locations. "You can have closer on-center chutes, which allows for more sort destinations per lineal foot," says Arnold.
Smarter systems also optimize picking. A system operator might leverage the software for a postponement strategy: that allows a facility to put orders received early in the morning aside until it receives enough like orders that can be put on the same truck. Or, the system can drop single-line orders into a wave of multi-line orders that will be picked in the same area. "Rather than release a wave of single-line orders, I can look across my facility to see where I have available capacity and work the single-line orders in with others," says Arnold.
Knapp Logistics Automation: Sortation in the pocket
The pocket sorter is a new sortation technology developed for the unique characteristics of the fashion industry. "It's fast, flexible and accurate," says Josef Mentzer, CEO of Knapp Logistics Automation. "It's allowing us to address market drivers that have always been there, but do them better than we could just a few years ago."
Anyone who has walked through the clothing department of a retail store knows that fashion includes clothing items and accessories, such as belts, bags, watches, scarves and jewelry. Flat garments are best handled with one type of technology, while accessories are handled by another. If a retailer is shipping full or mixed cartons for store replenishment, that doesn't create an issue. E-commerce, where a customer may order clothing and accessories together, is another matter. That's where the pocket sorter comes into play.
In this kind of order fulfillment solution, accessories are delivered to a picking station in totes from a storage system such as a mini-load AS/RS or a shuttle. Apparel is delivered by the pocket sorter. The garments are placed into pockets that are engineered to automatically open or close at a workstation. The pockets are imprinted with RFID tags that are tracked by the system and then hung on a horizontal track similar to what you would see in a dry cleaner. The pockets are then delivered to the picking station in the same sequence as the accessories required for an order. "We can achieve sorting performance of up to 6,000 articles per hour," says Mentzer. "And, it's very space efficient."
Witron: Let's eliminate sortation
"I have never been a fan of conveyor and sortation systems," says Brian Sherman, vice president of sales and engineering for Witron. "Yet everyone needs some way of transporting and sorting products to the shipping dock."
Witron replaces a conventional conveyor and shipping sorter with a space efficient mini-load AS/RS that acts as an order consolidation buffer. Depending on how quickly a facility can turn a trailer, the mini-load can be as small as one aisle and hold just a few hours worth of totes.
In this solution, totes or containers that are ready to ship are conveyed to the dock and stored in the mini-load. That minimizes the amount of conveyor and sortation required to move from picking to shipping. It also reduces the amount of space required for staging loads. When a trailer arrives, the totes for that shipment are pulled from storage and sent to the trailer in the right sequence for loading. "With this approach, you eliminate accumulation conveyor," says Sherman. "And, while you may still need a sorter to divert cartons to more than one dock, you can reduce the size required for the sorter."
Wynright: A new central nervous system for distribution
Like others, Kevin Ambrose, CEO of Wynright, sees new distribution models driven by multi-channel distribution as the most important development impacting distribution. Down at the equipment level, this trend is having a significant impact on conveyors and sortation systems.
"In a traditional distribution fulfillment engine, the conveyor and sortation system is the central nervous system and the circulatory system," Ambrose says. "How items were picked and how things were oriented around the dock were designed around the conveyor and sortation system."
The result was massive systems with numerous lanes coming off of them.
Today, the conveyor system is still the circulatory system that routes cartons and items through a facility. "But the central nervous system, the brains of the system, is being replaced by automated storage and retrieval systems," Ambrose says. "Automated cranes and shuttles are dictating the pace, flow and sequence of how things happen in the facility. The conveyor is transporting things from one point to another."
In addition to storage, automated storage systems are providing the space to temporarily buffer cartons and totes and then sequence them to where they're needed. That role used to be handled by conveyor systems.
One important off-shoot of this approach is the use of more motor-driven roller (MDR) conveyor that is only engaged when there is product to move. "Originally, the motivation to use MDR was reduced energy consumption and sustainability," says Ambrose. "Now, it's the modularity and configurability. It's easy to add or reconfigure MDR conveyor if your needs change. Cutting out a section of belt conveyor, on the other hand, is not a simple thing to do."
Companies mentioned in this article
Beumer, http://www.beumergroup.com
Dematic, http://www.dematic.com
Hytrol Conveyor Co., http://www.hytrol.com
Intelligrated, http://www.intelligrated.com
Knapp Logistics Automation, http://www.knapp.com
Witron, http://www.witron.com
Wynright, http://www.wynright.com

February 1, 2013
About the Author
Bob Trebilcock Bob Trebilcock, editorial director, has covered materials handling, technology, logistics and supply chain topics for nearly 30 years. In addition to Supply Chain Management Review, he is also Executive Editor of Modern Materials Handling. A graduate of Bowling Green State University, Trebilcock lives in Keene, NH. He can be reached at 603-357-0484.
Subscribe to Modern Materials Handling Magazine!
Subscribe today. It's FREE!
Find out what the world's most innovative companies are doing to improve productivity in their plants and distribution centers.
Start your FREE subscription today!
Latest Whitepaper
How Industry 4.0 Design Principles are Shaping the Future of Intralogistics
Industry 4.0 is changing how we interact with machines and how those machines interact with each other.
Download Today!
From the January 2018 Modern Materials Handling Issue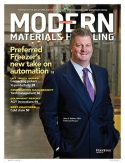 Lift Truck Series Part 1: Lift truck technology connects pickers to productivity
Breaking Through On Yard Visibility
View More From this Issue
Latest Webcast
Emerging Technologies for Your Distribution Center
Come get an insider's view of the latest technologies for inside your Distribution Center. You'll learn which technologies are being piloted, which are having success and moving from concept to implementation and into production on the maturity scale, and what's coming on the horizon.
Register Today!