Fastenal's focus on the nuts and bolts of distribution
The industrial fastener distributor turned to automated storage and retrieval to increase the number of SKUs it offers customers and better serve a network of distribution centers.

Bob Trebilcock
·
May 26, 2011
Fastenal, Indianapolis, Indiana
Size: 530,000 sq ft
Products: Industrial fasteners
Stock keeping units: 163,000
Throughput: 28,000 packages per day
Mini-load AS/RS: 126,000 tote locations
Unit load AS/RS: 52,000 pallet locations
Shifts: 2 shifts, 5 days
Employees: 482 including 126 full-time
Shifts: 4 shifts, 6 days a week
Mention nuts and bolts, and most people think about taking care of the basics. Fastenal has built its business around nuts and bolts, distributing industrial fasteners to original equipment manufacturers, maintenance and repair operations and contractors around the country for more than 40 years.
But the companies real focus is on the basics – the nuts and bolts – of customer service. That's why the Winona, Minnesota-based distributor has been taking care of the nuts and bolts of distribution, using automated materials handling technologies to transform its 530,000 sq ft Great Lakes Distribution Center in Indianapolis from a regional DC serving 275 stores to a master DC that stocks 163,000 stock keeping units (SKUs) to replenish the company's 13 other distribution centers around the country. That's a five-fold increase in the number of SKUs managed by the facility in just three years.
"A few years ago, we changed our business model to put the focus on offering more parts in stock to service our customers," says Walter Tater, Fastenal's manager of distribution development. "The emphasis is to have the product ready when our customers need it." To do that, the company needed to create a new distribution strategy to support its business model.
To accommodate that growth, Fastenal added two different types of automated storage and retrieval technology (AS/RS):
At the heart of the system is a goods-to-the-person picking system that includes a mini-load AS/RS (TGW Systems, http://www.tgw-group.com) with 126,000 tote locations. The mini-load delivers totes to workstations where operators do the order selecting.
Fastenal also installed a 13-crane unit load AS/RS with 52,000 pallet locations.
The benefits: By using the mini-load to store and retrieve totes, Fastenal has reduced the number of times it touches a product in the distribution center from as many as 12 to as few as two. In addition, delivering totes to order selectors at an ergonomic height has cut down on the amount of travel time in the DC, reduced injuries and improved morale. Employee turnover is on the decline.
Together, the new technologies enable the company to process about 28,000 packages per day, picking from as many as 100,000 unique SKUs each month, with room to grow. "When we look at our growth plans, using high density storage will allow us to get half a million storage locations in a building that wouldn't accommodate 160,000 with conventional technologies," says Tate. "The density is huge for us."
40 plus years of growth
"Growth through customer service" has been Fastenal's motto almost since it's founding in 1967 by Bob Kierlin. The company's beginnings were as humble as Kierlin's product: according to company history, the front desk in the first store was a salvaged wood door, with furnishings described as early Salvation Army. The first month's take was a modest $157.
Fastenal distinguished itself early by staying close to its customer. While many of its competitors developed as catalog houses, Fastenal built its business on a network of industrial supply stores that provide local service and immediate product availability. "The original idea behind the company was to produce vending machines to dispense fasteners," recalls Terry Hanley, a regional distribution manager. "We found out there were quite a few items in the industrial sales market that don't fit in a vending machine. That's when we turned to a branch-based business, locating store fronts and wholesale and retail operations in town."
The company also adopted a rapid growth strategy, reinvesting its cash in the business and adding 30% more stores each year. Today, Fastenal has 2,357 store locations across 18 regions of the country. Store managers are visible in the communities they serve and decide what inventory they will carry in their stores. "Our people live in the community, they know their customers first hand and they support them with local inventory," says Hanley. "That helps us keep customers. It's a lot easier to say no to a catalog than to someone living in your community."
That concept has driven Fastenal's distribution strategy, which also has a focus on getting the right product at the right time to the customer. While many companies outsource their transportation to third parties, Fastenal operates its own fleet of 5,000 semi trailers, and vans and pickup trucks for delivery to customers. Stores are supported by 14 distribution centers that average about 125,000 sq ft and typically carry the 20,000 or so SKUs that are most commonly ordered by customers of the stores served by that DC.
"We have developed two or three distribution center models," says Tate. "One is for smaller, manual distribution centers. As a business unit grows over a five- or ten-year period, we move into a bigger facility. As growth continues, we add automation as economies of scale dictate." Tate adds that he begins to consider automation once a facility is processing 200,000 to 250,000 requests a year.
A new strategy, a new DC
After a time, even rapidly growing companies need to find new ways to generate additional sales. Three years ago, Fastenal began to investigate ways to grow the business at its existing stores. Back then, the company was purchasing or manufacturing about 32,000 SKUs. The next step was to add products that would complement the products it was already selling: instead of just selling nuts and bolts, the company added new items like cutting tools to bore a hole for the belt, ratchets to set a bolt and wrenches to tighten them.
The Great Lakes Distribution Center was chosen as the location for this initiative because at 460,000 sq ft, it was the largest facility in the network. Fastenal brought a purchasing group to Indianapolis to expand the inventory. Within three years, the company was offering 160,000 SKUs, or 5 times the number of products it had previously offered. In addition, the company allows store managers to purchase any piece of inventory they might need to service a customer or to create a new part number to buy something the company has never purchased before. Those additional SKUs began to generate new sales.
Since it was impractical for each DC to stock all the products the company was carrying, Tate and his colleagues designed a new distribution strategy. While the Indianapolis DC would continue to support the 275 stores in the Great Lakes region, it would also serve as a master DC. The facility would purchase and store in product in bulk and then break those pallets down if necessary to replenish other DCs – or ship directly to a store – with product not typically stocked in those regions.
"We can't afford to stock every part in every DC and hope they sell," explains Hanley. "But by utilizing our fleet of semis and by utilizing UPS and FedEx for smaller shipments, we can hit most of the United States in one day."
Bring in automation
The new strategy required a DC makeover of the Indianapolis facility, which until that time was a traditional semi-automated warehouse, using narrow-aisle pallet rack, lift trucks, some conveyor and sortation equipment and RF-directed picking driven by a WMS that was developed internally by Fastenal. "Our traditional way of distribution was not going to support the inventory and throughput we expected with the expansion," says Tate. "We designed the new system that would maximize storage, direct fast, accurate and efficient picking and accommodate our growth strategy."
Space constraints, for instance, led to the selection of the mini-load AS/RS and a 70,000 sq ft expansion for the 13-crane unit load AS/RS. "We started with automated storage because we were going to run out of room," says Tate. "We added the mini-load AS/RS to increase throughput and decrease touches."
By delivering the totes to order selectors who previously walked to picking locations, Fastenal eliminated a significant amount of walking time in the warehouse. In addition, the combination of automated bulk storage and the mini-load has eliminated a significant number of touches to the product, which is not only more efficient, it's more accurate. "In our old system, it was not unusual to touch a product 8 to 12 times from when it came in the door until it went out," says Tate. "Now we handle it when it comes in and the next time we handle it is when we pick it to ship it out the door." In between, all of the handling is executed by automation.
While Fastenal purchased the automated storage systems, the company built its own sortation system and developed its own WMS to serve its unique needs.
An unexpected benefit of the mini-load system and goods-to-the-person picking has been a safer work environment for Fastenal's employees and better morale. "We're now delivering totes to the operator at waist level instead of them picking it from a shelf," says Tate. "Our reportable incidences have been cut in half, and we've seen both a decrease in turnover as well as an increase in the number of people willing to go to work in the warehouse on the first offer."
That latter is especially important to Fastenal's recruitment strategy: Traditionally, the company has hired part-time college students who may transition into Fastenal's sales force or management after graduation. "It's a great way for us to recruit bright young people who have good ideas they can bring to the company," says Hanley. "With the automated system, this is a much more appealing environment for them."
Finally, automation has enabled the Great Lakes Distribution Center to broaden its reach. For one, the facility is now the primary processing point for product imported from overseas; about 60% of imported merchandise will be stored in bulk while the other 40% will be cross-docked upon receipt to the other regional distribution centers or directly to stores. "On any given day, we may cross-dock product to some 30 trucks and trailers and make about 40 transfers of product to other distribution sites," says Tate.
Planning for the future
The initial automation project in Indianapolis is complete. But Fastenal has plans to continue to add automation in the future. For instance, the company has implemented a scaled-down version of the mini-load, with 42,000 tote locations, and a unit load AS/RS, with 14,000 pallet locations, at a regional DC in Dallas, a fast-growing DC that is servicing two regions. "We were sending out 200,000 or more packages a day and had outgrown the facility," says Tate. "The dense storage units will allow us to grow our business without moving from that facility." The company also has plans to create a second master DC in Modesto, California to receiving shipments from Asia and distribute to regional DCs in the west.
Finally, Fastenal is about to add automatic guided vehicles (AGVs) in the receiving and shipping areas in Indianapolis. The goal is to reduce lift truck traffic and continue to improve throughput without adding to the headcount. "One of the things we're proud of is that throughout this recession, we have not laid off anyone," says Tate. "But automation is allowing us to grow without adding significantly to our head count."
After six months of operation with the new system, Tate says the benefits are becoming clear. "Our goals were to store the product economically and speed up order processing so we could have the lastest possible order cutoffs to serve outlying areas of the country," says Tate. "The quicker we can pick, pack and process a request, the quicker we can get the right parts out the door at the right time. The mini-load and unit load systems are allowing us to do that."
System Supplier Box
Mini-load automated storage and retrieval system: TGW Systems, http://www.tgw-group.com
Unit load automated storage and retrieval system and warehouse control system: Murata Machinery USA, http://www.muratec-usa.com/
Conveyor: Intelligrated, http://www.intelligrated.com
Structural rack: Indiana Bridge Corp.
Lift trucks: Raymond, http://www.raymondcorp.com
Bar code scanning: Accu-Sort Systems, http://www.accusort.com and SICK, http://www.sickusa.com
Warehouse management system and sortation system: Fastenal
This article originally appeared in the January 2010 issue of Modern Materials Handling

May 26, 2011
About the Author
Bob Trebilcock Bob Trebilcock, editorial director, has covered materials handling, technology, logistics and supply chain topics for nearly 30 years. In addition to Supply Chain Management Review, he is also Executive Editor of Modern Materials Handling. A graduate of Bowling Green State University, Trebilcock lives in Keene, NH. He can be reached at 603-357-0484.
Subscribe to Modern Materials Handling Magazine!
Subscribe today. It's FREE!
Find out what the world's most innovative companies are doing to improve productivity in their plants and distribution centers.
Start your FREE subscription today!
Latest Whitepaper
Corrugated Boxes Deliver for E-Commerce
Corrugated box can and should be thought of as one of the key technologies for e-commerce-era fulfillment.
Download Today!
From the January 2018 Modern Materials Handling Issue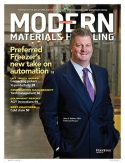 Lift Truck Series Part 1: Lift truck technology connects pickers to productivity
Breaking Through On Yard Visibility
View More From this Issue
Latest Webcast
Emerging Technologies for Your Distribution Center
Come get an insider's view of the latest technologies for inside your Distribution Center. You'll learn which technologies are being piloted, which are having success and moving from concept to implementation and into production on the maturity scale, and what's coming on the horizon.
Register Today!