Food and beverage: Empire Merchants transforms distribution
After consolidating two wine and spirits distributors and upgrading a distribution center in Brooklyn, Empire Merchants is handling 75% more volume and preparing for tomorrow's growth.

Bob Trebilcock
·
June 23, 2011
Empire Merchants LLC, Brooklyn, NY
Size: 500,000 sq ft - Brooklyn, 250,000 sq ft - Astoria
Products: Wine and spirits
Shifts: Two shifts, five days a week
Employees: 400 in distribution
Throughput: 9.5 million cases per year
The wine and spirits industry is undergoing a transformation. One by one, smaller distilleries and wineries are merging, consolidating or being acquired. Like the food industry, the market is now dominated by a handful large, international suppliers including Diageo, Bacardi and Brown Foreman.
That has put pressure on the distributors. Traditionally, wine and spirits distributors were smaller family-owned operations running manual operations. Many wine and spirits DCs still utilize floor storage, lift trucks and manual labor to get the job done. But that is changing as distributors undergo the same changes as the producers, with fewer and larger distributors squeezing inefficiency out of their operations. "Our suppliers want to deal with fewer distributors – distributors who have accurate and efficient operations," says Tony Magliocco, chief operational officer for Brooklyn-based Empire Merchants, a joint-venture co-owned by the Magliocco Family and the former owners of Charmer Industries, a subsidiary of the Charmer Sunbelt Company. "Likewise, this is ultimately a customer service business: Our customers not only want a competitive price, they are demanding accurate and timely deliveries."
Those pressures led to the creation of Empire two years ago when Peerless Importers, the company founded by Magliocco's grandfather and the largest wine and spirit distributor in New York, combined with Charmer Industries, one of Peerless's largest competitors. Both were among the top ten distributors in the country in terms of volume, with more than $1 billion a year in revenue. The combined companies service more than 10,000 customers – nearly every bar, restaurant, hotel and liquor store – in the metropolitan New York area.
Before the consolidation, both companies were serving many of the same customers, but with different brands. "Peerless might send out a truck with 250 cases to a customer and Charmer was delivering 250 cases to that same account," adds Sal Geneva, director of operations. "Now, we get those efficiencies by sending out one truck with 500 cases from one facility to that account. It allows the combined companies to maximize our payload and minimize our stops."
But simply combining shipments was not enough for Empire to realize the full benefits of the consolidation. "The only way to really get lean was to get all of the stock keeping units (SKUs) we distribute in one building rather than two," says Magliocco.
To achieve that goal, Empire worked with a systems integrator (W&H Systems, Inc., http://www.whsystems.com) to design and implement a highly-automated case handling order fulfillment system featuring:
• A warehouse management system to manage as many as 11,000 SKUs.
• Wave picking software to sequence picking for first in/last out truck loading
• 15 pick modules handling full and split case picking
• 4 miles of zero pressure accumulation conveyor
• Three pre-merges that lead to a combiner to remove inefficiencies from the wave release process and increase the overall throughput rate
• A high speed conveyor and sortation system capable of handling 8,000 cases per hour during peak periods and 6,000 cases per hour on a sustained basis.
• A seven-head scan tunnel to improve read rates and reject cases with misapplied labels.
• A vision system to capture digital images of the contents of cases for additional order verification and security after a truck leaves the facility.
All told, the facility ships more than 9.5 million cases per year, while providing 24-hour turnaround on orders. "Orders received by 5 PM begin shipping at 6:30 the next morning," says Geneva.
"We're handling an increase of 75% volume in the facility since this system went live in February," adds Magliocco.
Overcoming inefficiency
Meeting the distribution requirements of two companies after the combination created some unique challenges for the new company. "We now had to bring together two different sets of products," says Magliocco. "We wanted to consolidate the distribution operations that had been handled by two different warehouses. That meant we had to develop a new distribution strategy and then develop the systems and the processes to support that strategy."
In the best of all worlds, Empire needed at least 750,000 sq ft of distribution space, but that wasn't available in either location. In Brooklyn, for instance, there was no room to expand in the block where the existing facility was located.
After meeting with materials handling and supply chain software consulting firms, Empire created a unique model that spread the space across the two facilities. Orders would be filled from Peerless's 500,000 sq ft distribution center in Brooklyn. That facility now maintains a representation of all 11,000 SKUs distributed by Empire in enough quantity to fill orders. That also means accounts can be serviced from one truck leaving from one distribution center. Meanwhile, bulk quantities of the top 700 SKUs are warehoused in the 250,000 sq ft Charmer distribution center in Astoria. That DC transfers inventory to Brooklyn each day to replenish pick modules.
The Brooklyn facility, which had been created by joining several contiguous buildings in an industrial area, had several factors in its favor. One was that the facility already featured a significant amount of automation, thanks to a major renovation in 2005. "We already had 75 percent of the system in place that we have now, including most of the sorter, merge and combiner system," says Magliocco. "We also had the wave picking software system we use now."
To handle the additional volume, Empire added another pre-merge and additional pick modules to the existing system. The company also added a new warehouse management system to keep track of inventory. "We have receiving operations in two buildings, and product might be stored in any of several elevations across the buildings," says Magliocco. "The WMS coordinates all of that for us."
In all, almost four miles of conveyor are used through the system, much of it accumulation conveyor that provides a buffer for optimal operations. After pick lines have been pre-merged onto three conveyor lines, the cases are transported and accumulated to a final merge where the three lines are merged with any re-circulated cases. The combiner creates a single stream of cases that are properly gapped and ready for sortation to their assigned loading door.
Improving accuracy
Empire did more than drive efficiencies. The system includes several features to insure the accuracy – and the security - of the orders that are filled.
For example, once cases are on the pick conveyor, the labels are scanned for verification before leaving a picking module. The scanner stops multi-reads and no reads in the pick module before they become a problem in the system. Similarly, a label on the side of a mixed case in the split case picking area is scanned before releasing the cases into the system. Prior to sortation, cases pass through a seven-head scan tunnel that reads the bar codes, identifies the cases and directs them to the right lane. At that point, the system will reject cases that have misapplied labels by checking the applied picking label against the manufacturer's barcode. At the end of each shipping lane, cases are scanned one last time as a final verification prior to loading them on the truck.
Empire installed a vision system that captures an image of each carton to compare against a database of images. That allows Empire to follow up with truck drivers if there are any questions about whether a case was loaded on a delivery truck.
Six months after the system went live, Empire was already seeing improved throughput rates and industry leading accuracy. But the real test came this past July, traditionally one of the busiest months of the year. "In July, we were able to do the equivalent of four weeks volume in a two-week period," says Magliocco. "The system exceeded our expectations."
System Suppliers:
Systems integrator and warehouse controls: W&H Systems, http://www.whsystems.com.
Project management: SJL Consulting Services, http://www.sjlconsultingservices.com
Warehouse management implementation: Ciber, http://www.ciber.com
Warehouse management system: HighJump Software, http://www.highjumpsoftware.com
Warehouse control system: Contech Systems
Conveyor, sortation and combiner systems: Intelligrated (formerly FKI Logistex), http://www.intelligrated.com
Gravity conveyor: Logitech
Scanning system: Accu-Sort, http://www.accusort.com
Flow rack: Unex, http://www.unex.com
Pallet rack: Interlake Mecalux, http://www.interlake.com
Mezzanine: Steele Solutions Inc. http://www.steelesolutions.com/index.php
Truck loaders: Stewart Glapat Corp., http://www.adjustoveyor.com
Monorail: Jervis B. Webb, http://www.jervisbwebb.com
Lift trucks: Bendi, http://www.landoll.com/mhp/
This story previously appeared in the September 2009 issue of Modern Materials Handling

February 17, 2012
About the Author
Bob Trebilcock Bob Trebilcock, editorial director, has covered materials handling, technology, logistics and supply chain topics for nearly 30 years. In addition to Supply Chain Management Review, he is also Executive Editor of Modern Materials Handling. A graduate of Bowling Green State University, Trebilcock lives in Keene, NH. He can be reached at 603-357-0484.
Subscribe to Modern Materials Handling Magazine!
Subscribe today. It's FREE!
Find out what the world's most innovative companies are doing to improve productivity in their plants and distribution centers.
Start your FREE subscription today!
Latest Whitepaper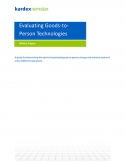 Evaluating Goods-to-Person Technologies
This white paper overviews the various, self-contained, goods-to-person AS/RS systems available for handling the totes, cases and eaches most frequently faced by e-commerce order fulfillment operations, and the typical applications for each.
Download Today!
From the May 2017 MMH Issue
Top 20 Worldwide Materials Handling Systems Suppliers 2017
ERP Suppliers' Changing Role
View More From this Issue
Latest Webcast

2016 Warehouse/DC Operations Webcast: Confronting omni-channel complexity
During this webcast we'll examine the current activities, trends, and best practices in warehouse and DC operations management and how companies plan to address complex issues associate with omni-channel fulfillment.
Register Today!