Homedics partners for success
To expand its west coast capabilities, HoMedics created an automated order fulfillment system in partnership with a 3PL.

Bob Trebilcock
·
May 26, 2011
HoMedics, Inc., Riverside, Calif.

Size: 600,000 square feet
Products: Home personal care products
SKUs: Currently handling 523 Homedics-brand SKUs and 818 Taylor-brand SKUs
Shifts: 5 days, 1 shift
Employees: 100
Throughput: 2 million cases per year to retail customers

Go to the pallet building stations in the 600,000 square foot distribution center HoMedics built in Riverside, Ca., and you'll see something unusual: When a pallet is ready for the stretch wrapper, an automatic transfer vehicle pulls up to the station and waits for an associate to push the full pallet onto the vehicle and remove an empty pallet for the next task before delivering the full pallet to the automatic stretch wrapper.

While transfer cars and automatic guided vehicles (AGVs) are a common way to shuttle pallets between workstations in manufacturing plants, it's not every day you see them in a distribution center. But when HoMedics began to design a new, larger facility in 2007 the company looked for the most efficient and flexible combination of automation and conventional materials handling processes to handle the increase in shipments coming into the Port of Long Beach. Where Long Beach once represented about 35% of HoMedics' distribution, today about 80% of the company's products are shipped directly to customers from California.

"Like everyone, we wanted to make the jobs easier for the people doing them and to find ways to increase our overall productivity per man-hour," says Phil Kupras, Director of Warehousing for the Michigan-based manufacturer and distributor of personal wellness products. In this case, automatic transfer vehicles were part of an innovative design (Worldsource Integration, http://www.world-source.com/) that brought together conventional materials handling technologies such as push-back pallet rack and reach trucks and materials handling automation, including the transfer vehicles, pallet and case conveyor and sortation, and two automated stretch wrappers.

The final facility is also unusual for another reason. HoMedics shares the space with Precise Distribution, a third party logistics provider that has managed HoMedics West Coast distribution activities for 20 years. In addition to operating HoMedics' West Coast warehouse operations, Precise Distribution subleases 200,000 square feet of the facility for its other customers. What's more, Debra Martinez, Precise Distribution's president, was part of the design process for the new facility from day one. "We started working with Martinez years ago when we were too small to open a west coast distribution center on our own," says Mike Nelson, HoMedics' Director of Facilities. "Today, she knows that end of our business as well as we do because she's done it for so long. It is a unique relationship because she is an integral part of our business."

The result is a unique design and relationship that meets four business needs:

• The facility delivers full- and mixed-pallets to major retail customers like Bed Bath and Beyond, Target and Walmart, extending the capabilities and capacity of the company's ten-year-old 250,000 sq ft distribution center at its corporate headquarters in Commerce Township, Michigan.
• The system, including HoMedics' WMS, enables the manufacturer to meet new customer shipping requirements; an option to add an additional 150,000 sq ft will accommodate HoMedics' aggressive growth strategy that includes acquiring other companies and brands, like The Sharper Image product line. HoMedics estimates the facility is large enough to accommodate growth over the next ten years.
• HoMedics incorporated a piece picking solution in the design to support the launch of a direct-to-consumer e-commerce business.
• Finally, there is enough room for Precise Distribution to serve its other West Coast customers in addition to HoMedics. In all, the two companies were able to consolidate two separate facilities under one roof.

Changing the Face of Wellness
Since HoMedics was founded in 1987, the company has become the leader in personal health and wellness products created to help consumers "restore the balance to their lives." Today, the company manufactures and markets the most complete line of personal health, wellness and relaxation products sold in America, including massagers, footbaths, diagnostic healthcare products, weight management products, sensory and relaxation products, sleep solutions, and home environment products.

The company remains a family-owned business, headquartered in Commerce Township, Michigan, but it is now fueled by an international team of marketers and engineers who develop the company's products. That international flavor is one reason more products are coming into the West Coast.

However, HoMedics is also growing its business, both organically and through acquisitions. In 2002 it acquired Taylor Precision Products, a manufacturer of home and industrial precision measurement instruments such as indoor, outdoor, and kitchen thermometers and food and bath scales. In 2004, it added Salter Housewares, a United Kingdom-based consumer products company that also manufactures precision measurement products. More recently, HoMedics acquired Obusforme, a Canadian manufacturer of back supports, Black & Decker's office solutions division, the licensing rights to The Sharper Image's product line, and it entered into a partnership with PowerMat, and Israeli company bringing to market a line of products to wirelessly charge battery-operated devices.

For most of the company's history, HoMedics' distributed most of its orders from Michigan. While the company first engaged Precise Distribution to handle product coming into the West Coast in the late 1980's, product arriving on the West Coast was trucked to Michigan and then distributed from there.

That began to change in a major way about five years ago, according to Kupras. The first step was to install the same warehouse management system in California that was in use in Michigan. "With a WMS, we now had more robust order fulfillment capabilities in California," says Kupras. "Instead of just forwarding inventory to Michigan, we could now manage the inventory inside the four walls of our West Coast DC and we could interface with our host ERP system to receive and fill orders in an efficient fashion."

Around that time, there were two other important changes to HoMedics' business. The first was an increase in both the number of SKUs and the volume of business the company was handling out of both DCs as the business grew and the company began to develop new products and product categories.

The second was that customer demands also began to change. These required HoMedics to implement new processes. For instance, for one of its major retail customers, HoMedics used to pick orders based on the replenishment needs for individual stores, and then ship those products to either a consolidator or directly to the stores. Now, that retailer wants orders for all of its stores shipped to an order pooling center on the West Coast, which handles the distribution to the stores. Given the size of the orders, it made more sense to do more distribution directly from California.

"With our business growing and customer demands changing, we wanted a larger more automated facility in California," says Nelson. "And with our relationship with Precise Distribution, it made sense to consolidate our operations and theirs into one building."

Introducing automation
To design the new facility, HoMedics put together an internal team that included Martinez and brought in an outside design firm (Sedlak Management Consultants, 216-206-4700, http://www.jasedlak.com) and systems integrator (Worldsource Integration, 630-795-1100, http://www.world-source.com/).

There were several design considerations, according to Kupras and Nelson.

For starts, the team looked at what was and was not working in the facility in Michagan, which had been built in 1999. One change was a shift from drive-through pallet racks to push back racks. "A drive-in rack allows you to store a lot of pallets in a space, but they all have to be the same SKU," says Nelson. "The push back rack allows us to have different SKUs in each level of storage." The result is that space utilization went from a low of 65% in Michigan to close to 90% in California.

In addition, the HoMedics facility in California stores pallets four bays high. To accommodate the extra height, cameras were installed on the lift trucks that allow drivers to see where they are putting pallets away or pulling them from storage. "In terms of storage, we know that the racking system is very efficient," says Nelson.

A second important change was the design of the conveyor system that serves the three-level pick module. In Michigan, one conveyor system services the entire module. In California, HoMedics installed a separate conveyor system for each level of the module. Those conveyors merge together after the pick module before going to a sorter in the pallet building area. "By having independent conveyors, the conveyor doesn't back up if one picker is faster than another and fills up the conveyor," says Kupras. Likewise, the pick module was located in a central spot in the warehouse that made replenishment more efficient. Included was conveyor to cross-dock direct-to-consumer parcel shipments from the pick module to a parcel shipping area. That gives HoMedics the capacity to build on its e-commerce business.

The new facility is simply bigger than the facility in Michigan, with 70 dock doors and 22 sortation lanes compared to 20 doors and 11 sortation lanes in Michigan. That provides more capacity on the West Coast.

Last, but not least, the automated pallet handling system utilizing transfer vehicles, conveyor and automated stretch wrappers reduces handling. "In Michigan, everything is manual," says Nelson. "In California, once we start stacking cartons on a pallet, we don't need a lift truck operator to handle the pallet until it's ready to be routed to a staging lane."

How has it performed? "We're still developing the metrics," says Kupras. HoMedics began training its operators to use the automated equipment in August of 2008 to get ready for the busy holiday season. However, given the economy, volumes were lower than anticipated. "We know we can consistently run 9,500 cartons a day through the picking modules and the pallet building stations with less staff than we needed in the past," Kupras says. "So far, we have met every challenge we've come across, and we are positioned for growth in the future."

System suppliers
System integrator: Worldsource Integration, http://www.world-source.com/
System design: Sedlak Management Consultants, http://www.jasedlak.com
Case and sortation conveyor: Automotion, http://www.automotionconveyors.com/
Pallet handling conveyor: Industrial Kinetics, http://www.iki.com/
Rack Systems: Frazier Industrial, http://www.frazier.com
Stretch wrapper: Orion, http://www.orionpackaging.com
Lift trucks: Crown, http://www.crown.com/usa/index.html
Warehouse management system: Manhattan Associates, http://www.manh.com

This article originally appeared in the November 2009 issue of Modern Materials Handling

March 27, 2013
About the Author
Bob Trebilcock Bob Trebilcock, editorial director, has covered materials handling, technology, logistics and supply chain topics for nearly 30 years. In addition to Supply Chain Management Review, he is also Executive Editor of Modern Materials Handling. A graduate of Bowling Green State University, Trebilcock lives in Keene, NH. He can be reached at 603-357-0484.
Subscribe to Modern Materials Handling Magazine!
Subscribe today. It's FREE!
Find out what the world's most innovative companies are doing to improve productivity in their plants and distribution centers.
Start your FREE subscription today!
Latest Whitepaper
How Industry 4.0 Design Principles are Shaping the Future of Intralogistics
Industry 4.0 is changing how we interact with machines and how those machines interact with each other.
Download Today!
From the January 2018 Modern Materials Handling Issue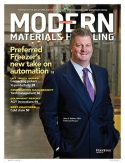 Lift Truck Series Part 1: Lift truck technology connects pickers to productivity
Breaking Through On Yard Visibility
View More From this Issue
Latest Webcast
Emerging Technologies for Your Distribution Center
Come get an insider's view of the latest technologies for inside your Distribution Center. You'll learn which technologies are being piloted, which are having success and moving from concept to implementation and into production on the maturity scale, and what's coming on the horizon.
Register Today!