Label Conscious; more than getting the right label on the right box
In the world of print and apply, success is more than getting the right label on the right box.

Lorie King Rogers
·
March 1, 2010
Since everything in your supply chain has to be identified and carries a label packed with vital information about the product and its path, taking a closer look at your print and apply process could give your operation a competitive edge.
Higher levels of automation, applying multiple labels to a product, repositioning product on a conveyor, and combining print and apply steps are a just a few ways companies are moving product faster and reducing costs.
"The print and apply industry continues to evolve because the volumes have become too high to accomplish the tasks manually, and it's not efficient or cost effective for one or multiple workers to apply labels anymore," says Jim Thompson, president of Panther Industries (800-530-6018, http://www.print-n-apply.com). Automating these tasks reduces labor and human error, ensures higher levels of accuracy, and keeps the process running smoothly.
In print and apply, it's nearly impossible to separate hardware from software. The hardware is the vehicle that prints and applies the label, but the software provides the intelligence. The labeling process is a seamless relationship between the two and requires communication. So how can each component contribute to enhanced performance?
Levels of automation
In some respects, the print and apply market is dividing into two segments, says Wink Faulkner, president of Logopak (866-901-9343, http://www.logopakcorp.com). The first is the end user who wants to make a low capital investment and can tolerate some downtime in their operations. "These are companies that have relatively low levels of automation and have a technician on staff who knows and can maintain the machine," says Faulkner.
The second is the larger company that has made a significant investment in an automated order fulfillment system. That end user needs a more sophisticated, industrialized printer that can integrate with an automation control system. In that environment, the trend is to put more computing power and communications capabilities at the local level.
"We have a customer operating a highly automated parcel fulfillment line," says Faulkner. "The printer can query an order management system and download a database of orders that will be filled later in the day. When it's time to fill an order, the system can look up the order number and print the labels faster because the information is right there at the local level."
Speed vs. accuracy
One of the reasons print and apply technology is constantly pushed forward and driven to the next level is the need for increased throughput, says Mike Soloway, labeling systems product manager at Weber Marking (800-843-4242, http://www.webermarking.com).
Printing labels faster is a good thing, but how fast is too fast? Well, when you increase the speed, you introduce legibility issues. And, legibility is not negotiable. "We may be able to go faster, but speed may create problems. We have to ensure that a label is printed clearly and legibly so there aren't any problems down the line," Soloway says.
"Print and apply technology is limited by the print engine because there is a limit as to how fast you can go while maintaining the clear quality and legibility of a label," says Soloway. "Typically we try not to print faster than 8 inches per second, even though the equipment can actually go up to 16 inches per second."
If the print engine is limiting speed, how can you go faster? Many are looking at and adjusting other steps in the process, like how product is handled. For example, if product comes down a conveyor closer to the print-and-apply equipment, the reach of the label applicator can be shortened. And, shortening the reach can shave milliseconds off the application time. Milliseconds don't seem like much until you do the math, then the time and savings add up.

Conveyor lines
Better product handling strategies can also be implemented after the print-and-apply step is completed. Many facilities used to be designed so that every stretchwrap lane had its own printer. But because print-and-apply technology now works faster than stretchwrap equipment, a lot of companies are changing the function at the end of the line, says David Habib, solutions product manager at Markem-Imaje, (800-258-5356, http://www.markem-imaje.com).
"If you merge the lines through the conveyor system," Habib says, "it's possible for one printer to handle up to eight stretchwrap stations. Automation is keeping the capital expenditure down and throughput high."
One-step labeling
Automation keeps throughput high because it reduces manual labor and improves accuracy. "These days companies are running on thin profit margins and cannot afford any errors," says Dan Hanrahan, business development manager for the Numina Group (630-343-2600, http://www.numinagroup.com). "You need at least 99.9% accuracy or you're going to lose too much revenue."
Accuracy and automation often go hand-in-robotic-hand. "Automated print-and-apply equipment can actually be considered a single-step robot, since manual labor can be replaced with a machine," Hanrahan explains.
One way to reduce manual labor is to use one-step label printing technology. For example, you could combine the automatic application of full-size 8-inch x 11-inch packing slips and shipping labels. Technology like this eliminates the need to manually fold and insert a packing slip into a shipping envelope. This system not only combines the steps, it can handle 25 cartons every minute or 12,000 units in an eight-hour shift.
Three-sided labeling
Another strategy is to consider applying a label to three sides of your product. While adding some cost to the process, this process reduces potential loss and damage to your product because it increases your chances of identifying the product without having to do additional handling, explains Markem-Imajes's Habib. "Every time you have to handle or rotate a product you risk damage, so the less you handle it the better."
This strategy is especially effective when it comes to crossdocking and moving product in and out of racking systems. In a warehouse or distribution center, you can pick up a pallet on one side, bring it to a dock door and scan it without having to turn it. In a flow rack, you can scan the product, push it in on one side, pull it from the other and still be able to read the label with a scan device without having to spin or turn it in search of the label.
Unit printing
In the retail supply chain, shipping to the end user is another area where print-and-apply technology can help your operation. "Retailers are looking to reduce costs by keeping less inventory on hand," says Pratap Chakravarthy, director of marketing at Accu-Sort (800-227-2633, http://www.accusort.com). "In response, what we are seeing in retail distribution centers is a push to move away from batch printing toward unit printing."
Distribution centers are no longer receiving whole truckloads of a single product from one source, explains Chakravarthy. They are receiving mixed shipments from vendors in different parts of the world. "Companies are looking for solutions in the receiving area to handle the diversity of arrivals without adding manual labor," he adds.
One way to effectively handle the diverse product flow is through an intelligent print-and-apply solution. Here's how it works: Product arrives at the inbound dock doors and packages are manually off-loaded onto a conveyor—that's where the manual process ends and automation begins. After the scanners automatically read the vendor's label, the information is sent to the host, which sends the data down to the applicator system so the unique label can be printed, applied and verified. This all happens in about 15 to 20 feet of conveyor space. Once the label information is verified, the product is diverted to its final destination—outbound shipping, staging or storage.
Variable height printing
When you are managing a diverse product flow, you have to deal with varying product heights. "What we're seeing in distribution centers are heights that can vary as many as 30 inches," says Rick Fox, president of Fox IV Technologies (724-387-3501, http://www.foxiv.com).
Sophisticated print-and-apply systems have height sensors or light curtains that measure the product before it gets to the machine so the system knows what size to anticipate. With product moving at 60 to 70 feet per second on the conveyor, labels must be read quickly or the product will be beyond you, says Fox. A linear encoder helps to determine the speed of the conveyor, how fast the product is traveling and how far to reach to apply the label.
Maintenance and monitoring
Using automation to handle challenges in your print-and-apply process improves accuracy and results in fewer errors, but when you have errors, you need to know immediately. That's why maintenance and monitoring is crucial to maximize uptime and minimize downtime.
"One of the most common causes of bad bar coding is poor maintenance of a print engine," Fox says. "In a high-speed production line, it's important to clean the printer head on the printer applicator often enough to prevent problems."
Print engines have built-in intelligence that send warning and fault messages to those responsible for the operation of the equipment. A warning means action is pending—maybe labels are running low or it's time for a routine check. A fault means there's a problem, like a jam, that requires immediate action.
In a facility where someone is on hand to fix the problem, the signal goes through the network to an information console, explains Panther's Thompson. In a purely automated facility, the signal is sent to a control center and dispatched to an appropriate location.
To manage your system remotely, Web access can be built into print engines. Authorized users can log into a virtual private network (VPN) and remotely access the system. They can determine how many labels have been printed, how much media is left and keep an eye on what's happening without actually being there.
Ethernet connectivity also provides remote monitoring capabilities. "The world is getting more and more toward a global network," says Marty Johnson, product marketing manager at Zebra's Technologies' (866-230-9494, http://www.zebra.com). "An Ethernet connection allows connectivity beyond the printer engine and beyond the printer. It provides access to the status of the entire system."
Before Ethernet, Johnson explains, hard wiring had to be done by a licensed electrician, and every status signal needed a wire. An Ethernet rj45 connection eliminates the tangle of wires making for a safer, neater working environment, while adding visibility.

February 21, 2012
About the Author
Lorie King Rogers Lorie King Rogers, associate editor, joined Modern in 2009 after working as a freelance writer for the Casebook issue and show daily at tradeshows. A graduate of Emerson College, she has also worked as an editor on Stock Car Racing Magazine.
Subscribe to Modern Materials Handling Magazine!
Subscribe today. It's FREE!
Find out what the world's most innovative companies are doing to improve productivity in their plants and distribution centers.
Start your FREE subscription today!
Latest Whitepaper
Corrugated Boxes Deliver for E-Commerce
Corrugated box can and should be thought of as one of the key technologies for e-commerce-era fulfillment.
Download Today!
From the January 2018 Modern Materials Handling Issue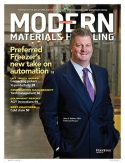 Lift Truck Series Part 1: Lift truck technology connects pickers to productivity
Breaking Through On Yard Visibility
View More From this Issue
Latest Webcast
Emerging Technologies for Your Distribution Center
Come get an insider's view of the latest technologies for inside your Distribution Center. You'll learn which technologies are being piloted, which are having success and moving from concept to implementation and into production on the maturity scale, and what's coming on the horizon.
Register Today!