Making the most of carton storage
Mini-loads and shuttles are the engines driving new order fulfillment processes.

By
George Kokoris
·
January 1, 2013
Is storage a dirty word?
You may have thought so if you'd sat in on a meeting of automated storage executives at the Material Handling Industry's fall meeting last October. They wondered: Should makers of automated storage equipment keep storage in the name of their product section since many end users want to get away from row after row of reserve storage in their facilities?
In reality, it's not storage but inventory that's turned into an epithet worthy of "Deadwood." The goal of the modern supply chain is to keep inventory in motion. "When inventory is in storage, you've tied up your cash with product that's standing stock still," explains Bryan Jensen, vice president and principal at St. Onge Company. "That creates costs in your supply chain." Call it guilt by association, because cost is definitely a four-letter word.
At the same time, some of the most innovative new materials handling solutions and strategies have included a storage component. Last month, Modern looked at new technologies and strategies for storing unit loads. Similar developments are taking place in terms of high-density storage technologies for cartons, totes and pieces.
As with unit-load handling technologies, carton, tote and piece handling solutions illustrate a new way to think about storage. In many instances, storage is no longer simply a process unto itself. Rather, mini-load automated storage and retrieval systems (AS/RS), shuttles and other high-density case handling systems are the engines driving order fulfillment, buffering and sequencing and shipping processes.
Equipment such as mini-loads may still be used for reserve storage—you still have to put inventory some place until you need it. But more than ever, that storage is temporary at best. "People have come to realize they can use technologies like mini-loads and shuttles as buffers and sequencers," says Jensen. "They're really being used to present product to pick faces in a productive fashion. And, they can efficiently bring items forward in any sequence needed to fill an order, build a pallet or load a truck."
Changing distribution needs
Storage, especially automated storage, is being re-evaluated in North America, says Kevin Thuet, director of system development for TGW Systems. In Europe and Asia, where land and labor have been scarce and expensive for years, automated storage is a necessity just to operate a warehouse. As a result of those limitations, distributors came up with creative ways to use case and tote handling storage technologies, such as goods-to-person workstations. Not so here. "In the United States, AS/RS was simply an automated way of putting things on a shelf," Thuet says. "We didn't try to get clever about how we used it."
Several factors turned that model on its head. For one, land is no longer cheap and labor is no longer plentiful. That is especially true as distributors are building order fulfillment centers near urban areas to speed up order delivery times.
SKU proliferation has also played a major role. "Everyone is selling more of everything," says Josef Mentzer, CEO of Knapp Logistics Automation. Proliferation means that everyone is storing more SKUs than ever before, even if they are only storing a carton or less of an individual SKU.
Until recently, SKU proliferation in conventional distribution was addressed by better slotting. "You installed pick faces as close to shipping as possible to handle your A movers, and you stored your B and C movers somewhere in the back because you didn't need fast access," Mentzer explains.
The explosion in e-commerce order fulfillment has exacerbated those factors. Retailers and distributors need to stock more SKUs than ever so they don't risk losing a sale. Moreover, they need ready access to all of the SKUs in the facility to fill orders with increasingly short cycle and shipment cutoff times.
High-density storage technologies, especially shuttles, enable a distributor to store and access A, B and C movers all in one unit. "In the past, we applied different storage technologies to A, B and C movers," says Jim Stollberg, senior vice president of global product development for Dematic. "Thanks to e-commerce, that's no longer efficient. With mini-loads and shuttles, we can cover a wider range of SKU velocities in one storage and picking technology. And, we can deliver the items to be picked directly to a goods-to-person workstation so that an associate isn't walking through the warehouse."
And while mini-loads and shuttles are more expensive per storage location than case flow rack, the increased demand for item-level order fulfillment means that the technologies are easier to justify. "If only 2% of my volume is piece picked, I can handle that with more labor," says Jensen. "But in many retail facilities today, piece picking is 15% of the volume and it's growing. That kind of volume makes it easier to find an ROI."
The additional volume has also brought more solutions and competition to the market. "The cost of storing and moving a case has dropped significantly," says Dave Simpson, director of applications engineering for SSI Schaefer.
Mini-loads and shuttles
There are a number of high-density case and tote storage technologies, including vertical and horizontal carousels. While they have their place, two technologies have taken the lead in an operating environment that requires buffering and sequencing, fast access to thousands of SKUs and fast order cycle times.
The first is mini-load AS/RS systems. They rely on cranes to put cartons and totes away in storage aisles, much like a pallet handling AS/RS. The mini-load crane operates in two axes, servicing both the length and height of an aisle. Mini-loads can handle loads of up to 1,000 pounds and throughput rates of 120 to 150 movements in and out of storage an hour per aisle of storage. A facility that needs to make 600 to 700 moves per hour would require four to six cranes and aisles of storage. Mini-loads are also used in facilities that need to manage a large number of storage positions.
At heart, mini-loads are a storage technology. "We're using them as a way to manage a large number of SKUs that are stored in small quantities," says Dematic's Stollberg. For instance, mini-loads are often used to aggregate the thousands of slow-moving SKUs that might be kept on hand by an industrial parts or medical supplies distributor. In that scenario, the mini-load acts as the storage medium but also delivers totes to a goods-to-person picking station. That dramatically cuts down on the walking time traditionally associated with picking slow-moving parts.
However, the meaning of storage is being redefined. "We're working with retailers that break down pallet loads of season inventories and then store the totes in the mini-load until they're needed for delivery to a store," says Tom Meyers, national sales manager for Muratec. "When it's time to replenish the stores, the cartons come out of the mini-load and go right into the truck. The storage is still there, but its storage for a shorter period of time than conventional reserve storage."
Similarly, mini-loads are being used to replenish pick faces and other picking technologies, such as shuttles. "We work with a shoe retailer that imports and stores millions of pairs of shoes from Asia in the mini-load," says Mentzer. "Picking is done from the shuttle system, which is replenished from the mini-load because the cost of storage in the mini-load is lower."
Shuttles provide the high-density storage of a mini-load but with much higher throughput. Instead of a crane that services an aisle of storage, each lane in a shuttle system is serviced by a device that retrieves and stores cartons and totes in that lane. A lift at the end of an aisle delivers product to the right height in the system. Shuttles typically handle loads of 110 pounds or less and can make up to 1,000 moves an hour out of the system.
Because of its high speed and cost, the shuttle is a sequencer and enabler of picking rather than a reserve storage device. It can easily and quickly deliver products to a picking station, a palletizer or a truck in the exact sequence required. What's more, the shuttle can store A, B and C movers in one machine.
"The high velocity of the shuttle is allowing the industry to change the way we look at these issues," says SSI Schaefer's Simpson. "In a picking situation, it is your storage and forward picking all in one. In shipping, it replaces the need for a shipping sorter because it can deliver all of the totes or cartons for an order to a shipping lane."
In fact, Simpson adds, the industry is developing shuttle solutions that operate with very little conveyor, reducing some of the cost of the solution. "We are developing new solutions that use the shuttle to get any SKU to any picking station without the use of conventional conveyor and sorters," says Simpson. "When you look at storage as an enabler of picking and eliminate high-speed conveyor and sortation, it's easier to justify the solution."
New technologies on the rise
Mini-loads and shuttles are not the only game in town when it comes to case storage and picking systems. Two other solutions that combine temporary storage, buffering and sequencing capabilities with goods-to-person picking have recently come to market. Both take a different approach to storage and conveyance from mini-load and shuttle solutions.
Swisslog's AutoStore system relies on a vertical stack of storage bins and mobile robots that run along the top of the storage unit to deliver cartons and totes to a goods-to-person workstation.
The storage locations, or bins, are about 16 feet deep and can hold up to 16 storage totes designed for the system. The mobile robots run on a grid system atop the storage bins. Each mobile robot has an extractor that can reach to the bottom of the storage bin to extract a tote that is then delivered to a goods-to-person workstation. The tote is then put back into storage by a mobile robot.

The sweet spot, says Bill Leber, Swisslog's director of business development for warehouse and distribution solutions, is split case picking where storage density is a premium. "This is not appropriate for fast-moving items that you pick in full cases," says Leber. "If you think of the book industry, you wouldn't use the AutoStore for your best sellers. You'd use it for the catalog titles. You have thousands of SKUs, but you only pick a few of each during a week."
Meanwhile, Opex Material Handling is unveiling a new shuttle-like system described as an entry-level automation solution for e-commerce fulfillment. "It's affordable, scalable and very easy to use," says Jeff Hedges, president. The system uses a shuttle vehicle, referred to as an iBOT, but with a twist. While a conventional shuttle operates in a specific lane and delivers its payload to a lift, each Opex shuttle can travel in all three axes. "The system doesn't rely on lifts or transfers," says Hedges. "Each vehicle has 100% access to every storage location and can deliver the product to a picking station at the front or rear of the unit." A typical unit is 20 feet tall and 20 feet long but can be scaled up to 32 feet tall and 200 feet long.
Like the others, Hedges views the expanded use of mini-loads and shuttles as a natural response to the changes in distribution needs. "First we saw the evolution of mini-loads for goods-to-person picking," he says. "However, they have their limitations as the supply chain speeds up. The new technologies are the next wave of high-speed case and each picking to support the growth of individual orders that the market is demanding."
Companies mentioned in this article
Dematic: dematic.com
Knapp Logistics Automation: knapp.com
Muratec: muratec-usa.com
Opex Material Handling: opex.com
SSI Schaefer: ssi-schaefer.us
St. Onge: stonge.com
Swisslog: swisslog.com
TGW Systems: tgw-group.com

January 1, 2013
Subscribe to Modern Materials Handling Magazine!
Subscribe today. It's FREE!
Find out what the world's most innovative companies are doing to improve productivity in their plants and distribution centers.
Start your FREE subscription today!
Latest Whitepaper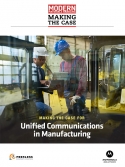 The Overlooked Competitive Advantage: Connected Teams
57% of surveyed manufacturers believe they could reduce downtime by 10-30% by unifying their workgroup communications. What does a minute of downtime cost you?
Download Today!
From the January 2018 Modern Materials Handling Issue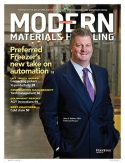 Lift Truck Series Part 1: Lift truck technology connects pickers to productivity
Breaking Through On Yard Visibility
View More From this Issue
Latest Webcast
Emerging Technologies for Your Distribution Center
Come get an insider's view of the latest technologies for inside your Distribution Center. You'll learn which technologies are being piloted, which are having success and moving from concept to implementation and into production on the maturity scale, and what's coming on the horizon.
Register Today!