Materials handling and manufacturing: Automation picks up speed
For manufacturers seeking flexibility, storage space and labor savings, customized automation solutions are transforming the concept of just-in-time delivery.

Technology in the News
2018 MHI Innovation Award finalists announced
The Overlooked Competitive Advantage: Connected Teams
How Industry 4.0 Design Principles are Shaping the Future of Intralogistics
Supply chain management survey indicates greater pressure on companies to demonstrate sustainability
Other Voices: How a warehouse execution system provides product traceability
More Technology News
Technology Resource
The Overlooked Competitive Advantage: Connected Teams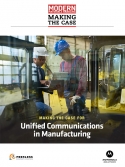 57% of surveyed manufacturers believe they could reduce downtime by 10-30% by unifying their workgroup communications. What does a minute of downtime cost you?
All Resources
By
MMH Staff
·
January 1, 2013
Throughput was once the only warehouse metric that really mattered. While many distributors are now finding plenty of value in the search for efficiencies, manufacturers have been chasing pennies all along. But as these supply chain nodes share more business intelligence, manufacturers are also looking for the same sorts of granular data, flexibility and cost-saving measures that allow their distributor counterparts to be more responsive to the buying customer. They are finding these benefits in automated solutions, from simple trash-moving robotic carts to building-sized, hands-free systems.
Software and hardware are increasingly modular, resulting in a variety of highly customized manufacturing solutions. Some manufacturers automate in kind, using reliable automation to replace manual labor in repetitive, strenuous or precision tasks. Others take the opportunity to redesign processes, resulting in significant space savings, reduced material inventory, and more productive workers.
"Talented, affordable labor is clearly a massive pain point," says Mike Kotecki, senior vice president for Dematic, citing pending demographic shifts. In the post-recession reemergence of manufacturing, managers who had laid off a portion of their workforce must make a decision, he says. Do they want to hire everyone back and continue as they did before, or try something else? "I can't say that customers are more interested in automation post-recession, but the motivations are certainly more intense," Kotecki says. "There's more big thinking. Customers are making big changes with an eye toward being more flexible through the next downturn."
Constraints become opportunities
About 70% of equipment installations go into existing facilities, according to Mark Schmidt, sales engineer at Muratec. In existing facilities, floor plan options are more limited, which is not necessarily a negative. Sometimes the pre-existing constraints are the very reason an application makes a great candidate for automation.
One circuit board manufacturer is using an automated storage and retrieval system (AS/RS) consisting of floor-to-ceiling storage, and a crane and conveyor leading to a series of assembly cells. The AS/RS can retrieve items on-demand as directed by operators or it can automatically feed work cells for high-volume production. Before the new system, says Schmidt, the customer had a storage area with racks and shelves where people pulled parts before walking them halfway across the plant. Now the parts are right next to the work cell.
In the scramble to pack as much productivity into as small a space as possible, manufacturers must also consider safety. "The realities of working in that smaller, tighter space are often an afterthought," says Mark Longacre, marketing manager for JBT Corp. For instance, the predictable precision of an automatic guided vehicle
(AGV) presents an appealing alternative to forklift operators negotiating narrow pathways while carrying half-assembled materials."After all," says Longacre, "the further along you get in the manufacturing process, the more costly a mistake becomes."
Similarly, the further along skilled workers get in their career, the more difficult it becomes to replace them when they leave or retire.
"Supervisors don't want to be in the position of saying they don't know what they'll do when a highly skilled worker leaves," says Longacre. Some of his customers have a hard time quantifying the specs for a certain task, because it all exists in the skilled worker's head. Even the worker might have a hard time defining how to do what he's been doing for so long. "And what if that worker's replacement leaves after a couple of years of expensive training?" asks Longacre. "Employees in the United States are very mobile. These are applications where, from a quality standpoint, customers want the repeatability offered by a robot."
Change happens, be flexible
Customizable robots and automated solutions offer consistency, but they also lend flexibility to the tasks they can perform and the areas in which they work.
Despite cramped quarters in many facilities, it is not uncommon to find empty work cells waiting for work. The increased use of goods-to-person technology reduces worker travel time, requires less storage space, and enables work cells to be multipurpose. With an AS/RS or automatic guided cart (AGC) supplying lineside materials or tooling, a work cell can change tasks or products on the fly.
In the past, a product change might have required some equipment to be removed altogether, says Sarah Carlson, marketing manager for Daifuku Webb. "It used to mean shutting down the line for weeks or even months to install new conveyors," she says. "Now, to increase capacity, you can just add AGCs."
To further increase flexibility with an eye toward demand-based manufacturing, more facilities are deploying buffer systems to sequence components. The buffer concept is particularly interesting in manufacturing, says Kotecki, where an end-user might have 100,000 SKUs, but only 112 will be used in the next 48 hours. Parts or kits can be manually or automatically delivered to the buffer, which will sequence and release them to work cells as needed.
This build-to-order approach ties into the concept of postponement, both push and pull. As an example of pull-driven postponement, says Kotecki, DVD makers used to make 10 million DVDs and throw away three million if the movie was a flop. Instead, they now manufacture 10 million discs, labels and blank cases, all of which can be sequenced and assembled as needed. If the movie flops, they might discard the leftover discs and labels, but can keep and reuse the cases.
An example of push-driven postponement is a small engine manufacturer whose "recipe" constantly changes with different component vendors and engineering changes. Instead of making a number of finished goods then unmaking them to perform changes, the customer can use an AS/RS to store and sequence a collection of half-finished goods and make adjustments in real time.
Buffering can also occur between individual work cells or processes, says Schmidt, who says customers are using more storage systems extending to the ceiling to open up floor space and speed up item retrieval in each work cell.
For instance, an engine block manufacturer used three mini-load systems, one between each work cell, to create a hands-free application. After each step in the cleaning and machining process, blocks were held in the buffer and fed automatically by serial number to the next station. Before the new buffer system, the process was almost entirely manual. Workers manually placed 60-pound blocks on pallets, which were staged on the floor and moved from station to station by forklift.
Human co-workers add value
Reducing strenuous manual labor and risk factors is a strength of automated vehicles, which must also work safely around human coworkers. As Longacre put it, "I can't think of any application where we don't interface with humans."
Longacre offered examples of repetitive tasks made easy with the use of AGVs. One of his customers uses them to empty trailers full of recycled empty bottles at a beverage plant, where AGVs provide the brute force needed for this job 24/7. In another facility, kits are made at an end-of-aisle AS/RS, then an AGV delivers them across the street through an underground tunnel for assembly.
AGVs can take the unpredictability out of A to B movement, but in manufacturing there are rarely repeated A to B movements, says Kotecki. "Instead, you see AGVs moving from one point to 15 or more random locations." Whether repetitive or random, these technologies handle simple transportation of goods while freeing up employees to perform more valuable work.
"Customers want to use people where they add value to the product, and basic material movement doesn't add value," says Longacre. "You want to automate the easy things and allow the humans to contribute where decisions need to be made."
With capacities from a few hundred pounds to 30 tons, JBT's AGVs are used for moving raw materials, transporting a work in process, and delivering tooling such as different welding jigs to a robotic welder. Tooling changeovers, such as changing dies in metal stamping areas, used to be lengthy manual processes, says Longacre.
Schmidt pointed to a customer whose workers were manually dragging 200-pound totes from a conveyor to a pallet, resulting in lots of injuries. Their new system brings the totes to workers, who simply take the parts they need.
Daifuku's Carlson says she is seeing more solutions based on addressing ergonomics, sound levels, cleanliness and sustainability. "Those issues are creeping in, too," she says. "It's not just always about cost."
Vision, guidance
Another benefit of automation is real-time visibility into material movement. Visibility equals specificity, says Kotecki, and the tracking and tracing of components allows monitoring activities associated with those components. For instance, light curtains over bin openings can assure that the operator picks the right nut from the right bin in the right quantity. Then, by connecting the operator's torque wrench to the system, managers can see that the nut was fastened with 14 foot-pounds of torque by Operator X at 2:05 p.m. on January 1.
With specific information about available resources, end-users can streamline their stock of raw materials and componentry, says Kotecki. "Rather than storing excess inventory, you can be more strategic with build quantities based on economics rather than a supply chain contingency," he says. "Software plays a role, but the predictable accuracy of automation enables this."
Automated systems can provide real-time updates with as much specificity as a customer needs, says Muratec's Schmidt. It can simply confirm that a transaction has been executed, or it can provide much more detailed information. More customers are looking for material visibility, such as time-stamping and traceability, he says. For instance, these capabilities are critical in the manufacture and distribution of pharmaceuticals.
The growth of automation in manufacturing illustrates a transition from batch manufacturing to synchronized material flow with lean, demand-based methodology. The term "just-in-time" was suitable to describe applications that just delivered product in time. Today, time is only one of many data points—from the refinery to the shelf—that can inform efficient operations.
Companies mentioned in this article
JBT Corp.: jbtc.com
Daifuku Webb: daifukuamerica.com
Dematic: dematic.com/na
Muratec: muratec.com

August 19, 2016
Subscribe to Modern Materials Handling Magazine!
Subscribe today. It's FREE!
Find out what the world's most innovative companies are doing to improve productivity in their plants and distribution centers.
Start your FREE subscription today!
Latest Whitepaper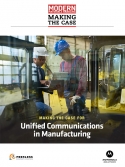 The Overlooked Competitive Advantage: Connected Teams
57% of surveyed manufacturers believe they could reduce downtime by 10-30% by unifying their workgroup communications. What does a minute of downtime cost you?
Download Today!
From the January 2018 Modern Materials Handling Issue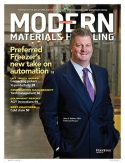 Lift Truck Series Part 1: Lift truck technology connects pickers to productivity
Breaking Through On Yard Visibility
View More From this Issue
Latest Webcast
Emerging Technologies for Your Distribution Center
Come get an insider's view of the latest technologies for inside your Distribution Center. You'll learn which technologies are being piloted, which are having success and moving from concept to implementation and into production on the maturity scale, and what's coming on the horizon.
Register Today!