Retail: Inside the multi-channel DC
Four approaches to multi-channel distribution show how the same tried and trusted technology can enable efficient store replenishment while keeping e-commerce customers happy.

Technology in the News
2018 MHI Innovation Award finalists announced
The Overlooked Competitive Advantage: Connected Teams
How Industry 4.0 Design Principles are Shaping the Future of Intralogistics
Supply chain management survey indicates greater pressure on companies to demonstrate sustainability
Other Voices: How a warehouse execution system provides product traceability
More Technology News
Technology Resource
The Overlooked Competitive Advantage: Connected Teams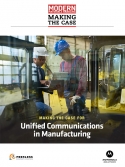 57% of surveyed manufacturers believe they could reduce downtime by 10-30% by unifying their workgroup communications. What does a minute of downtime cost you?
All Resources
By
Josh Bond, Senior Editor
·
October 1, 2012
The rise of the smartphone and the growth of e-commerce have created a new generation of consumer expectations. Companies have worked to meet those expectations by creating dedicated distribution facilities designed for objectives like next-day or same-day delivery, 100% order accuracy, and customized product packaging. In some ways, direct-to-consumer (D2C) fulfillment looks very little like traditional retail store distribution, where units per order, optimal lead times and product presentation objectives are geared toward an entirely different set of metrics.
For many businesses, the e-commerce channel now constitutes enough of the company's overall sales to warrant a larger commitment. No longer content to contract D2C fulfillment through a third-party logistics provider or to continue to operate separate facilities for each channel, many businesses are considering the benefits of a multi-channel distribution center. The hope is that bringing the once discrete processes of retail and D2C fulfillment under one roof can help make both channels more profitable.
A smaller footprint, a smaller inventory and happier customers make a compelling argument for the move to multi-channel, but it is not as simple as co-locating these processes under one roof. The disparate demands require unique combinations of traditional hardware and innovative software.
Modern spoke to systems designers and integrators, and compiled four examples of distribution solutions that illustrate the emerging variety of multi-channel fulfillment strategies. Multi-channel facilities challenge traditional assumptions, but when done right, they can create the flexibility to impress even the most fickle customers—whether they visit a virtual or brick and mortar storefront.
1. The put wall
Mike Khodl, senior vice president of Solution Development at Dematic, says multi-channel capabilities are going to become a very normal way of designing a distribution center going forward. He adds that the central challenge of moving from batch operation to thousands of small orders can be done without elaborate technology deployments. An illustration of one such low-tech approach to multi-channel fulfillment is the put wall, a simple series of cubby holes that enable a worker to pick from a single stock keeping unit (SKU) to many orders for any channel.
In this facility scenario, pallets are received as usual and put in either automated or conventional storage. From receiving, a case can be crossdocked direct to shipping or sent to a conventional full-case pick module. Another case might be unpacked into a tote and put into an automated buffer system. A tote can then be routed into the high-volume, multi-line order station or a single-line order station to process against. The tote might be routed to both, depending on order demand.
At the put wall, a worker picks from conveyor-fed single-SKU totes and puts to multiple orders. If there is product left in the tote it is sent back into a forward inventory storage location. The next time there are more orders against that SKU, the partial tote comes out first before drawing from full cases. "You're drawing off the same pallet for large retail stores, small storefronts, e-commerce and store pickup channels," says Khodl. "With this system, I have zero duplicity in my inventory system."
Once the customer's order has been picked, it can be routed to the packaging station or to a value-added services station. The order is then labeled, filled with dunnage, sealed and routed to either a UPS/FedEx truck directly, or it receives a simple store-out label and is put on a trailer bound for a retail store. With this system configuration, it would be relatively easy to add store delivery for items ordered through e-commerce. Store delivery is a slightly different channel than strictly retail or strictly D2C, but it can easily be achieved with this type of system, says Khodl.
Whether the fulfillment engine is an automated storage and retrieval system (AS/RS) or standard conveyor, Khodl says the multi-channel facility will need complex software to drive the flow of product. "It's all about how I manage the routing, the inventory levels, order demand and order velocity," he says. "The view of order demand and order velocity by SKU is critical to controlling your upstream flows."
The software needs a holistic view, but an optimal system also asks managers to adopt a larger perspective. "Often the shipping supervisor doesn't necessarily care what's going on at the putaway, storage and replenishment engine," says Khodl. "But now he does, because it can shut him down."
2. An integrated picking approach
Aaron Jones, vice president of Bastian Solutions, also emphasized the importance of flexible software in tackling multi-channel applications. In addition to complex routing protocols, Bastian's approach to designing a facility for wholesale and e-commerce fulfillment includes traditional equipment used in a non-traditional configuration.
Instead of a common linear distribution design, with its limitations in routing, throughput and picking complexity, this multi-channel facility enables consolidation of eaches from many different segments of the facility. A pick-to-light system is used to select high-value and sensitive items from carton flow racking, from which the order might move directly to packaging and shipping along a few hundred feet of conveyor. Or, it might be routed to a full-case picking area where pick-to-voice is used to select product from pallet flow racking. All picking areas in the facility support both retail store fulfillment and D2C orders.
"It was a challenge to ensure direct-to-consumer products and orders do not get buried behind miles of accumulation conveyor," says Jones. "A shipping window missed by five minutes can translate into an entire missed day for the e-commerce customer."
From the full-case pick area, the order might pick up a few additional items from a forward storage area where slower-moving SKUs are stored in bin shelving. Once an order has been assembled from any of the three picking areas, it's "distribution as usual," according to Jones, as the order is either sent directly to the dock sorter or to a split-case area for consolidation.
Orders are picked to their shipping containers, which are right-sized by automatic lidding machines to fit their contents and reduce packaging and shipping costs. Before being automatically labeled, cartons will pass through automatic document insertion modules capable of packing invoices, packing lists, promotional items and more at a rate of 20 cartons per minute per line.
"A multi-channel facility needs packaging flexibility," says Jones. "You will also see more bypass and workaround capabilities."
The multi-channel shipping dock also requires greater flexibility than a traditional distribution facility. "If properly planned, a facility can operate for a large portion of its volume with just a handful of dock doors," says Jones. "The door-per-store approach is not necessarily ideal, between the resulting accumulation conveyor and trucks remaining immobile. With multi-channel, there tends to be more intermittent shipping milestones and deadlines, as well as more truck turnover by utilizing different carrier sizes."
3. Data driven storage and sortation
Chris Arnold, vice president of operations and solutions development for Intelligrated, says one of the more challenging issues in any facility is inventory control. The inventory of a multi-channel facility is often duplicated and looks like a warehouse within a warehouse, he says. This is particularly evident when the SKUs and order profiles differ greatly from channel to channel. There are still benefits to be reaped in that case, since multi-channel capabilities might enable one channel to act as a clearinghouse for the other.
The focus in this multi-channel facility is on keeping inventory accessible. The facility serves e-commerce customers as well as 3,000 stores, using a relatively small amount of storage space in a very narrow aisle configuration. Cases are picked to pallets with bar code scanning from deep storage. Pallets are then deposited next to the inbound/outbound conveyor where they are manually transferred onto the conveyor. Some case cartons are transportable and some are placed into totes at this time.
From there, some cases are routed directly to shipping, and some are routed to a value-added services area. Multiple-unit cases with units bound for multiple orders are sent to be manually unpacked at induction stations bound for tilt-tray sortation. If, for instance, only 11 of 12 units are needed for various orders, the leftover unit is directed to bin shelving, where future orders are picked against first. If the leftover item is needed for a single-line order, it can be placed into a shippable carton and sent directly to shipping. Or, it can go to induction to join other items in an order on the same outbound conveyor to the sortation buffer.
Crossdocking capabilities also allow incoming product to be directly routed to shipping, value-add, de-trashing and tilt-tray sorter induction, a buffer staging area, or deep storage. "A tremendous amount of decisions are made at the receiving area, which minimizes touches per case, keeps inventory accessible, and minimizes the space needed for deep storage," says Arnold.
As with deep storage picking, the majority of items routed from receiving simply head straight to sortation induction. Product for e-commerce, retail or wholesale might come from either receiving or deep storage and might pass through any of the value-add or unpacking stations on the way to the tilt-tray sorter, where products from storage and/or receiving are merged.
An "in-process buffer" enables the facility to pick items for orders that are not due to ship until the next day or week. Items are then sequenced, combined with other products in the orders, and released to shipping in a timely manner. Orders are strategically sorted to the optimal chute location and delivered to a manual pack-out station where the operator is presented with the appropriate sized carton. The cartons are then closed and routed to a sliding shoe sortation system for outbound transportation sortation. In the event a finished carton is to be staged for shipment at a later time, it will reside on pallet flow rails until the WCS directs the operator to manually place it back onto the conveyor for merging and shipment.
4. De-coupled processes
Art Eldred, client executive of system sales at Vargo Solutions, says the multi-channel challenge is not about simply fulfilling an order, but assembling that order. Order assembly used to happen at the store, says Eldred, and commonly bundled SKUs could be sent to that store independently. In pushing that function back to the DC, order selection processes that once proved very effective for store order fulfillment can quickly break down.
This order-fulfillment engine is designed for an end-user with about 5,000 SKUs. On any given day, only about 1,200 of those SKUs are active. Those active SKUs are brought forward to lanes of static bin shelving and carton flow racks. The bin shelving houses items moving at a rate of one box per day or less, whereas fast-moving product is housed in the flow racks.
The flow racks are stocked from very narrow aisle deep storage by pickers using RF scanners to retrieve only enough product to satisfy active orders. The pickers then replenish the flow racks randomly, based on available slots. The same SKU might be deposited in two slots at opposite ends of the flow rack. Because of the order assembly approach, says Eldred, it makes no difference if commonly bundled SKUs are slotted far away from each other.
Pickers stationed in the aisles of racks and shelves use RF scanners and pull wheeled carts through an aisle, with each worker picking from only one or two aisles per run. Depending on the SKU cube, the picker might pick to as many as 100 orders or more on each run.
The picker deposits filled carts at the order assembly station, where they are staged in front of fixed pick-to-light bars. An order assembler then pulls items from the two donor racks and places them into either a tote or the shipping container to complete orders on a third rack.
The assembled orders are then wheeled to the pack-out stations where orders in totes are transferred to shipping containers and assorted documents and promotional materials are added. Orders could be manifested at the pack-out station, but Eldred says there are many benefits to decoupling processes. Aside from an additional layer of verification, discrete roles shorten training times for quick scaling during peak order volume.
"If the pick area tried to serve all 5,000 SKUs, it would be five times the size and the walking distances would be five times longer," says Eldred. "Individual process metrics, such as product retrieval from deep storage, might take longer than with a traditional approach," says Eldred. "But when you look at the productivity end-to-end, you win. Lean approaches are often emphasized by department in a DC, but few take a lean approach for the entire facility."
According to Eldred, this system is suited to nearly any kind of distribution, regardless of the percentage of volume dedicated to e-commerce or any other channel. By zeroing in on active orders, the cycle times are shortened to ensure speedy delivery to any customer.
Companies mentioned in this article
Bastian Solutions: bastiansolutions.com
Dematic: dematic.com
Intelligrated: intelligrated.com
Vargo: vargosolutions.com

March 31, 2016
About the Author
Josh Bond, Senior Editor Josh Bond is Senior Editor for Modern, and was formerly Modern's lift truck columnist and associate editor. He has a degree in Journalism from Keene State College and has studied business management at Franklin Pierce University.
Subscribe to Modern Materials Handling Magazine!
Subscribe today. It's FREE!
Find out what the world's most innovative companies are doing to improve productivity in their plants and distribution centers.
Start your FREE subscription today!
Latest Whitepaper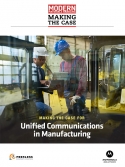 The Overlooked Competitive Advantage: Connected Teams
57% of surveyed manufacturers believe they could reduce downtime by 10-30% by unifying their workgroup communications. What does a minute of downtime cost you?
Download Today!
From the January 2018 Modern Materials Handling Issue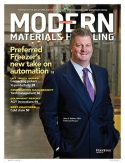 Lift Truck Series Part 1: Lift truck technology connects pickers to productivity
Breaking Through On Yard Visibility
View More From this Issue
Latest Webcast
Emerging Technologies for Your Distribution Center
Come get an insider's view of the latest technologies for inside your Distribution Center. You'll learn which technologies are being piloted, which are having success and moving from concept to implementation and into production on the maturity scale, and what's coming on the horizon.
Register Today!