Tech Data asks: What's next?
One of the world's largest wholesale distributors of technology solutions rolled out a WCS, WMS and labor management across six U.S. distribution centers to keep up with demand.

Tech Data prides itself on something Darryl Branch, senior vice president of logistics and integration, calls an attitude of constant transformation.
in the News
CSX CEO Harrison won't back down when it comes to addressing service issues and operational plans
Randstad Report: 76% of U.S. workers do not fear automation
STB issues follow-up letter to CSX over service-related concerns
Outsourced Transportation Management
AAR reports annual U.S. rail carload and intermodal gains for the week ending August 12
More News
By
Bob Trebilcock
·
July 31, 2014
What technology does it take to provide a consistent and efficient customer experience across a network of distribution centers? That was a question posed several years ago by Tech Data, the world's largest wholesale distributor of technology and solutions.
At the time, Tech Data was managing its North American fulfillment activities with paper-based legacy systems. Aging warehouse systems were a contradiction for a company that delivers the latest IT hardware and solutions to its customers. At the same time, Tech Data prides itself on something Darryl Branch, senior vice president of logistics and integration, calls an attitude of constant transformation. He says, "We are constantly looking at what other technologies can be applied to our business and asking: What do we do next?"
What's next for the logistics centers—Tech Data's term for its DCs—was the roll out of a common warehouse control system (WCS; Fortna, http://www.fortna.com) one facility at a time across a network of six U.S.-based logistics centers. The multi-year project was completed last year. The WCS provides real-time control and visibility into the status and location of orders as they travel through miles of conveyor and sortation, including the all-important "priority" orders scheduled for next-day or two-day delivery. Since going live, on-time delivery rates have improved from 99.6% to 99.9% for priority orders, while meeting on-time delivery rates of 99.999% on standard delivery orders.
WCS was not the only technology update. In 2007, prior to the WCS roll out, Tech Data went through a network-wide warehouse management system (WMS) implementation. And, after launching the WCS project, Branch's team also took on a labor management system (LMS) and employee incentive program. The ultimate goal is to be the industry leader on customer service while enjoying the lowest logistics costs among its competitors.
So far, the technologies are delivering results. In addition to improved on-time delivery, labor costs are down, the number of full-time equivalents has been reduced from 1,100 to 500, and throughput has improved from 45 pieces per labor hour to 70 pieces per labor hour. "We've been able to improve our metrics every year since we implemented the WCS, WMS and labor management," Branch says.
Launching WMS
With more than $26 billion in revenue and 9,000 employees worldwide, Tech Data is ranked No. 119 on the Fortune 500 and is consistently one of Fortune's most admired companies. It distributes and resells approximately 150,000 high-tech products for HP, Dell, Microsoft and others in North America, South America, Europe, the Middle East and Africa, and supports approximately 115,000 value-added resellers, direct marketers, retailers and corporate resellers in 100 countries. The list of offerings includes computer peripherals, physical security, consumer electronics, digital signage and mobility hardware. It also provides services ranging from logistics management to training and technical support, customized shipping documents, product configuration/integration and access to flexible financing programs, as well as a suite of electronic commerce tools including Internet order entry and electronic data interchange services.
Order fulfillment and distribution are core competencies and competitive differentiators, according to Branch. In the United States, Tech Data operates a network of logistics centers comprising more than 2 million square feet, including Miami (273,000 square feet); Suwanee, Ga. (196,000 square feet); Swedesboro, N.J., (407,000 square feet); South Bend, Ind. (347,000 square feet); Fontana, Calif., (407,000 square feet); and Dallas/Ft. Worth (535,000 square feet). A seventh facility in the network is located in Costa Rica.
Today, the facilities use mobile computing and bar code scanning to direct work and ensure quality; more than 22 miles of conveyor feed high-speed sorters that route the correct orders to the right trucks to meet customer service levels; and labor management is used to create consistent work standards, provide objective metrics to measure associates and compare productivity across facilities. The facilities are clean, well-organized and consistent. "We believe that one of the keys to our success is having as much consistency as possible in how we operate our systems and how the logistics centers are measured against each another," Branch says.
While the buildings are relatively new, as a 40-year-old company, they were managed by aging legacy software systems. The quality of those systems varied from one facility to the next and depended on how much was available to invest at the time a building went live. Increasingly, Tech Data was challenged by changes taking place in the types of products it was handling, smaller order profiles and increased customer service-level requirements.
For instance, the product mix expanded beyond conventional IT products to include toys, printers, copiers and asset tagging for configuration centers. E-fulfillment resulted in more small orders and more each picks. Priority orders were increasingly a competitive differentiator. "In a business where our competitors all offer the same SKUs, a customer may decide who to use based on how efficiently we can ship an order on time," says Branch, adding that a customer will typically pay more for higher service levels. As a result, the ability to deliver on priority orders is a key metric when it comes to evaluating how well the company is performing.
The first step at modernizing the facilities came in 2007. After implementing SAP WM in its European facilities, Tech Data went live with the WMS across the United States. While order selectors could pick orders without paper and get them onto the conveyor system more efficiently than in the past, the existing WCS systems couldn't track the status or location of orders—especially priority orders—as they traveled on the conveyor and sortation systems. The subsequent processes involved a lot of manual intervention, inefficiencies and the potential for errors because the WCS could not differentiate priority orders from regular orders.
To compensate, Tech Data developed manual workarounds to visually track orders. When a priority order dropped into the system, it was picked into special red totes and placed on the conveyor line. Associates were then stationed on the floor to manually divert the red totes to the right lane for next-day or two-day shipment. With a reliance on manual diverts, it's no surprise that some orders ended up in the wrong trucks, impacting service levels. "We had a lot of manual effort, even though we'd put in a sophisticated WMS system," Branch says.
High-tech tool for a high-tech company
It was clear that the company needed a high-tech tool to match its high-tech requirements. "We realized that to get the full efficiency out of our WMS, we had to have smart conveyors powered by a WCS," Branch says. "Otherwise we were going to have a lot of automation that still relied on people." Moreover, they wanted one technology platform that would provide a consistent way of operating across the network, even if the conveyor systems were different.
Having just gone through a major WMS roll-out and a lot of change management, Tech Data took a step approach to the new WCS, rolling the system out one facility at a time starting with the DC in South Bend. The idea was to learn how to run and maintain the new system, including the dashboard for the control system. An additional goal was to identify best practices and develop several super users in each facility who could apply lessons learned to the next implementation. It took five years to get all of the U.S. facilities up, running and experienced on the WCS—the last went live in 2013.
The outcomes were impressive. Thanks to the WCS, Tech Data could now track priority orders as they progressed through the order fulfillment system and ensure they were automatically sorted to the right shipping lane for the customer service level. Manual intervention and red totes were things of the past. More importantly, the sophisticated systems enabled Tech Data to look at its business more strategically and to add more value for customers.
"We saw an improvement in throughput and accuracy," Branch says. "But we also gained visibility into how orders flow through the facility. That allows us to understand when trucks need to leave to meet next-day or two-day delivery."
In turn, Tech Data can now provide a better customer experience than in the past—and do so more economically. Moreover, by operating on common platforms, the network of DCs collaborates on best practices and standards across the sites. Finally, the company thinks more strategically about how inventory is positioned across the network and what type of orders are filled in each facility. As an example, a significant percentage of smaller orders have been shifted to the Dallas/Fort Worth facility, especially those shipped in envelopes.
Improving labor standards
Tech Data took the same "one facility at a time" approach with labor management, rolling it out concurrently with the WCS system. "To get the most from the WMS, we wanted a common set of labor standards across all of our facilities, just like our common software platforms," says Branch. The new software and engineered labor standards were accompanied by an employee incentive program. Last year, every employee, including temporary employees, received a bonus. This year, bonuses are paid every two weeks.
Labor management had two impacts. For one, there was a nearly 60% reduction in the number of full-time equivalents along with the increase in throughput. Just as important, morale has improved. "With labor management, our employees understand how they're being measured and rewarded," Branch says. "It's really improved the mindset of our people."
Branch adds that other companies have taken notice of its systems. In fact, Tech Data is now providing third-party logistics (3PL) distribution services. "They're looking at how we manage our labor, how we manage our inventory and at our commitment to continuous improvement," Branch says. "We have made investments that they don't have to make in their facilities if we manage their distribution."
"Since launching this initiative in 2007, we have clean, organized buildings with high morale," he adds. "We've brought consistency to our operations and measurements across our network. And, we continue to look at what technologies can be applied to our business. We continue to ask: What do we do next?"
System suppliers
Warehouse control system: Fortna
ERP, WMS, LMS: SAP
Conveyor and sortation: Hytrol
Turret and walkie lift trucks: Crown; Raymond
Mobile computing and scanning: Motorola Solutions
Rack and shelving: Elite Storage Solutions
Editor's Note: When it comes to materials handling and order fulfillment, the action is no longer focused on equipment. Instead, software and information technology is transforming and optimizing operations. The following story on how Tech Data, one of the world's largest wholesale distributors of technology and solutions, rolled out a warehouse control system across its network of DCs is the second in our series of System Reports focused on technology. Last month, we looked at how the Wyoming Liquor Division is using voice technology in its new DC. We end the series in July with a report on how Diversity Vuteq implemented a highly visual WMS operating on iPads to deliver perfect orders to automakers. Perhaps these examples will encourage you to look for areas in your own operations where technology or software can make a difference.

July 31, 2014
About the Author
Bob Trebilcock Bob Trebilcock, editorial director, has covered materials handling, technology, logistics and supply chain topics for nearly 30 years. In addition to Supply Chain Management Review, he is also Executive Editor of Modern Materials Handling. A graduate of Bowling Green State University, Trebilcock lives in Keene, NH. He can be reached at 603-357-0484.
Subscribe to Modern Materials Handling Magazine!
Subscribe today. It's FREE!
Find out what the world's most innovative companies are doing to improve productivity in their plants and distribution centers.
Start your FREE subscription today!
Latest Whitepaper
Top 20 industrial lift truck suppliers, 2017
The top lift truck suppliers list is changing with industry acquisitions causing a dramatic departure from the norm.
Download Today!
From the August 2017 Modern Materials Handling Issue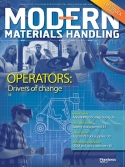 Reader survey: Lift trucks keep on truckin'
Top 20 industrial lift truck suppliers, 2017
View More From this Issue
Latest Webcast

Warehouse Execution Systems (WES): The Pathway to Same-Day Fulfillment
This webinar explores the processes and technologies enabling same-day, same-hour order fulfillment using intelligent supply chain software.
Register Today!