The future of materials handling is…
Final thoughts on Modex 2016.

Latest News
The State of the DC Voice Market
Strong December sees spot market truckload demand top capacity, says DAT
Problem Solvers Caucus report takes deep dive to address U.S. infrastructure concerns
Maersk and IBM roll out blockchain-based joint venture with a global trade focus
60 Seconds with Kevin Lacy, North Carolina Department of Transportation
More News
Latest Resource
The State of the DC Voice Market
Available On-Demand. Watch Now.
All Resources
By
Bob Trebilcock
·
April 20, 2016
There's been a lot of discussion around our magazine, as well as across the industry, about the future of materials handling. Following my trip to Atlanta for Modex 2016 earlier this month, I had a few thoughts to add as fodder to the discussion.
The future of materials handling is… Materials handling. Anyone walking the floor couldn't help but be impressed by the thousands who traveled to Atlanta to see what the industry has to offer. From what MHI is saying, 2017 will be the biggest Promat ever. In that regard, there has been a lot of talk about where the industry fits in the supply chain, both around the table at our magazine as well as within the industry. I think that question misses the point: Supply chain people aren't looking for broader supply chain solutions, like demand planning, S&OP or logistics, from us.
They're hungry for innovative solutions that will solve their materials handling problems. Most importantly, we are an enabling technology. When I first started writing about the industry, the point of materials handling solutions was to reduce the cost of touching a product. To a large extent that happened by taking touches out of the process. Today, I truly believe our real role is to enable the go-to-market strategies of our customers. Materials handling systems and technologies make it possible for the operations side of the business to fulfill the customer service promises made by sales and marketing. As long as we remember that, the future looks great.
The future of materials handling is ...Robotics (maybe). Based on the number of exhibitors featuring robotic solutions in their booths, you can't help but believe that everyone wants a robot in their distribution center. Tomorrow. Having just written about three companies that successfully incorporated robotics into their operations for Modern Materials Handling, I've got at least part of one foot in that camp. That said, I'm reminded that I saw the first shuttle at a show some five to seven years ago.
While shuttles are becoming more common, I still see more piece-picking mezzanines and put walls than shuttles. Two quotes about robotics from experienced materials handling pros stuck with me after the show. One old hand said, "No one wants to be first," when I asked what did he see as the biggest impediment to the adoption of the robotic piece picking solution his company was demonstrating. Another recalled the frenzy over RFID and offered this piece of advice: "The biggest mistake the industry can make is to over-promise what robots can do and where they can work."
The future of materials handling is ...Software. I wrote about this last year after Promat and it remains true today. Increasingly, its software that allows us to create the solutions that enable those go-to-market strategies I wrote about up top. Whether or not software is a competitive differentiator today, it will definitely be a determining factor in the future, especially if we see the adoption of robotics.
The future of materials handling is ...Education. You may not have noticed them, but there was a row of colleges and universities with booths in the long hall leading to the show escalators. Many of the educators manning the booths were familiar faces to me from CSCMP, ISM and APICS. "What are you doing at a materials handling show?" I joked with them all. Michigan State's Nick Little told me that it had been a great show for them, and added that a lot of the interest was from suppliers interested in executive education, especially for senior sales leaders.
"We already working with some solution providers who want to make sure their senior staff can speak the same language as the customers they are dealing with," Little said. MHI and the industry has always had strong relationships with institutions with strong engineering programs. If Little is right, I expect to see strong relationships with schools with strong supply chain programs as well – all the better to enable those go-to-market strategies.

August 22, 2016
About the Author
Bob Trebilcock Bob Trebilcock, editorial director, has covered materials handling, technology, logistics and supply chain topics for nearly 30 years. In addition to Supply Chain Management Review, he is also Executive Editor of Modern Materials Handling. A graduate of Bowling Green State University, Trebilcock lives in Keene, NH. He can be reached at 603-357-0484.
Subscribe to Modern Materials Handling Magazine!
Subscribe today. It's FREE!
Find out what the world's most innovative companies are doing to improve productivity in their plants and distribution centers.
Start your FREE subscription today!
Latest Whitepaper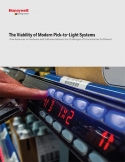 Transform DC Throughput and Accuracy With Pick-to-Light Systems
The demands of omnichannel distribution center (DC) fulfillment are driving the adoption of more advanced pick-to-light hardware and software.
Download Today!
From the December 2017 Modern Materials Handling Issue
The Big Picture: Navigation Gets a Reboot for Automatic Vehicles
Top 20 3PL Warehouses 2017: Growth amid change
View More From this Issue
Latest Webcast
The State of the DC Voice Market
A lot has changed in the last 10 years, especially in voice technology. This webinar will cover the state of the voice market, review two leading voice solutions and help you gain a better understanding of the options and capabilities available today.
Register Today!