The heart of production at ODU
Thanks to a new WMS and a complete modernization of its mini-load AS/RS, ODU is reliably pumping work-in-process to the assembly area and getting orders out the door.

ODU's global assembly manager Philipp Hossfeld.
in the News
U.S.-NAFTA trade is up for sixth straight month, reports BTS
AAR reports annual U.S. carload and intermodal gains for week ending June 17
Digital Issue: The Current State of Third-Party Logistics Services
New JDA survey finds missing link to omni-channel success for manufacturers and retailers
FTR report makes the case for Twin 33-foot trailers in the LTL sector
More News
By
Bob Trebilcock
·
April 1, 2014
Raw materials, parts and sub-assemblies are the lifeblood of any production line. Shut off the supply, and the line shuts down.
At ODU GmbH & Co. KG, a German manufacturer of high-quality electrical connection systems, a mini-load automated storage and retrieval system (AS/RS) and a manual warehouse are the heart of the manufacturing process. Together, they pump out everything that goes into the preassembly and assembly areas at ODU's 215,000-square-foot facility in Mühldorf am Inn, near Munich. "Our storage systems feed our assembly stations just like a heart pumps blood through your arteries," says global assembly manager Philipp Hossfeld. "If they're not pumping, we only maintain enough material in the assembly area for about one shift. Then, we have to shut down."
That was exactly the situation ODU found itself in two years ago when the 14-year-old mini-load system went down for 27 hours because no replacement part was immediately available. The shut down cost the company more than $675,000 in lost sales. The time had come for a new ticker. "This must never happen again," concluded Hossfeld and his manager.
In response, ODU worked with a system supplier (viastore, viastore.com) to modernize the mini-load system, including the replacement of worn mechanical parts, the PLC and electrical controls, and the warehouse control software system (WCS). At the same time, ODU installed a new warehouse management system (WMS) to manage storage and picking processes and provide a new level of visibility across its operations that was sorely lacking in the past.
With its new capabilities, ODU redesigned a number of its warehousing processes and streamlined its operations. The results have been impressive, according to Hossfeld.
Uptime has improved by nearly 25%, to 98% availability. More importantly, ODU has gained visibility across all of its inventory and processes, resulting in lead time promises that are 97% accurate. "Our sales department has a new level of confidence in production," says Hossfeld. "If we promise a date, we know we can deliver." That is crucial in today's market, as ODU's customers demand faster order turnaround times.
Breaking through the bottlenecks
ODU was founded in Berlin in 1942 and moved to its location near Munich five years later. Since then, it has become a world leader in the production of electrical connector systems used for a range of applications that require high-quality, reliable connectors for transmitting data, signal, power or media. These include medical technology, such as MRI equipment, along with applications for the measurement and test engineering, energy, military and automotive sectors. In all, the company manufacturers some 75,000 different products, most of them to order.
Along with its facility in Germany, ODU manufactures in Romania, China and Camarillo, Calif.—the U.S. facility was founded in 1985. With annual sales of nearly $181 million, approximately 60% of the production in Germany is made for export.
While many manufacturers outsource some, or all, of their processes to third parties, ODU remains vertically integrated. More than 80% of production takes place at the plant across some 24 assembly stations. The ODU Group combines all relevant competencies and key technologies in one company: design and development, machine tool and special machine construction, injection molding, stamping, turning, plating, assembly and cable assembly.
To that end, the ODU facility has very little finished goods storage. For the most part, he says, the company will only produce the number of pieces required on an order. Finished goods go directly from final assembly to shipping.
In the preassembly area, however, ODU employs a postponement strategy. There, generic parts that will later be assembled into one of the company's 75,000 SKUs are manufactured in quantities that make the most economic sense. "We may get an order that requires putting 10 connectors through the silver paint line," Hossfeld explains. "If we can do 100 pieces in the same amount of time as 10, we will match the best number of parts to the process and put the remainder in storage."
That's where the mini-load comes into play. Originally installed in 1999 and expanded in 2003, the mini-load features four aisles, 14,000 tote storage locations and three pick stations. While the fastest moving sub-assemblies are stored in strategically located areas in production, known as supermarkets, some 40,000 slower moving work-in-process parts are maintained in the system until they are required at an assembly station. At that time, they are automatically retrieved from storage and conveyed to a light-directed goods-to-person pick station. There, an associate puts them into a tote and onto a trolley—a handcart with a number of different rack levels—for delivery to the assembly area. Each trolley cart holds eight cartons at a time.
With a three-shift operation, the mini-load gets a workout. After 14 years of service, it had become a little like a heart patient who occasionally needs a jolt to keep operating. On average, the system operated at 80% up time. On occasion, it went down for extended periods. Things came to a head two years ago when a shaft broke during the second shift on the conveyor system that connects the aisles in the mini-load with the goods-to-person pick stations. With no replacement part or support available from the original system supplier, the warehouse went down for 27 hours. Hossfeld estimates that he lost more than $675,000 in sales because the company couldn't supply its customers. The company decided something had to be done to prevent future failures.
Reliability wasn't the only issue ODU was grappling with, however. There were also bottlenecks in the production process. These were caused in part by the mini-load, but also from the fact that different areas of the facility were operated by different software systems that didn't talk to one another. For instance, a WCS managed the mini-load system while the enterprise resource planning (ERP) system and spreadsheets controlled conventional storage areas. Any movement from one area to another had to be manually updated across systems, a labor-intensive and slow process that often led to duplicate work. What's more, ODU had no real-time visibility into operations. "When it came to the movement of material through the facility, we were totally blind," Hossfeld says. It was not uncommon to lose track of material for several days. "We wasted time, we wasted material, we were sometimes late with deliveries and our lead times were too long," he adds.
To break through the bottlenecks, ODU decided to not just overhaul the mini-load, but to also implement a best-of-breed WMS that could tie together all of the processes in the facility—preassembly and assembly processes, the automated warehouse and the conventional warehouse areas—and report back to the ERP system. "To get efficient and eliminate bottlenecks in the facility, we had to control all three areas with one system," Hossfeld says.
Complete visibility
What all of that meant was visibility. Although the mini-load was a bottleneck, the modernization process began in the manual warehouse. There, the WMS system provided an interface with the ERP system and the opportunity to create new efficiencies in conventional processes. "We can't afford downtime," Hossfeld explains. "In the manual warehouse, we could see the parts and we had physical access to them. If the WMS didn't work, we could still get the parts by hand using our old processes. If the mini-load doesn't work, we are lost."
The WMS did more than just connect the manual warehouse to the ERP; it also allowed ODU to streamline processes. "We spent a lot of time with our solution provider thinking through how we could improve what we do before we installed the software," Hossfeld says. As a result, ODU was able to achieve improvements without modifying the standard WMS system. For instance, in the past, lift truck operators had to go to a print station to get every new assignment and to print out labels. Now, labels are printed onboard the lift truck and the WMS determines the shortest path to get to the next order. Although ODU still relies on printed picking instructions, those could be delivered to the onboard mobile computer in the future.
The WMS also allowed for random storage rather than dedicated storage in the pallet warehouse; further, the system allows ODU to store more than one SKU on a pallet. "With our old system, we could only put one SKU on a pallet, even if we only had one carton of that SKU," Hossfeld says. The result was more efficient use of storage space.
Once ODU was confident that the new processes and the interface between the ERP and the WMS worked, modernization got underway on the mini-load system. Since the system had to be shut off for two weeks, all of the work-in-process was removed from the storage aisles and positioned around the plant. ODU also shipped three weeks worth of preproduction parts to the plants in Romania, China and the United States to make certain they didn't run short of material during the switch over. "We spent one year planning for a shut down that lasted two weeks," Hossfeld says.
During the shut down, the mechanical systems, PLCs and software were completely overhauled and put back into service. Once the system was back up and running, all of the critical areas were interconnected to the ERP, providing complete visibility into an order from start to finish. The only areas still controlled solely by the ERP system are the supermarkets—those storage areas for fast-moving parts locating in the assembly areas. Those areas are only accessed by team leaders who get their production orders from the ERP system.
While reliability was critical, Hossfeld says visibility is one of the most important outcomes of the project. "We went from being totally blind to seeing everything," he says. "Since the system went live, we haven't misplaced a single article of inventory."
He adds, "We now have an intralogistics system that works very well. The ability to think about new possibilities in our processes has really reduced lead times, which is important to our customers."
System suppliers
AS/RS modernization, WMS and WCS: viastore, viastore.com
Mobile computing and scanning: Honeywell, honeywell.com
Tugger system: Developed in-house by ODU
AS/RS racking: SSI Schaefer, ssi-schaefer.us
Lift trucks: Still, still.co.uk

April 1, 2014
About the Author
Bob Trebilcock Bob Trebilcock, editorial director, has covered materials handling, technology, logistics and supply chain topics for nearly 30 years. In addition to Supply Chain Management Review, he is also Executive Editor of Modern Materials Handling. A graduate of Bowling Green State University, Trebilcock lives in Keene, NH. He can be reached at 603-357-0484.
Subscribe to Modern Materials Handling Magazine!
Subscribe today. It's FREE!
Find out what the world's most innovative companies are doing to improve productivity in their plants and distribution centers.
Start your FREE subscription today!
Latest Whitepaper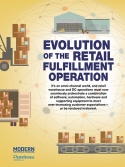 Evolution of the Retail Fulfillment Operation
It's an omni-channel world, and retail warehouse and DC operations must now seamlessly orchestrate a combination of software, automation, hardware and supporting equipment to meet ever-increasing customer expectations or be rendered irrelevant.
Download Today!
From the June 2017 Modern Materials Handling Issue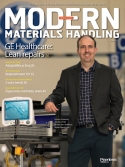 GE Healthcare: Self-driving vehicles are the centerpiece of ROC
The Big Picture: Adaptability as King
View More From this Issue
Latest Webcast

Warehouse Execution Systems (WES): The Pathway to Same-Day Fulfillment
This webinar explores the processes and technologies enabling same-day, same-hour order fulfillment using intelligent supply chain software.
Register Today!