Tips for managing moldy pallets
When mold happens, it isn't pretty. Here are some tips for pallet users.

By
Bob Trebilcock
·
February 2, 2012
As a rule, pallets don't often make national news. But back in 2010 both Johnson & Johnson and Pfizer announced recalls of product that had a noxious moldy, musty smell. In both instances, the healthcare companies laid the blame on wooden pallets shipped from facilities in Puerto Rico. In both cases, the culprit was said to be a chemical treatment applied to wood to prevent the mold.
The pallets were treated with a chemical called 2,4,6-tribromophenol, or TBP. TBP has been banned for use in the United States, but it is still used to treat lumber and lumber products against mold in some countries in South American and Caribbean, where the lumber and pallets at issue were produced. Under certain circumstances, TBP breaks down into another chemical, 2,4,6-tribromoanisole (TBA) and gives off a musty moldy smell. Both Johnson & Johnson and Pfizer have contended that their products were contaminated as a result.
Then, many pallet experts were skeptical that the odor could have penetrated a cardboard shipping container, consumer packaging and the foil seal and cotton ball inside a plastic bottle of Tylenol. Since, the issue has dropped from the news. But mold does happen and when it does, it's a major headache for pallet producers and large pallet users in the food, pharmaceutical and healthcare industries.
With spring around the corner, it seemed like a good time to revisit the article we did at the time, with some ideas on how to prevent moldy pallets.
The article is based on interviews we did for the original piece when we talked to Edgar Deomano, technical director for the National Wooden Pallet & Container Association (http://www.palletcentral.org), and Brian Bond, an associate professor in the department of wood science and forest products at Virginia Tech. Here's what we learned.
What causes moldy pallets?
Mold spores are everywhere, looking for a place to land and propagate. That's the reason a piece of bread develops mold after a while, even inside a closed refrigerator. As it turns out, your basic green hardwood pallet is a pretty good source of moisture and sugars for mold spores. In part, that's because the pallet industry today is a just-in-time industry. Pallet makers want to minimize the amount raw material they keep in inventory, which means that lumber doesn't sit around long after it comes off the saw. Nor do they want to keep an inventory of finished pallets, which might otherwise air dry. "A typical green pallet will have an average moisture content of between 35% and 60%," says Bond, who adds that a pallet with an average moisture content of 20% will resist mold growth if properly stored and handled. But, to get to that average moisture content requires some cost and effort.
Does mold affect the performance of the pallet?
Not according to Bond. "Mold grows on the surface of the pallet," he says. "It is not structurally degrading to the pallet." Mold on a pallet does look bad and appearances count. There is also a concern that mold will contaminate the product, which could be a problem if it comes into direct contact with food products. For his part, Bond has consulted with companies on mold issues and has not seen product contamination, although he understands it's possible. "Typically, what I've seen is the fear of mold contaminating a product," he says.
Does heat treating kill mold?
Yes and no, say Bond and Deomano. Heat treating is typically done to kill insects or insect larvae that may be in the wood. "Yes, it will also kill mold, but heat treating is not designed to dry the pallet," says Bond. The heat treatment process actually brings moisture to the surface of the wood. "That's an ideal mold-growing environment if the pallet isn't properly handled," says Bond. A pallet manufacturer can start a core drying cycle at the end of the heat treatment, but that adds a cost to the pallet that most users are not willing to pay for.
What about air drying or kiln-dried lumber?
Bond and Deomano have seen recent pallet mandates that call for a pallet dried to an average 8% moisture content. According to Bond, a pallet dried to an average 20% moisture content won't have mold growth, if it's properly handled. The question is how to get to the 20% average moisture content.
Kiln drying hardwood lumber is an expensive proposition and could result in split boards. However, there is a market for kiln dried pallets, and there are suppliers providing them.
Air drying is less expensive than kiln drying, but it takes time. "Most pallet suppliers say they don't have the time to air dry a pallet because their customers want them yesterday," says Deomano.
Used pallets are more likely than new pallets to meet the average 20% moisture content advocated by Bond, simply because they have been in use for some time. Many users, however, will not accept a used pallet.
A pallet constructed from kiln-dried softwood lumber will meet that criteria and won't have mold growth, says Deomano, if the pallet is properly handled. "However, if you store the pallet in the yard and it gets wet, you can get mold on a kiln-dried pallet too," he adds. In fact, mold will develop on plastic, metal and corrugated pallets if they get wet and are stored in warm, damp places.
How then can I prevent mold?
The simplest way to avoid mold, say both Deomano and Bond, is to start with the basics.

• Realize that where your pallet is going to be shipped and how it's going to be used can impact whether you need to worry about mold. "Overall, I suggest that pallet suppliers talk to their customers about the differences between green wood, air dried wood, kiln dried wood and mold," says Deomano. "To most end users, a pallet is just a pallet, but it's carrying a valuable product."

• Understand that how you store and handle your pallet can go a long way to preventing mold. Keeping them dry and clean is a start. Avoid storing them in the yard if possible, or storing a load of pallets in an enclosed trailer for an extended period of time. If you wash your pallets down for sanitary reasons, make sure they are dry before you put them back into use. Where possible, avoid storing pallets in closed trailers for any length of time. "I've been in facilities where the user keeps a load of green pallets in a closed trailer," says Bond. "During the day, it gets hot and raises the relative humidity inside the trailer. At night, when the temperature drops, it hits the dew point, adds more water and promotes mold growth." Storing palletized product in a trailer, at least for short time intervals, doesn't have the same affect, Bond adds. "If you only have 20 or so pallets in the trailer, that's not enough to create a problem," he says.

• Consider chemicals when appropriate. "There are some very good products out there that will prevent mold and will not create a problem," says Bond. "But, that's really an issue of whether they will be accepted by the final customer."
• Consider an alternative pallet. Any pallet can develop mold if it's not properly handled, but presswood pallets, corrugated pallets, plastic pallets and metal pallets may be less susceptible to mold than green hardwood pallets. Bear in mind, however, that alternative pallets are still niche products; they may not be accepted by your customer; may not work in your application; or, in the case of plastic and metal, may be more expensive than a comparable wooden pallet.
Read more from the Pallet Report.

February 2, 2012
About the Author
Bob Trebilcock Bob Trebilcock, editorial director, has covered materials handling, technology, logistics and supply chain topics for nearly 30 years. In addition to Supply Chain Management Review, he is also Executive Editor of Modern Materials Handling. A graduate of Bowling Green State University, Trebilcock lives in Keene, NH. He can be reached at 603-357-0484.
Subscribe to Modern Materials Handling Magazine!
Subscribe today. It's FREE!
Find out what the world's most innovative companies are doing to improve productivity in their plants and distribution centers.
Start your FREE subscription today!
Latest Whitepaper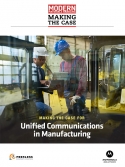 The Overlooked Competitive Advantage: Connected Teams
57% of surveyed manufacturers believe they could reduce downtime by 10-30% by unifying their workgroup communications. What does a minute of downtime cost you?
Download Today!
From the January 2018 Modern Materials Handling Issue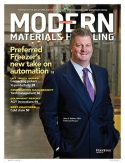 Lift Truck Series Part 1: Lift truck technology connects pickers to productivity
Breaking Through On Yard Visibility
View More From this Issue
Latest Webcast
Emerging Technologies for Your Distribution Center
Come get an insider's view of the latest technologies for inside your Distribution Center. You'll learn which technologies are being piloted, which are having success and moving from concept to implementation and into production on the maturity scale, and what's coming on the horizon.
Register Today!