Top 20 3PL and public refrigerated warehouses, 2014
Increasingly resilient to global economic moods, 3PL and public refrigerated warehouses persistently achieve modest growth.

By
Josh Bond, Senior Editor
· December 1, 2014
Each issue, Modern explores life inside the nation's warehouses as we cover trends and solutions inside the four walls. To give us some perspective, each year we take a look at the square footage of top third-party logistics (3PL) warehouses and the cubic footage of public refrigerated warehouses.
For this year's report, we contacted two industry insiders. Dick Armstrong, chair of Armstrong & Associates, weighs in on the 3PL side; and Corey Rosenbusch, president and CEO of both the Global Cold Chain Alliance and partnership association IARW, shares his insight on the public refrigerated warehouse side.
Third-party logistics providers
The biggest global 3PL warehouses have again posted modest growth amid unparalleled pressures to operate more efficiently. These are among the findings of an annual ranking of the Top 20 3PL warehouses supplied to Modern by Armstrong & Associates, a consulting firm specializing in logistics outsourcing. Armstrong forecasts continued modest growth in 2014. See last year's list.
Last year, for the second time in a row, Armstrong predicted global 3PL warehousing gross revenues for 2013 would grow by about 6%, following similar growth in 2012 and stronger growth of 8.2% in 2011. Instead, 2013 actual growth was just 3.2%, a rate expected to hold into 2014.
In the meantime, Armstrong says global trade, not GDP, will tend to inform 3PL revenue growth. His prediction for 2014 3PL market revenue growth of 3.5% could see the total 3PL market break the $150 billion mark. "If global trade goes up 3%," he says, "you can expect 3PLs to post two and a half to three times that."
In terms of overall square footage, a 4.4% increase from 566 million to 591 million square feet is within the margin of error given minor variations in reports submitted by companies from year to year. The total square footage for the Top 10, which again account for 67% of the Top 20's total with 398 million square feet, is up 4.3% over last year's figures.
"That growth rate makes sense, since we're seeing a long-term trend toward larger boxes," Armstrong says. "So, with the same basic number of facilities, the average will continue to grow."
Dramatic changes in the number of warehouses are often due to variations in the reports each company submits. Reports sometimes include forwarding locations, transportation logistics or 20,000-square-foot warehouses. Armstrong says he works to ensure the list focuses specifically on warehousing facilities of 100,000 square feet or more. With that in mind, Armstrong says the number of facilities is essentially unchanged since last year.
The Top 10
Exel retains its place at the top of the list, with three times the square footage of longtime second-place GENCO ATC. GENCO now holds second place with just 1.5 million square feet more than Ryder. After two years in third place, Jacobson was bumped down to No. 5 in 2012 before landing at No. 6 for 2013. They still manage about the same amount of space, as does competitor Ryder, which added just a few million square feet to leapfrog into third place after a stint at No. 7.
Following years of relative stability with regard to the ranking of each Top 10 company, Armstrong says the recent scramble at the top is not surprising given the fact that clients and contracts come and go. That said, averages do not reveal the shifting landscape of facility design. Armstrong notes that alongside the trend toward larger boxes is a proliferation of smaller regional facilities.
Still, more than 75% of 3PL contract warehouse locations are single-customer, Armstrong says, with the remaining locations averaging 1.7 customers each. Some of the companies on the list have successfully navigated the multi-customer space, he says, noting Kenco (No. 8), Menlo (No. 15) and Saddle Creek (No. 17).
"If it's the kind of warehousing company that is really a fulfillment center, then obviously it will tend to have multiple clients to smooth things out and better utilize the workforce," Armstrong says. "But at the other extreme, where you have a warehouse that is actually for manufacturing support, it's more likely to stay tied to that one client."
Trends to watch for 2014
"The political climate at home gives you heartburn," Armstrong asserts. "But the U.S. economy should continue to grow modestly, so on this side of the Atlantic, things are in good shape. The Top 20 will not have much of a problem in North America, but outside of here it's a mess."
Italy is in recession, Germany and England are just keeping their heads above water, and Spain has a mess that's hard to solve, he says. "Of course West Africa is a mess because of Ebola, the East because of periodic disruptions from jihadists, but there is a bright spot in Scandinavia north of the Alps," he adds.
But Armstrong's interest is in pending developments in North America between the United States and Canada. At least 15 Mexican trucking companies are now authorized to carry in the United States, including STI, which also operates in Canada. "I find it fascinating, he says. "There will be a big change in the next few years with regard to cross-border traffic and how that happens. And it's way overdue. The capability is there, and it's time to let North American trade blend together a little better."
Armstrong says owner-operators and teamsters have been "fighting like crazy," but he emphasizes that he's been watching the quality, safety and general level of Mexican operations for some time. He says, "most are as good as anything I've seen in the United States."
Whatever the market, Armstrong doubts labor availability in warehousing is a very big issue—unlike the truck driver supply. "It's at an apex point, and you have a teeter-totter effect," he says. "The labor supply is level, but it could easily tilt because of a hot economy and a demand for capacity. Any shortage of capacity would happen primarily because of a shortage of truck drivers. The economy is recovering gradually, so right now it's not a problem. If it hits a real uptick, say economic growth of 7% or 8% in a year, we would be short of truck drivers in a hurry."
In terms of the wider economy, Armstrong cites a report that suggests new building in prime areas, although it hasn't taken off yet, will include a slow increase in construction of new boxes. He expects inventories will diminish as evolving supply chains achieve more production using leaner practices.
Changing practices and the ongoing concentration of multichannel warehouses is likely to see 3PLs serving a combination of channels from a single warehouse. "As it gets bigger," he suggests, "they will probably encompass several kinds of operations within the facility."
Public refrigerated warehouses
This year's ranking of public refrigerated warehouses (PRW) reflects positive growth, as well as increasing consolidation in the PRW industry. International Association of Refrigerated Warehouses (IARW) has released its annual Global Top 25 list of the PRWs with the greatest warehouse capacity, accompanied by the North American Top 25 List. The Global Top 25 currently operates 3.36 billion cubic feet—a 4% increase from 2013. The Top 25 North American companies now manage 2.7 billion cubic feet, holding level with last year.
Rosenbusch says the growth in space accompanies a shift in capabilities. "I'm almost hesitant to call them refrigerated warehouses, because that suggests these companies only do freezers and cold storage," he says. "But they encompass the entire temperature-controlled supply chain."
Although 70% of the product IARW's members store is frozen, a shift in consumer preferences toward fresh foods are prompting many to expand their capabilities. "Whereas some traditionally are only invested in assets and offer a service as a third party, a number of companies are getting into the management of customers' existing facilities," Rosenbusch says. "The lines are blurring."
Rosenbusch adds that a number of acquisitions is also changing the landscape of the temperature-controlled warehousing industry.
"The amount of consolidation is some of the highest we've ever seen," Rosenbusch says. "There were some late summer transactions, and the speed of acquisition is not going to slow down any time soon."
Last year's transactions include Lineage's acquisition of Millard, which Rosenbusch says should put the company well north of 600 million cubic feet under management on next year's list. Lineage also now consists of more than 12 previously independent, family-owned businesses that have come together to be one of largest players in the space.
As the big companies and their facilities get bigger, Rosenbusch suggests it could benefit smaller niche players as well, who will find relatively less competition in that space. Whatever the size, top refrigerated warehouses are handling the ever-increasing complexity of serving clients. Rosenbusch cites a benchmark study conducted across the industry illustrating that, until recently, about 40% of revenue came from value-added services. Now these services account for more than 60% of revenues.
"You always hear about a crunch on human capital and talent development, about the pressure to always do the job cheaper, better and faster in an economy where labor and energy are not getting any cheaper," Rosenbusch says. "Automation and software are helping, but with the large acquisitions and rapid pace of change, integration is the No. 1 issue I hear from the big firms. One is trying to consolidate between seven and nine warehouse management systems under one umbrella."
Going forward, Rosenbusch will be paying close attention to regulatory developments relating to the Food Safety Modernization Act (FSMA) and its provisions for food transportation. "It's fortunate that a lot of the regulations in preliminary processes are things our members have been doing for years," he says. "But the rules for third-party transportation carriers could become even more onerous."
About the Author
Josh Bond, Senior Editor Josh Bond is Senior Editor for Modern, and was formerly Modern's lift truck columnist and associate editor. He has a degree in Journalism from Keene State College and has studied business management at Franklin Pierce University.
Subscribe to Modern Materials Handling Magazine!
Subscribe today. It's FREE!
Find out what the world's most innovative companies are doing to improve productivity in their plants and distribution centers.
Start your FREE subscription today!
Latest Whitepaper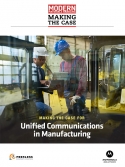 The Overlooked Competitive Advantage: Connected Teams
57% of surveyed manufacturers believe they could reduce downtime by 10-30% by unifying their workgroup communications. What does a minute of downtime cost you?
Download Today!
From the January 2018 Modern Materials Handling Issue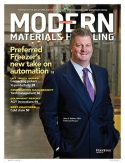 Lift Truck Series Part 1: Lift truck technology connects pickers to productivity
Breaking Through On Yard Visibility
View More From this Issue
Latest Webcast
Emerging Technologies for Your Distribution Center
Come get an insider's view of the latest technologies for inside your Distribution Center. You'll learn which technologies are being piloted, which are having success and moving from concept to implementation and into production on the maturity scale, and what's coming on the horizon.
Register Today!