Unemployment and the manufacturing economy
There is an opportunity for the materials handling industry in this recession, but only if we develop the right skills for our customers.

Bob Trebilcock
·
September 1, 2010
I went back to Ohio but my city was gone
There was no train station; there was no downtown …. Chrissie Hynde
You might wonder what the lyrics from a Pretender's song are doing in a materials handling blog. I recalled those lyrics this morning after a friend sent me an interactive map titled: The Decline: The Geography of a Recession.
If you haven't seen it, I'd urge you to click on the play button below. Don't worry, it's suitable for work.

According to the caption, an enterprising graduate student gathered unemployment records for every county in the U.S. beginning in January 2007, when the national unemployment rate was 4.6%, and then updated the statistics, month by month and county by county, until May 2010, when the overall unemployment rate hit 9.7%. As the map unfolds, it turns from shades of mostly yellow and orange (signifying 2 to about 4.5% unemployment) with a few pockets of purple and black (7 to 10+% unemployment) to a nearly solid mass of purple and black counties. Watching the map change colors is like watching a plague of locust sweep across the country.
That's what got me thinking about the Pretender's. That song is a hymn to the decline of Akron. But it could just as easily be applied to Youngstown, Ohio, where I grew up in the suburbs. As a city whose economy was built on steel mills, auto plants and automotive suppliers, Youngstown once boasted the highest per capita wages in the country, a place where my blue collar neighbors had boats and cottages on Lake Erie. That all came to an end on or about September 19, 1977, when Youngstown Sheet & Tube closed one of its historic mills and laid off 5,000 employees. Over the next few months, thousands more were laid off from companies that supplied products and services to the mills, which led to a wave of business failures. Auto dealers went out of business, mom and pop stores that had been in business for generations closed up shop and homeowners dropped off the keys to their foreclosed homes at the bank on their way out of town. Sound familiar? Thirty three years after Black Monday, as that day is remembered, my hometown is still reeling. My city is gone.
I launched my professional career in that environment. I graduated from college just three months before the mills closed, moved back to the suburb where I was raised and got my first real job. Miraculously, I managed to dodge the unemployment bullet back then, and I guess I've been dodging bullets ever since.
My worries now are for my daughter who will graduate from college in a year and launch her professional life in an environment very similar to the one I faced starting out. Somehow, this feels different than it did when I was 21. Then it felt transitory, as if this too shall pass and pass quickly. Now, it feels desperate. Maybe it's that back then I was 21 and cocky, which means I was probably too stupid to appreciate how bad things were. And maybe it's that today I'm a dad who has dreams, aspirations and fears for his kid. Truth be told, I probably fear that I'll have to keep paying her bills if she can't find a job.
It could also be the headlines that make this current recession feel so odd. Back in 1977, my blue collar friends were laid off from factory and construction jobs. But, when things picked back up, they had something to go back to. This time around, I'm not so sure that will be the case. A few weeks ago, the Wall Street Journal ran a story about the number of manufacturing jobs that are going unfilled – good paying jobs for welders and machinists – because companies can't find labor with the right skills for today's factories. Last week, the Journal ran a similar story, this time set in Germany, where there's a shortage of engineers.
And it's not just manufacturers who are frustrated in their search for the right employees. An executive friend of mine recently told me about his inability to fill two openings in his corporate office. Applicants were a dime a dozen, mostly mid-level refugees from large corporations, but no one – or at least no two people - had the combination of skills that his two former employees had between them. It made him realize how big companies have put their employees in silos, limiting their responsibilities and, as a result, what they know how to do. "There really is a skills shortage," he said incredulously. "And I'm just trying to fill office spots. I'm not looking for a nanotechnologist."
As a parent, I've urged my daughter, a nursing student, to learn everything she can learn as she does her clinical work in hospitals, to make every connection she can make and to do whatever she can to standout from her peers as she goes through her training. You never know who will remember her when she graduates and is applying at those same hospitals for a job. I want her personal geography to turn a bright shade of yellow, not a dark hue of purple or black.
Okay, it's taken a lot of ruminating to get to this point, but I think the same applies to the materials handling industry. Our customers are looking to us to deliver innovative solutions that can give them an edge in a global economy. We need to develop the talent that can create those solutions, and bring along the talent with the combination of skills to make the most of them once they are in place. There really is an opportunity for the materials handling industry to be there and thrive when this turns around.

September 10, 2010
About the Author
Bob Trebilcock Bob Trebilcock, editorial director, has covered materials handling, technology, logistics and supply chain topics for nearly 30 years. In addition to Supply Chain Management Review, he is also Executive Editor of Modern Materials Handling. A graduate of Bowling Green State University, Trebilcock lives in Keene, NH. He can be reached at 603-357-0484.
Subscribe to Modern Materials Handling Magazine!
Subscribe today. It's FREE!
Find out what the world's most innovative companies are doing to improve productivity in their plants and distribution centers.
Start your FREE subscription today!
Latest Whitepaper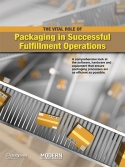 Special Digital Issue: Packaging in Successful Fulfillment Operations
A comprehensive look at the software, hardware and equipment that ensure packaging processes are as efficient as possible.
Download Today!
From the September 2017 Modern Materials Handling Issue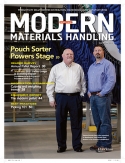 The Pallet Report: Pallets help optimize operations, protect products and organize space
Warehouse Basics: Navigating the pick path
View More From this Issue
Latest Webcast
E-commerce and the New Pallet Paradigm
Driven by emerging streams of supply chain data, shifting customer demands, and an industry obsession with eliminating every sliver of waste, pallet usage continues to evolve. During this webcast we'll examine how Modern's readers are adapting to current challenges while positioning themselves to meet those that lie ahead.
Register Today!