What's new in sortation technology
Think there's nothing new about sortation technology? Think again.

Bob Trebilcock
·
March 1, 2010
If you're talking about a basic sortation in a small factory or distribution center, maybe that's true. But once you get beyond the basics, the next generation of sortation systems and controls is addressing the needs and concerns of today's increasingly complex and automated manufacturing and distribution environments.
Now, if that reminds you of the opening to the story Modern ran in February on conveyor systems, you're right. And, it's not just the result of a lazy editor. Conveyors and sortation systems go together like bats and balls, or soup and sandwiches. In fact, most of the leading conveyor manufacturers are also leading sortation providers. And, just as we discovered that suppliers in the conveyor industry continue to innovate to meet the needs of today's end users, so too are suppliers of sortation systems.
Many of the same factors driving the latest developments in conveyor technology are at work in sortation, including the need by end users to handle more throughput with less equipment and a growing emphasis on energy savings and sustainability. But those aren't the only factors.
The persistent shortage of labor for warehouses and distribution centers, for instance, is one factor driving the adoption of sortation technology, says Mark Wolkenfeld, vice president of GBI Data & Sorting Systems (954-596-5001, http://www.gbisorters.com). That's a phenomenon not only in the United States, but also in what were previously thought of as low-wage countries, too.
"We have had numerous customers purchase sortation equipment because they can't get enough reliable employees for their peak periods," says Wolkenfeld. "But we're also seeing interest in Latin American countries, were labor costs are lower. They need the accuracy that comes from automation to avoid charge-backs from their large retail customers."
And, as with conveyors, the shift from pallet and carton fulfillment to each picking for the growing direct-to-consumer market is also having an impact on systems. "You're seeing a lot more single item orders and smaller packages being sorted to many more sort destinations than in the past," says Bob Barnes, director of proposals for HK Systems (262-860-7000, http://www.hksystems.com). "That's resulting in smarter induction systems and improved sorter devices to handle a wider variety of items."
Here are some of the most common trends that are driving the conveyor market today, according to some of the leading providers of conveyor equipment, systems and controls.
Flexible sortation: How can the sorting system more effectively accommodate the ebb and flow of operations? That's an important question, especially for businesses with peak or seasonal activity. One solution is a sorting system that automatically adjusts to throughput as demand changes during the day, says Ken Ruehrdanz, warehousing and distribution market manager for Dematic (877-725-7500, http://www.dematic.com). "If there is a surge or decline in flow to the sorter, then the sorter should automatically speed up or slow down to efficiently accommodate that demand," Ruehrdanz says. "Why run the sorter at top speed all day when demand varies as it does in so many distribution centers?" That flexibility is provided through new control systems that automatically adjust the sorter speed. That, in turn, reduces energy use, sound and maintenance requirements. Further, the input that allows sorters to speed up or slow down can also originate from the shipping dock. "If the shipping operation is waiting for more trailers, or is temporarily under-staffed, the sorter can slow down to accommodate that," Ruehrdanz explains. "There's no sense in sorting high volumes of throughput to shipping when only a moderate flow can be accepted."
Modular sorters come into their own: End users are demanding flexibility from their automation systems, including their sortation equipment. "If you don't know where your business is going to be five years from now, you want to make sure that your equipment can grow with you," says Wolkenfeld. Sortation systems are increasingly modular, just like the conveyor systems that feed them. "Every frame of our sorters are built the same way," says Wolkenfeld. "If you need to add another 100 drop locations down the road, we can take a sorter apart and add new portions into the frame that will all be tied together to the host system."
Do more with less: "The do-more-with-less concept has been at the forefront of sortation technology for the past two or three years," says Tim Kraus, product manager for Intelligrated (877-315-3400, http://www.intelligrated.com). "Instead of running the system faster, we're focused on getting the maximum sortation rates with the minimum speeds." What makes that possible is a two-step process, Kraus adds. The first step is to improve the motion control of the conveyors feeding the sortation merge to establish smaller, more predictable gaps at higher rates of speeds. The result is a reduction in standard gaps from 12 inches between cartons to 4 inches in a high throughput system. The second is better engineering that has led to an improved, gentler divert process even at high speeds.
Low technology to the fore: Some of the most important strides in sortation technology have come about because of improvements in less expensive and less sophisticated equipment, thanks to the application of better PLCs, software and servo motors for induction, says Del Deur, director of product development for carton and case conveyor at TGW-Ermanco (231-798-4547, http://www.tgw-ermanco.com). "We now are able to put in a wave diverter that consists of six rows of wheels that can come up one at a time to handle a 6-inch gap between cartons instead of an 18-inch gap," says Deur. "With that technology, we can handle up to 200 cases per minute like a shoe sorter, but at half the cost of a shoe sorter." The end result, he says, is a system that is not only less expensive to install, but cheaper to maintain because the maintenance staff doesn't have to be as highly trained.
Bring on the belts:
Last month, we noted how the increase in each picking has led to new demand for belt conveyors. The sortation industry is seeing an increase in the demand for cross-belt sortation systems for the same reason, says HK Systems' Barnes. "End users like a cross-belt sorter because it's less damaging to their product since you're not flipping it around, like you do with a tilt-tray or sliding shoe sorter," Barnes says. "You can also pack in more destination points with cross-belt sorters than you can with other methods." That's important as users try to do more presorting to reduce their transportation costs with UPS, FedEx and the postal service. "In those instances, sortation becomes a supply chain play," Barnes says.
Green sortation: Cross-belt sorters are also a green materials handling play, Barnes adds. That's because there is less friction involved in handling the product than in other types of sortation. "If you're handling volume, the cross-belt sorter is more energy efficient on an energy expended per-piece basis," Barnes says.
Sortation modernization: A well-designed, well-built sortation system should have a long life. A sorter can be rebuilt and modernized to extend its life, says Ruehrdanz. "The procedure is often done over a long weekend or holiday to preclude any operational downtime," he says. "Slats, wheels, shoes, components and controls can all be replaced as part of a modernization." The result: Once a sorter has been re-built, end users can expect improved carton flow, higher throughput rates, improved uptime and reduced energy requirements.
Smooth running: One of the most important improvements in sortation technology has to do with the reliability of the systems, says Kraus. "There are more intelligent and predictive maintenance features embedded in the machine control software," he says. "We built what we have learned about the operation and maintenance of the systems into the machine controls to catch problems early." These predictive maintenance systems monitor things like the alignment of components for abnormal wear or the lubrication delivery system. They can also alert a decision maker to a developing problem and suggest a corrective measure, including automated steps the machine control system can take to make a repair. "The corporate maintenance or facility manager can be assured that their equipment won't be faced with expensive downtime," Kraus says.
Lease or buy: In addition to trying to accommodate more throughput with less sortation and conveyor technology, the economy is forcing companies to do more with less capital, and to demand faster paybacks on their automated systems. "We are talking to companies that want a payback as short as six months," says Wolkenfeld. That's driving the demand for financial innovations, including leasing options for sortation systems. "We have a relationship with banks that will lease automated systems," Wolkenfeld says. "But we are also seeing more customers who are successfully leasing systems with their own banking relationships."

February 21, 2012
About the Author
Bob Trebilcock Bob Trebilcock, editorial director, has covered materials handling, technology, logistics and supply chain topics for nearly 30 years. In addition to Supply Chain Management Review, he is also Executive Editor of Modern Materials Handling. A graduate of Bowling Green State University, Trebilcock lives in Keene, NH. He can be reached at 603-357-0484.
Subscribe to Modern Materials Handling Magazine!
Subscribe today. It's FREE!
Find out what the world's most innovative companies are doing to improve productivity in their plants and distribution centers.
Start your FREE subscription today!
Latest Whitepaper
Fulfillment Processes That Deliver Accuracy
This white paper outlines the factors to consider, the benefits of current automated picking technologies, and reviews some of the efficiency improvements and ROI these technologies can bring to an operation.
Download Today!
From the January 2018 Modern Materials Handling Issue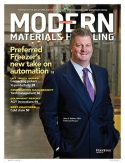 Lift Truck Series Part 1: Lift truck technology connects pickers to productivity
Breaking Through On Yard Visibility
View More From this Issue
Latest Webcast
The State of the DC Voice Market
A lot has changed in the last 10 years, especially in voice technology. This webinar will cover the state of the voice market, review two leading voice solutions and help you gain a better understanding of the options and capabilities available today.
Register Today!