Wood pallets cited as cause for McNeil's Tylenol recall
Wood pallets have been blamed for the recent product recall, but sources agree that more information is needed

Lorie King Rogers
·
April 1, 2010
What started out for McNeil Consumer Healthcare as a limited recall of Tylenol Arthritis Pain caplets, has swelled into a massive recall of products and caused a headache for the wood pallet industry.
The recall raises two questions: What was the source of the wooden pallets in question? And, are other U.S. manufacturers at similar risk if they are shipping on wooden pallets?
The short answers are that McNeil has not positively identified the source of the wooden pallets at issue. More importantly, 2,4,6-tribromoanisole, the chemical used to treat the wooden pallets in question, is not used to treat wooden pallets in the United States. Manufacturers and shippers using wooden pallets manufactured in the United States would not face a similar risk, according to industry experts.
Back in December, McNeil announced a voluntary recall of the Tylenol product due to consumer reports of an unusual musty, mildew-like odor that was being associated with unpleasant gastrointestinal symptoms. Since then, the recall has extended to other products, including additional Tylenol pain relievers, Motrin, Rolaids, Simply Sleep and St. Joseph products. All told, more than 54 million bottles of product have been recalled.
According to a statement by McNeil on Dec. 18, 2009: "The uncharacteristic smell is caused by the presence of trace amounts of a chemical called 2,4,6-tribromoanisole. The source of the 2,4,6-tribromoanisole is believed to be the breakdown of a chemical used to treat wooden pallets that transport and store packaging materials."
The chemical, 2,4,6-tribromoanisole (TBA), can result from the breakdown of another chemical called 2,4,6-tribromophenol (TBP). McNeil contends that TBP from the wooden pallets degraded into TBA, which contaminated product containers and the finished product inside.
The wood pallets in question are believed to have originated in the Dominican Republic then used to ship product from McNeil's manufacturing facility in Puerto Rico into the United States. However, it's extremely difficult, if not impossible, to trace the exact origin of the wood, said Mark White, professor emeritus at Virginia Tech's department of wood science.
White also explained that TBP is used in some parts of the world as a fungicide, but neither TBA nor TBP are legal to use domestically. "These chemicals are not registered for use in United States," said White, "and that should give us some degree of comfort."
That may be the only point offering comfort in this situation. McNeil's slow response to consumer complaints has drawn the ire of the U.S. Food and Drug Administration (FDA), and pointing the finger at the wood pallets has the National Wooden Pallet and Container Association (NWPCA, http://www.nwpca.com) up in arms.
In their own defense, McNeil's statement said, "The health effects of this compound have not been well studied, and to date all of the observed events reported to McNeil were temporary and non-serious."
Regardless, in January, Deborah Autor, director of the FDA's compliance office, publicly scolded McNeil. She said, "When something smells bad, literally and figuratively, you aggressively investigate and solve the problem."

Put it in writing
The FDA has sent an official warning letter to Peter Luther, president of McNeil Consumer Healthcare's North American over-the-counter business, which synopsizes the situation and outlines a timeline for corrective action. The letter points out that contamination was first noted in 2008, occurred again in 2009, and ultimately led to the December recalls. The FDA told McNeil it is not satisfied with the company's follow up measures and concluded that a timely, comprehensive investigation was not conducted.
The FDA isn't the only group writing to Luther. Bruce Scholnick, NWPCA president and CEO, not only wrote to Luther demanding "credible technical evidence of its claims," he sent the same letter to William Weldon, board chair and CEO of Johnson & Johnson, and copied Maridalia Torres at the FDA in Puerto Rico, Nuria Ramirez Ordonez, general manager of McNeil in Puerto Rico, and McNeil's general council.
This issue is causing real heart burn for the wood pallet industry, Scholnick told Modern. "The FDA is investigating, but J&J is still saying the problem is coming from the wood. They're denigrating our industry by making an assumption that is not clearly validated."
"It's extraordinarily difficult to know the exact source of the problem," he said. "While it could have been on the wood, it's possible that it could have been on the corrugate, on a person or even on the equipment handling the pallet."
"The obvious recommendation is that a thorough investigation be conducted to identify the source of problem," White concurred. "Any conclusion drawn at this time would be purely speculation."
In an effort to reassure customers, a statement of quality assurance has been released by CHEP (http://www.chep.com), a provider of reusable shipping pallets, to its customers regarding the safety of its products. It reads in part: "CHEP has an obligation to design and maintain strict and comprehensive quality control procedures for our platforms, which are classified as tertiary packaging. We believe our processes meet the most exacting standards for control and assurance, for everything from raw material to pallet repair and recycling, and we invite our customers to evaluate these processes for themselves."
PECO Pallets (http://www.peco.com), which provides pallet pooling services to the food and consumer goods manufacturing industry, also issued a statement assuring customers that its wood pallets are safe. It can be read in its entirety on the PECO Web site.
Pallets in perspective
While any product recall is serious business, Mike Tebay, chief strategic officer for PECO Pallets, put this situation in perspective from his own point of view. He said he doesn't believe this is a wood pallet industry issue, but that it's an offshore issue. Like drugs coming from Puerto Rico or toys coming from China, the onus is on the manufacturer to ensure safety and compliance in every link of their supply chain.
"There are more than a billion pallets in circulation at any given time in the United States, of which about 95% are made of wood," Tebay said. "Given the fact that almost everything that moves moves on a pallet, virtually everything we eat or use has been transported on a pallet at some stage in its supply chain. Yet when was the last time that one heard of a product recall that was, or might have been, attributed to a wood pallet? This is just one isolated situation. And it is not an American wood pallet industry problem, this is an offshore problem."
According Scholnick, this is an isolated incident and the only circumstance is he aware of where pallets have been blamed for a recall. Additionally, no conclusive evidence has been provided to date that proves pallets are to blame.

October 13, 2011
About the Author
Lorie King Rogers Lorie King Rogers, associate editor, joined Modern in 2009 after working as a freelance writer for the Casebook issue and show daily at tradeshows. A graduate of Emerson College, she has also worked as an editor on Stock Car Racing Magazine.
Subscribe to Modern Materials Handling Magazine!
Subscribe today. It's FREE!
Find out what the world's most innovative companies are doing to improve productivity in their plants and distribution centers.
Start your FREE subscription today!
Latest Whitepaper
Fulfillment Processes That Deliver Accuracy
This white paper outlines the factors to consider, the benefits of current automated picking technologies, and reviews some of the efficiency improvements and ROI these technologies can bring to an operation.
Download Today!
From the January 2018 Modern Materials Handling Issue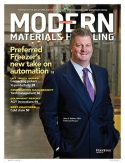 Lift Truck Series Part 1: Lift truck technology connects pickers to productivity
Breaking Through On Yard Visibility
View More From this Issue
Latest Webcast
The State of the DC Voice Market
A lot has changed in the last 10 years, especially in voice technology. This webinar will cover the state of the voice market, review two leading voice solutions and help you gain a better understanding of the options and capabilities available today.
Register Today!