Wyoming Liquor rolls out voice
A voice-over IP solution is driving new efficiencies in case and bottle picking.

Voice is the enabling technology that allows the Wyoming Liquor Division to pick and ship all orders received before noon for next day delivery, says division director Dan Noble.
in the News
The E-commerce Logistics Revolution
ITA reports third consecutive year of record-breaking forklift sales in 2017
Bluff manufacturing acquires Wesco Industrial Products
How Industry 4.0 Design Principles are Shaping the Future of Intralogistics
Supply chain management survey indicates greater pressure on companies to demonstrate sustainability
More News
By
Bob Trebilcock
·
July 31, 2014
A growing business. Lack of space. More split-case picking. An increasing number of SKUs. And, more special orders.
Those operational challenges will sound familiar to many operators. They were the driving force that led the Department of Revenue Wyoming Liquor Division to build a new 145,000-square-foot distribution center in Cheyenne in 2012.
In the new facility, voice recognition technology (Datria Voice from Knighted, an Intelligrated company, http://www.knightedsoftware.com) ties together the replenishment, conventional case picking and mechanized split-case picking processes. The technology also enables the state agency to meet the increasing demand for new products, special orders and more mixed cases than ever, while providing next day delivery from one location to more than 1,200 retailers located across the state—a very big state.
"We promise to pick and ship all orders received before noon for next morning delivery anywhere in the state," says Dan Noble, director of the Department of Revenue, adding that Wyoming Liquor ships more than 900,000 cases a year today. "In the old facility, we were running out of space, we were short of dock doors, we needed to replenish products faster, and we needed more throughput in picking."
Voice automation delivered on all counts. Take case picking as an example: In the old facility, associates were picking 60 cases an hour with bar code scanning. Today, they are picking 100 full cases an hour using voice and redesigned processes. "We chose voice for our new split-case line," adds Greg Cook, administrator of the Wyoming Liquor Division. "We were unexpectedly pleased with the improvement in efficiency in case picking and replenishment."
What's more, Wyoming Liquor chose to go with a voice-over IP (VoIP) solution. Instead of the mobile computer and head set configuration common to conventional voice solutions, the technology deployed by the liquor division uses rugged wireless phones that communicate with the facility's existing phone system. This, in turn, integrates with the facility's warehouse management system (WMS). In a sense, warehouse associates are literally phoning it in—placing a wireless phone call to accomplish their tasks.
Along with improved productivity, the division's solution provider was able to make changes on the fly through the cloud as the vendor tweaked new ways of doing things while implementing its processes. "We never missed a day of productivity to make changes," says Cook. "Our supplier could key into the system and make real-time changes while we were still out on the floor picking."
The end result is that the new distribution center is getting out more product on one shift working a normal 40-hour week. "We have less overtime and morale is up, even as the number of split-case orders is going up," says Cook.
Planning for growth
Wyoming is a big state with a dispersed population and a large tourism industry. It is also one of 18 "control states," where the state controls the wholesale distribution of wine and spirits to licensed retailers.
It's run more like a business than a government agency. The state charges a 17.6% markup and an excise tax on the products it sells; all retailers pay the same delivered cost, regardless of where in the state they are located. Although the wholesale cost and distribution is controlled, retailers set their own prices.
Customer service is top of mind. To make good on its promise of next morning delivery, the agency manages the receipt, storage and picking processes in its DC, but turns over loading, shipping and last mile delivery to a third-party provider.
By all accounts, business has been good—maybe a little too good for the old 100,000-square-foot location. In 2013, the agency shipped 45,785 more cases over the previous year, a 5.52% increase. What's more, the demand for variety—both in the number of SKUs offered to the public and the number of split cases—was and is on the rise. For example, the facility stocks 2,300 SKUs and offers all of them in full-case or split-case quantities. However, customers can special order an additional 31,000 SKUs in full-case quantities. "We may not have the big wine and spirits outlets you find in a bigger state," says Noble, "but our consumer is savvy thanks to the Internet. They are demanding more of the retailer than ever before."
Meeting the demand for split-case picking and the handling of special orders was putting a strain on the old facility, according to Cook. "For starters, we needed more space," he says. "We were also constrained at the dock because we only had seven doors and they handled both receiving and shipping. Finally, we didn't have a separate area to pick individual bottles for split-case orders. Everything was picked to a tugger and confirmed with a scanner. It involved a lot of travel through the warehouse and a lot of labor." Overtime was common, he adds.
The need for efficiency
Planning for a new facility began in 2011. Cook and his warehouse team laid out several goals for the new design:
• More dock doors: With additional volume and trucks, Wyoming Liquor wanted to separate receiving and shipping. The new facility has 17 doors, instead of seven, including 10 for shipping, five for receiving and two set aside for pick up and local delivery.
• Create more space and replenish faster: One of the bottlenecks to meeting service-level agreements within a normal shift was the replenishment process. The old facility primarily relied on single deep pallet rack for storage. The new facility features four- and two-deep push-back racking that is reserved for the fastest moving products. That means a picking lane is replenished less frequently. "We can replenish our fastest-moving items with fewer lift truck moves," Cook says. What's more, associates pick full cases right from the push-back rack.
• Develop a more efficient full-case picking system: Picking in the old facility was paper-based and each pick ticket represented just one order. That meant an order picker might travel through the whole warehouse for just five or six cases. Instead, Wyoming Liquor wanted to create a process that would direct the associate to pick multiple orders simultaneously and get more cases on each cart.
• Develop an efficient bottle-picking process: The old facility did not have its own split-case bottle picking area. Instead, full cases and split cases were picked to tuggers pulling carts. A new goal was to develop a separate process for split-case picking to reduce travel time.
Bringing in voice
To meet those goals, the team at Wyoming Liquor realized they needed to bring in new technology to automate processes. "We wanted to be hands free, more efficient and safer," Cook says.
After visiting other liquor distributors, the choice came down to either a voice- or light-directed solution. Between the two, voice seemed the better choice for this facility. "We felt we would require too many lights and too much maintenance of the system to be economical," Cook says. Voice also appeared to be more adaptable to the goal of picking multiple orders at a time.
The next decision was whether to go with a conventional voice or a VoIP solution. Although conventional voice has been in the field longer, Wyoming Liquor believed that the VoIP solution offered several advantages.
One was the cost of the hardware. "The traditional devices we looked at were $2,500 to $3,500 per unit," says Cook. "Our wi-fi phones cost about $400 each. They were also lightweight and supported Bluetooth headsets."
Another selling point was the way in which the voice software integrated with Wyoming Liquor's other software systems. "Other systems wanted each device to integrate with our enterprise resource planning (ERP) system, which meant that we would have to upgrade the voice system every time we upgraded our ERP system," Cook says. "Our voice solution is a middleware solution that runs on its own stand-alone server."
The VoIP infrastructure did require an increase in the number of wi-fi access points than were required for bar code scanning, but those were installed as part of the new warehouse. The cost was offset by savings on workers' mobile devices. There was also the cost of adding telephony to support the increased number of wireless phones, but this was accomplished with a single Cisco router that conformed to State standards. Cook contends that the additional costs were more than off-set by the ease of making changes in the system, on the fly, as they rolled out new processes.
"Since our solution provider could access our system through the cloud, we never had to shut down to write new code, test the change and then go live," he says. "We made the changes while we were operating and continued to function. That more than off-set the additional cost of the new telephony system."
Changing processes
The new facility opened for business in February 2012. The next year was spent refining the case and split-case picking processes. The makeover began in the full-case pick line, with the transition from bar code-directed single order picking to voice-enabled multiple order picking.
In the old process, an associated traveled on a tugger throughout the warehouse to pick a few cases for one order; picks were confirmed by a bar code scan. In the new process, the associate picks multiple orders and gets many more cases per trip through the warehouse; the tugger pulls one cart for up to 30 cases or two carts for up to 60 cases.
Each cart is color-coded: One side of the cart is green and the other side of the cart is red. The associate is directed by the voice system to the first pick location, told how many cases to pick and whether they go to a red or green location on the cart.
Once all the items for a batch of orders is picked, the associate goes to a printer that will only print the number of labels for the number of cases that were picked. Once the cases are labeled, the associate delivers them to the shipping department. The combination of hands-free picking and picking multiple orders at one time has boosted productivity in the full case picking area from 60 to 100 cases per hour, a 67% improvement.
"This was a new facility with new technology and new processes, which can cause anxiety," says Cook. "However, once we had designed the new processes, we had associates up and rolling in a very short period of time."
Voice technology was also applied to replenishment processes. Instead of relying on paper or bar codes, associates now receive bulk storage location and product information, the quantity to be picked (anywhere from a full pallet to a tier) and a replenishment location over the voice system. The use of push-back racks means picking locations are visited less often.

The final step was installing a conveyorized pick module for split-case picking. The area is 300 feet long, with an aisle of case flow rack on either side of a conveyor system, which includes a powered roller conveyor flanked by gravity conveyor on each side. Each side of the case flow rack is divided into four work zones. That allows for eight pickers to work simultaneously on orders at one time.
Since both automation and the voice system were new to the facility, the process evolved over a period of a year. Cook says Wyoming Liquor could have worked faster, but chose to ease into the new system rather than disrupt operations. It began as a color-coded manual process; pickers were issued color coded cartons and a list of the items for each carton. They worked on six orders at a time. After the transition to voice, pickers work on 36 orders at a time and pick to alphabetized cartons, with each letter associated with an order.
When associates log in to their headsets, the system tells them what items go into each of the alphabetized cartons. Once the orders have been picked, a team leader at the head of the conveyor line places an alphabetized cone on the powered conveyor—say the letter A. As the cone passes through a zone, the order picker pushes his or her A cartons onto the powered conveyor behind the cone. At the end of the line, the orders are consolidated into cases for shipping and turned over to the third party for palletizing, loading and delivery.
Now that the system is up and running at full speed, the facility is filling an average of 165 split case orders, or up to 12,000 bottles, per day.
As a final move toward efficiency, Wyoming Liquor staggered the way the facility processes orders to make certain that the bottle line is kept busy once it starts rolling. The shift starts off with case picking in the morning, followed by special orders, while bottle orders build up. In the afternoon, part of the workforce transitions to the split-case line to fill out the day. "Moving associates around has really taken the monotony out of the day," says Noble. "A guy in receiving may also do specials, replenishment and the bottle line before the end of the shift."
The improvements in productivity, efficiency and employee morale have set the stage for continued growth and better customer service. "We have the space to grow and systems in place to handle the extra volume on just one shift," says Cook. "And, we can continue to add the special orders and split cases that are so important to our customers."
System Suppliers
Voice recognition system: Datria Voice from Knighted, an Intelligrated company, knightedsoftware.com/datria-voice
VoIP telephony: Cisco, cisco.com
Lift trucks: Toyota Industrial Equipment, toyotaforklift.com; Hyster, hyster.com
Tuggers: Yale, yale.com/north-america/en-us/
Carts: Nutting, acconutting.com/nutting.html
Single deep pallet rack: Teilhaber Manufacturing, teilhaber.com
Four deep push-back rack: Advance Storage Products, advancestorageproducts.com
Carton flow rack: Unex Span Track, unex.com
ERP/WMS: Epicor, epicor.com
Mobile computing and scanning: Motorola Solutions, motorolasolutions.com
Conveyor: TGW, tgw-group.com/us-en/

July 31, 2014
About the Author
Bob Trebilcock Bob Trebilcock, editorial director, has covered materials handling, technology, logistics and supply chain topics for nearly 30 years. In addition to Supply Chain Management Review, he is also Executive Editor of Modern Materials Handling. A graduate of Bowling Green State University, Trebilcock lives in Keene, NH. He can be reached at 603-357-0484.
Subscribe to Modern Materials Handling Magazine!
Subscribe today. It's FREE!
Find out what the world's most innovative companies are doing to improve productivity in their plants and distribution centers.
Start your FREE subscription today!
Latest Whitepaper
How Industry 4.0 Design Principles are Shaping the Future of Intralogistics
Industry 4.0 is changing how we interact with machines and how those machines interact with each other.
Download Today!
From the January 2018 Modern Materials Handling Issue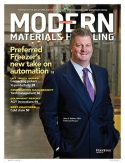 Lift Truck Series Part 1: Lift truck technology connects pickers to productivity
Breaking Through On Yard Visibility
View More From this Issue
Latest Webcast
Emerging Technologies for Your Distribution Center
Come get an insider's view of the latest technologies for inside your Distribution Center. You'll learn which technologies are being piloted, which are having success and moving from concept to implementation and into production on the maturity scale, and what's coming on the horizon.
Register Today!