TOP STORY
Containers for automated storage debut, along with new look, at Flexcon
In a press conference on Tuesday, Flexcon Container's (Booth 4046) president Ken Beckerman unveiled the company's new display design, as well as...
TOP RESOURCE
Label Holders Pay You in Time Saved—Over and Over!
Insertable plastic label holders make it easy to change a label or location. Simply re-mark the insert and slide it into the holder.
All Containers & Totes News
By MMH Staff · February 19, 2015
With a combined 90 years of experience in the Southwest, packaging and container leaders unite to enhance geographic reach.
By MMH Staff · January 29, 2015
2015 programs established for five committees: Education, Marketing and Communications, Membership, Industry Affairs and Standards, and End User Advisory Committee.
By Josh Bond · August 1, 2014
Totes securely hold 19% more small and large parts while improving flexibility in carousel.
By Sara Pearson Specter · February 1, 2014
Make sure you take into account the properties of the liquid you need to move before choosing your container.
By Josh Bond · October 2, 2013
Aircraft manufacturer uses color-coded bins in its horizontal carousel.
By Josh Bond · September 1, 2013
PK USA optimizes parts storage and materials handling to continue growth without expanding its warehouse.
By MMH Staff · August 21, 2013
Company offers bulk containers, a refurbishment program and a recycling program.
By Sara Pearson Specter · February 1, 2013
Clear containers offer improved inventory control in many applications.
By Lorie King Rogers · January 19, 2011
Don't take totes and containers for granted. These seemingly simple products are key components in the materials handling process, ensuring a smooth, efficient and safe flow of goods through the entire supply chain.
By Sara Pearson Specter · December 15, 2010
Although not new to the materials handling market, reusable plastic totes and containers are growing in use throughout many industries by addressing seven key challenges for users.
By Bob Trebilcock · October 6, 2010
CAPS does for reusable containers what CHEP does for pallets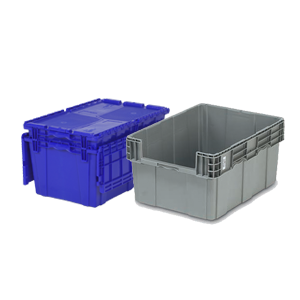 By Lorie King Rogers · February 1, 2010
At Pitney Bowes, reusable plastic containers seal the deal on enhanced ergonomics, lower costs and improved efficiency