TOP STORY
ADC: Turning data capture into decisions
ADC device technology continues to advance, but suppliers increasingly emphasize continuous monitoring and IoT-type sensing and analytic solutions as...
TOP RESOURCE
Mobile Solutions: Improving Supply Chain Efficiencies
To meet customer's ever-increasing service expectations and improve their business efficiency, companies are looking to their supply chain operations...
All Mobile & Wireless News
By Maida Napolitano · April 1, 2012
Proponents have changed the conversation and have started tagging at the item level in what the industry is now calling a "source-to-store" approach.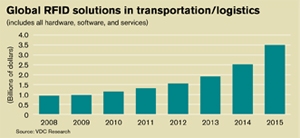 By Bridget McCrea · August 1, 2011
Logistics professionals are certainly moving toward mobile applications to improve overall supply chain operations, but just how fast is it happening? Our technology correspondent gives us a reality check.