TOP STORY
Deploying Computerized Maintenance Management Systems (CMMS) for DC Operations
Computerized maintenance management system software manages maintenance workflows and tech dispatching, asset history and spares procurement for...
TOP RESOURCE
Making the Case: Image-based Scanning for Inbound & Outbound Logistics
In an era where making the "business case" for technology investments isn't always easy, image-based barcode scanning stands on its own when it...
All Technology News
By Lorie King Rogers · July 1, 2012
The food and beverage sector is ripe with unique and difficult materials handling challenges due in part to the growing number of product choices. Here's a look at how technology can help keep the shelves stocked and the customer satisfied.
By Bridget McCrea · June 1, 2012
The market's top analysts discuss the trends that are pushing mobility deeper into every-day use and explain just how far we are from realizing real-time supply chain management—complete with logistics visibility that was once only the stuff of dreams.
By Lorie King Rogers · June 1, 2012
It's been a rough road for the automotive industry, but production is increasing. To keep pace, auto manufacturers are focusing on lineside delivery strategies that get the right product to the right operator at the right time.
By Bob Trebilcock · April 1, 2012
Automated materials handling and data collection systems are transforming the health care supply chain.
By Maida Napolitano · April 1, 2012
Proponents have changed the conversation and have started tagging at the item level in what the industry is now calling a "source-to-store" approach.
By Lorie King Rogers · January 1, 2012
Managing a cold storage warehouse successfully is a balance between maintaining the right temperature and maintaining throughput.
By Bob Trebilcock · November 1, 2011
Efficiency in the warehouse has traditionally driven the distribution process. Now, some leading retailers are looking at the DC to lower the cost of operating their stores.
By MMH Staff · August 1, 2011
Today's lift trucks offer more in the way of technology, power and performance than ever before. Here's a look at the latest innovations available in today's trucks.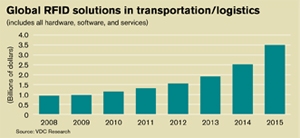 By Bridget McCrea · August 1, 2011
Logistics professionals are certainly moving toward mobile applications to improve overall supply chain operations, but just how fast is it happening? Our technology correspondent gives us a reality check.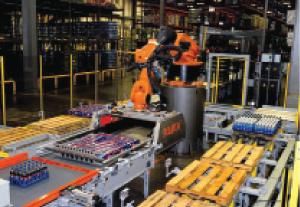 By Lorie King Rogers · May 11, 2011
Competition in the food and beverage sector is intense and profit margins are wafer thin. Here's a look at how technology and materials handling equipment can keep your operation healthy and competitive.
By Bob Trebilcock · June 25, 2010
Robotic materials handling is coming to the warehouse and distribution center.