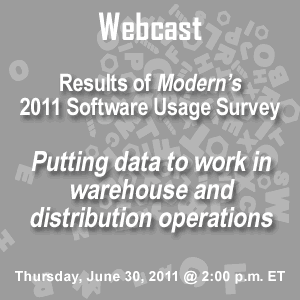 Webcast
, Group Editorial Director Michael Levans will be joined by Modern's Executive Editor Bob Trebilcock, and John Hill, a leading supply chain software analyst as they share all the findings of this year's survey.
Register Now!
" crop="yes|center,center|0,0|yes" class="img-responsive" style="width:140px; height:140px; object-fit: cover;" >
SPECIAL REPORT
By Sara Pearson Specter · June 6, 2011
WMS, SCMP, WCS, LMS and more -
Modern's
readers offer insights into their use of software, from (alphabet) soup to nuts.