Other Voices: Do I really need a Tier 1 WMS?
Without question, Tier 1 systems have their place. But for conventional warehouses, a mid-tier solution may get the job done.

Ian Hobkirk, managing director, Commonwealth Supply Chain Advisors
·
August 1, 2012
Editor's Note: The following column by Ian Hobkirk, the managing director of Commonwealth Supply Chain Advisors is part of Modern's Other Voices column. The series, published on Wednesdays, features ideas, opinions and insights from end users, analysts, systems integraters and OEMs. Click on the link to learn about submitting a column for consideration. We invite Tier 1 WMS suppliers to weigh in as well.
*** *** **
Do you really need a Tier 1 WMS? We asked ourselves this question recently and did a little research to confirm some thoughts that Commonwealth has had for a while on the subject.

Companies that are undertaking a WMS selection project often assume out of the gate that they need a top-tier WMS system and limit their search to a handful of these providers. Make no mistake – many companies with complex distribution needs and high throughput requirements may require a new WMS from Tier-1 provider. However, for companies with only moderately complex distribution centers, our research shows that the mid-tier WMS providers have been hard at work in recent years, developing features and functionality that can fill these needs.
Commonwealth recently surveyed three mid-tier WMS providers – two of which offer SaaS WMS systems and one which offers a traditional licensed WMS. (The SaaS model allows companies to avoid an upfront licensing fee and simply pay a monthly usage fee for the software). We asked them about 30 specific functionality points to see if these were now offered as standard functionality, and – perhaps more importantly – whether they have customers actually using these features and breaking them in.
We found that a number of features which were previously unavailable in mid-tier WMS are now solidly within these providers' offerings. Some of this functionality includes the ability to cluster pick, the ability to slot the same SKU in multiple locations in the same zone, advanced lot control and serialization, country of origin tracking, advanced replenishment capabilities, and cartonization. There were a few features that are still not well developed by mid-tier WMS providers such as the ability to perform clustered put-away, task interleaving and some areas of movable unit tracking.
Our key take-away is that companies are properly advised to consider providers from a mix of functionality tiers in their WMS selection projects. The relatively large number of providers and lack of consolidation in the vendor community in the last five years gives companies a wide selection of choices that they should take full advantage of.

August 2, 2012
About the Author
Bob Trebilcock Bob Trebilcock, editorial director, has covered materials handling, technology, logistics and supply chain topics for nearly 30 years. In addition to Supply Chain Management Review, he is also Executive Editor of Modern Materials Handling. A graduate of Bowling Green State University, Trebilcock lives in Keene, NH. He can be reached at 603-357-0484.
Subscribe to Modern Materials Handling Magazine!
Subscribe today. It's FREE!
Find out what the world's most innovative companies are doing to improve productivity in their plants and distribution centers.
Start your FREE subscription today!
Latest Whitepaper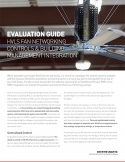 How to Invest Smartly in Industrial Fans
Read this white paper to learn the 7 defining factors to consider about your facility so you can maximize the benefits of your fan investment. HVLS High volume low speed fan white paper, Entrematic fans white paper. Benefits of HVLS fans in the warehouse.
Download Today!
From the April 2018 Modern Materials Handling Issue
Why smarts are central to Internet of Things in the warehouse
New warehouse gives winemaker a "Smooth Finish"
View More From this Issue
Latest Webcast
Industry 4.0: What you need to know today
This webinar takes a closer look at industry 4.0 and provides a roadmap for building and effectively utilizing Industry 4.0 capabilities.
Register Today!