Best Practices: Store-ready distribution evolves
Companies are recognizing the need to marry the interests of stores and distribution centers, but it's not always easy to determine what is for better or for worse.

Technology in the News
Solving the Labor Shortage Crisis: The Four Benefits of an Automated Warehouse
Other Voices: Optimizing WES with integrated order consolidation
NextGen Supply Chain at DHL
Big Picture: On the path to lights out
Other Voices: Seven surefire ways to fuel warehouse productivity
More Technology News
Technology Resource
Solving the Labor Shortage Crisis: The Four Benefits of an Automated Warehouse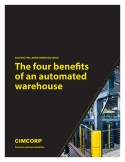 Not enough warehouse staff? Finding it difficult to keep up with orders during peak periods?
All Resources
By
Josh Bond, Senior Editor
·
February 1, 2016
Sweeping changes in the supply chain have transformed the relationship between the distribution center and the retail store. The pursuit of efficiencies and ambitious service levels has elevated the role of the DC as a competitive differentiator while online shopping has changed the role of the retail store.
As the complexity of omni-channel fulfillment penetrates virtually every supply chain, organizations are striving to get DCs and stores on the same page to realize cost reductions for labor, transportation and inventory. However, this could instead require significant investment or a reimagining of the design and location of fulfillment, replenishment and value-added services.
The concept of store-ready distribution has become well established in the last decade, but its definition is murkier than ever. DCs accustomed to loading full trailers in route sequence for quick and easy unloading now have to contend with smaller, more frequent orders to stores, using less-than-truckload or parcel carriers to meet changing delivery needs. Picking methodologies that successfully prepared cases in aisle-ready sequence now have to incorporate each picking and various flavors of order consolidation.
"Store-ready distribution is not about best practices, but evolving practices," says George Swartz, group vice president of supply chain services for Fortna, a distribution consulting and engineering firm. "I don't think anybody has this locked down. There's lots of trial and error, but in general, stores are more involved in a conversation with the DC."
The labor balancing act
More often than not, the impetus for pursuing store-ready capabilities comes from the store side, according to Bryan Jensen, vice president at St. Onge, an engineering and logistics consulting firm. Seeking to lower the costs of operating a store, they push DCs to prepare goods for the store in a way that will reduce labor and speed salable inventory from the store's receiving dock onto the shelves, racks and display counters on the sales floor. Inventory turn time is a key metric, because every day an item sits in a DC is a day of lost sales.
"The dilemma is that store folks are not logisticians," Jensen says. "In general, store management personnel are in the business of presentation, selling and end-customer service. And, logistics personnel are in charge of physically supplying product at the lowest cost and best quality. The good news is there are many more tools available to do the latter than the former."
Calculating the return on investment for solutions to improve distribution involves blending the well-defined "hard" costs of the DC with the "soft" costs in the store. According to Brian Sherman, vice president of sales and engineering at Witron Integrated Logistics, there is growing interest in identifying potential savings.
"Ten years ago, there wasn't as much focus on store- or aisle-ready capabilities at the core of most retail projects," he says. "SKU growth is one of the biggest challenges when serving multiple channels from one warehouse with assorted flavors, sizes and colors. We're finding the right solution is one with dynamic pick fronts or automation with none at all."
Changes and investments at the DC balance capital expenditures, labor costs and other known quantities. In a store, however, quicker replenishment means associates can "spend more time with the customer." Jensen says it's difficult to come up with a corresponding number an engineer would hang his hat on.
That said, if a given store replenishment delivery takes three hours to process if not store- and aisle-ready, and it's possible to cut that to 45 minutes, there is a quantifiable gain. If an organization with 300 store locations can save half a person, or 20 hours per week, from each store, that's the equivalent of 150 salaries removed.
More often, efforts to cut overall labor costs center on improvements at the DC that can improve or eliminate the need for back room processing at the store. Particularly in retail, there is a tendency to reduce the back room footprint and move all repetitive tasks to the DC where they can be centralized and optimized, according to Lennard Koppelmann, director of IT for the automated and systems division at Schaefer Systems International.
"This will challenge a conventional pick system to efficiently retrieve items throughout a warehouse for store- or aisle-ready sequence," Koppelmann says. "Slotting has to accommodate the pick sequence as informed by store layout. If any company does not approach that first, it will be difficult to go down that path."
Subtracting costs by adding value
It's not just about quickly accessing, sequencing and delivering product. To ensure products arrive at a retail location ready for the display, shelf or counter, DCs are often tasked with value-added services (VAS) like labeling, packaging or kitting. Jensen suggests that retailers might face as many as five or six different handling methodologies to address VAS, based on product categories. To route items and orders requiring VAS with the least touches and greatest efficiency, these steps might take place after picking or before product is put away into storage or a pick face.
"In this case, the DC 'loses' because it requires more labor, but they're devoting 10 extra hours so the store can gain 20," Jensen says. "And, there are ways to charge the store for those services. Some distributors are even pushing value add back onto suppliers, not because its necessarily better for the supply chain, but because it's what they have to do to meet the retailer's needs and make the sale."
In other cases, analysis might suggest it makes more sense for the store to perform functions like putting garments on hangers. Jensen offers the example of an apparel retailer inclined to reduce the need to stock hangers in the back room and reduce in-store product handling. It was clear that garments could be hung much more quickly and efficiently in the DC, but the labor and space savings at the store did not offset the increased transportation costs. Jensen says it turned out to be less costly to ship hangers and clothes separately to the store than to ship hung garments that resulted in poorer cube utilization.
In the DC, Swartz suggests those interested in developing store-ready capabilities prepare for incremental improvements. "Start by breaking products into a few broad departments, like apparel and electronics," he says. "Can you at least get all the shoes and socks together? Then, you can sort by size and color to make shelf restocking easy. It will take a lot of brute force to start, but as you refine processes and fold in some automation you will be better prepared for the future."
VAS could introduce additional packaging styles, and product grouping might call for dividers in cartons or totes. Because cartons require store associates to work with box cutters—and because bagged product can wreak havoc with legacy materials handling systems—some facilities have abandoned cartons almost entirely, and instead use totes that are easy to open in the store and can be returned to the DC.
"For some, returnables are a great way to go, but the problem is obviously getting them back," Swartz says. "If store deliveries are smaller and more frequent and involve a number of carriers, it gets harder. I would guess that 20% to 25% of retailers have done some research on how to get into returnables, and many are already using them, but I would not call it the norm."
Totes can also work well with automated systems, and might enable ongoing consolidation of items ordered throughout the day. Sean O'Farrell, market development director for Dematic, says a multi-shuttle automated storage and retrieval system might handle totes to serve as an order consolidation buffer. On the other end of the spectrum, pickers might use carts, ring scanners or voice-directed technologies to accurately fill totes for store-friendly deliveries.
Out of sight, top of mind
Automation can help address the slotting challenge by offering efficient access to fast- and slow-movers while supporting store replenishment as well as smaller e-commerce orders, including direct-to-consumer or in-store pickup. The continued migration of fulfillment tasks from the stores to the DC can help justify automation, but for now many companies are still struggling with the transition.
The grocery segment has been somewhat slow to adopt e-commerce, O'Farrell says, but its experience with in-store fulfillment and "click and collect" models reflects many of the same challenges facing other industries.
"There is a lot to learn by exploring in-store fulfillment first," O'Farrell says. "It's relatively low risk and low cost, but it's taking off. There has to be a cutoff point where there are too many employed pickers in the store aisle. If I am a shopper and a worker is reaching for the same product, who gets it?"
Because nobody wants to disrupt an in-store customer, many grocers are finding ways to move those functions out of the store. Some have employed a "dark store" concept, a facility identical to a standard store but not open to the public and staffed entirely by pickers.
Others are instead pushing fulfillment functions to the DC. Since most DCs are geared for large-format stores and loading full trailers, they now have to reckon with totes for consumer e-commerce orders, a lower-density cube and smaller, more frequent deliveries.
"The warehouse is designed for case handling, and retail stores for eaches," O'Farrell says, "but there will soon come a time that many companies need to shift those eaches to the warehouse."
If operators on pallet jacks picking for retail find themselves working alongside someone with a cart picking eaches, O'Farrell says it can become dangerous and inefficient. It might be necessary to separate those functions within the DC and create duplicate inventory.
Manual operations can make other adjustments to accommodate changing order profiles. Swartz offers the example of a specialty apparel retailer that set up its warehouse by zone to pick like items using discrete order picking and clusters. Pickers deposit items at a consolidation area where a put wall helps marry up all the pieces of each order. Light- or voice-directed solutions are used to focus the picker and eliminate errors.
"Many companies will benefit from more sophisticated sortation capabilities like put walls that allow at least grouping if not sequencing," Swartz says. "Changing order profiles might impact how you pick, but at a minimum it will affect how you sort and pack."
The back end meets the store front
Once DCs and stores are better aligned, it's important to maintain close coordination between the two. Any changes to planograms—the store maps that detail product placement—must be reflected in upstream DC systems. The benefits of alignment will degrade over time if a picker's path through warehouse aisles no longer enables proper sequencing for stores.
The warehouse management system (WMS) must also account for product characteristics such as crushability when slotting and designing pick paths. Sherman says automation offers the flexibility of no fixed pick faces, which is especially useful when a single DC serves a variety of store layouts.
Manual DC operations are better suited to stores with consistent layouts, which are rare. Jensen says differentiation by store volumes is also a common blind spot, especially when some large stores see 20 times the sales of the smallest. Some small stores can't handle a full truckload, he says, and others can with ease. It might also be prudent to integrate the WMS more directly with point-of-sale data or promotional information and forward-looking forecasts. It can be valuable to balance how frequently the DC needs to pick up on the demand from stores, potentially triggering a replenishment as soon as an item is purchased.
Koppelmann calls this a challenge since the systems that run stores and those that run the DC are different and rarely interface directly. Automation and warehouse control systems (WCS) instead react to an order management or enterprise resource planning (ERP) systems that are in turn more closely connected to stores.
"What are your real-time requirements? If you need to serve a direct-to-consumer environment with smaller quantities and more shipments, there is a huge benefit to connect stores to fulfillment in real time," Koppelmann says. "It's about finding the fine line between distribution requirements and how long a store can survive without replenishment. If you want to take a just-in-time approach, you'll need to connect those systems directly. In the next five to 10 years, this will become more important."
Companies mentioned in this article
• Dematic
• Fortna
• Schaefer Systems International
• St. Onge Company
• Witron Integrated Logistics

August 19, 2016
About the Author
Josh Bond, Senior Editor Josh Bond is Senior Editor for Modern, and was formerly Modern's lift truck columnist and associate editor. He has a degree in Journalism from Keene State College and has studied business management at Franklin Pierce University.
Subscribe to Modern Materials Handling Magazine!
Subscribe today. It's FREE!
Find out what the world's most innovative companies are doing to improve productivity in their plants and distribution centers.
Start your FREE subscription today!
Latest Whitepaper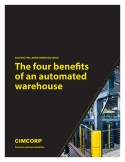 Solving the Labor Shortage Crisis: The Four Benefits of an Automated Warehouse
Not enough warehouse staff? Finding it difficult to keep up with orders during peak periods?
Download Today!
From the March 2018 Modern Materials Handling Issue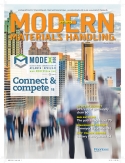 Conveyors & sortation: Carrying the e-commerce burden
2018 Productivity Achievement Awards
View More From this Issue
Latest Webcast

Emerging Technologies for Your Distribution Center
Come get an insider's view of the latest technologies for inside your Distribution Center. You'll learn which technologies are being piloted, which are having success and moving from concept to implementation and into production on the maturity scale, and what's coming on the horizon.
Register Today!