Brewery uses 30-second, curtain-side vehicle system
With the new system, the brewery can access cargo 50% faster than before, while its payload capacity has increased by 15%.

Warehouse in the News
ID Label celebrates 25 years
ProMach acquires Code Tech
Motion Industries to acquire automation and robotics company
Pelican BioThermal opens new network location in Jeddah, Saudi Arabia
AMT U.S. Manufacturing Technology Order Report: December dip caps off strong 2018
More Warehouse News
Warehouse Resource
Crossover Businesses: Blurring the Lines Between Manufacturers, Distributors, and Retailers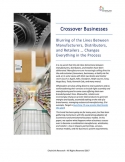 Download the report and uncover how to survive the new challenges businesses are facing and the technology required to keep pace.
All Resources
By
MMH Staff
·
November 10, 2017
Aluminum roll-up doors have a number of inherent disadvantages. Not only do the doors require significant maintenance, but their tracks (along with the area needed to accommodate the doors when they're retracted) comprise valuable cargo space. And, roll-up doors are also time consuming to close, lock, open and unlock—and, if they are damaged, it is nearly impossible to match a new door's graphics with existing vehicle brand graphics, unless the entire side of the truck is re-skinned.
While using its roll-up doors, a multi-national brewery thought it was using best practices. Although the losses weren't obvious, the brewery was wasting productivity and money, due to inefficiencies associated with delivery times, excess weight, fuel costs, reduced payload capacity and frequent asset downtime—primarily caused by roll-up door damage, maintenance and repairs.
A 30-second, curtain-side vehicle system provided the brewery with a technological advantage. The system has increased the speed and efficiency of fleets with chassis-mounted truck bodies (using roll-up doors or traditional curtain-walled vehicles).
Added to virtually any truck body when ordering from an OEM, the system opens and closes at both ends of a truck or trailer. It also has a unique full-length, vertical, multi-latch closure system with an adjacent, all-in-one, latch-release mechanism located both forward and rear—thereby reducing the number of locks from 14 to four.
As a result of the system, the brewery can access cargo 50% faster than before, as drivers no longer have to strain and reach to open and close multiple roll-up doors. In addition, since the system weighs up to 1,000 pounds less than a roll-up door system and requires much less space (upwards of 111 cubic feet), it has also increased the brewery's payload capacity by 15%.
Kinedyne Corporation
(800) 848-6057

February 19, 2018
Subscribe to Modern Materials Handling Magazine!
Subscribe today. It's FREE!
Find out what the world's most innovative companies are doing to improve productivity in their plants and distribution centers.
Start your FREE subscription today!
Latest Whitepaper
Insider Q&A: The Robotics Revolution is here. Is your company ready for it?
Download this free Insider Q&A with Matt Wicks, VP, Product Developent, Honeywell Intelligrated for his unique perspective on robotics in the modern-day warehouse.
Download Today!
From the February 2019 Modern Materials Handling Issue
Modern's System Report: Robots at GEODIS
ProMat 2019 to showcase record number of exhibitors, 45,000+ attendees
View More From this Issue