Conveyor industry: Latest CEMA report says booked orders are on the rise
The Conveyor Equipment Manufacturers Association monthly stats show booked orders in May 2010 were up 2% over April 2010 and up 18% over the same time period last year.

Lorie King Rogers
·
July 16, 2010
In its latest monthly report released last week, the Conveyor Equipment Manufacturers Association (CEMA) reported that its May 2010 Booked Orders Index was at 129. This figure is up three points over April 2010, marking a 2% monthly increase. The May 2010 Index also represents an increase of 18% from the May 2009 Index of 109.
According to Bob Reinfried, CEMA executive vice president, CEMA's Booked Orders Index uses the equation 1990=100 to measure its current industry statistics.
In other words, the baseline calculation uses the figure 1990, which was a fairly representative year for the conveyor industry. Numbers to the right of the equals sign gauge where the industry stands in comparison to that year. Therefore, figures above the 100 mark indicate growth, while anything less indicates contraction in the industry.
That said, CEMA's most recent monthly report reflects growth. Reinfried told Modern that these figures are particularly positive in light of the recent economic conditions in the market. Additionally, he said, CEMA members are encouraged by the new orders coming in.
While booked orders are picking up the pace, billed orders are down 5.2% compared to the same January through May timeframe of 2009.
What does this mean? Reinfried said, "This is telling me that right now [our members] are knocking down the backlog."
However, with booked orders on the rise, the trend is changing. "So far this year, new orders are exceeding shipments," said Reinfried. This is a very positive sign, he added, because at some point in time, these orders translate into billable goods that will ultimately be shipped to customers.
Reinfried said that it's difficult to say how long it will take for shipments to catch up to orders, but right now the conveyor industry is moving upward.
According to CEMA, the overall North American conveyor market was at $7.8 billion in shipments in 2008. In 2009, that figure contracted to $6 billion. CEMA is forecasting an increase of 2% to 3% for the overall North American conveyor market in 2010.

October 27, 2011
About the Author
Lorie King Rogers Lorie King Rogers, associate editor, joined Modern in 2009 after working as a freelance writer for the Casebook issue and show daily at tradeshows. A graduate of Emerson College, she has also worked as an editor on Stock Car Racing Magazine.
Subscribe to Modern Materials Handling Magazine!
Subscribe today. It's FREE!
Find out what the world's most innovative companies are doing to improve productivity in their plants and distribution centers.
Start your FREE subscription today!
Latest Whitepaper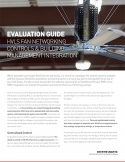 How to Invest Smartly in Industrial Fans
Read this white paper to learn the 7 defining factors to consider about your facility so you can maximize the benefits of your fan investment. HVLS High volume low speed fan white paper, Entrematic fans white paper. Benefits of HVLS fans in the warehouse.
Download Today!
From the April 2018 Modern Materials Handling Issue
Why smarts are central to Internet of Things in the warehouse
New warehouse gives winemaker a "Smooth Finish"
View More From this Issue
Latest Webcast
Industry 4.0: What you need to know today
This webinar takes a closer look at industry 4.0 and provides a roadmap for building and effectively utilizing Industry 4.0 capabilities.
Register Today!