Conveyor technology: Are you thinking differently?
With new distribution requirements and more investment in automation underway, Modern set out to find how readers are now approaching the use of conveyors and sortation systems.

Bob Trebilcock
· April 1, 2013
Conveyor and sortation systems are the foundation of any automated materials handling solution. If there is only one piece of automation in a facility, it is likely to be a conveyor. And, if it goes to more than one location, a sorter is sure to be associated with the system.
Those are givens. With new distribution requirements and an unprecedented level of investment in automation underway, are end users thinking differently about how they use conveyors and sorters? Those are among the questions we put to Modern's readers in our annual survey of conveyor technology.
Register for the Conveyor/Sortation Webcast.
As with years past, we set out to learn about our readers' plans for the purchase of conveyors and sortation systems in warehouses, DCs and manufacturing applications in the coming year. With all of the recent investments in automation, especially by retailers and food and beverage distributors, we also sought to learn if end users are thinking differently about how they deploy conveyor and sortation systems, as well as what they value in conveyor technologies. Finally, we wondered if there are attributes that end users are willing to pay a premium for in their conveyor systems.
To answer those questions, Peerless Research Group (PRG) surveyed subscribers of Modern as well as a sample of recipients of our e-newsletters. We received more than 200 qualified responses, defined as a reader who buys or uses conveyor. The respondents represented a range of company sizes, with 27% reporting revenues of more than $500 million, 15% reporting revenues of more than $100 million and the remainder less than $100 million.
While our respondents work in facilities that average 157,000 square feet, 20% work in facilities with more than 500,000 square feet, including 9% who work in facilities of more than 1 million square feet.
They also represent a mix of manufacturers, distributors and warehouses associated with manufacturing:
66% have manufacturing responsibilities
43% have warehousing responsibilities
40% have distribution responsibilities
The fact that the numbers add up to more than 100% illustrates the changing nature of warehousing and distribution today: Many facilities are responsible for more than one duty.
Finally, our respondents represent a variety of industries, from automotive to food and beverage to the chemical industry to retail trade. Here are the most important results.
Continued investments in productivity
The Conveyor Equipment Manufacturers Association (CEMA) is predicting slow growth for the conveyor market for 2013 to 2014. Shipments are expected to grow by 5% to $10.9 billion while the orders booked are expected to decline modestly by 2.9% to $10.3 billion.
Those steady-as-she-goes numbers are reflected in the purchasing plans of Modern's readers. Nearly 42% said they plan to increase the level of conveyor in their facilities while 53% plan to maintain the status quo. Only 5% plan to reduce their levels of conveyor equipment. Similarly, 26% of readers plan to increase their use of sortation while 67% plan to maintain the same level. Only 7% plan to reduce their use of sortation.
While a majority of respondents (56%) plans to spend less than $75,000 on conveyor systems, parts and accessories in the next 12 months, 16% plan to spend more than $500,000, including nearly 11% who plan to spend in excess of $1 million.
Conveyors at work
From belt to towline conveyors, the conveyor industry offers a diverse mix of products. Modern's readers are employing them all:
70% are using belt conveyor
51% are using roller conveyor
51% are using gravity flow conveyor
50% are using roller conveyor
44% are using motor-driven roller conveyor
40% are using accumulation conveyor
While fewer readers have installed sortation systems, the mix among those who have is fairly evenly divided among the different speed offerings:
17% are using high-speed sortation (150 cpm & up)
16% are using medium-speed sortation (50 to 150 cpm)
15% are using slow-speed sortation (up to 50 cpm)
For the first time, we asked respondents to describe their handling environment and the types of products they are conveying and sorting.
And, just as they are using a variety of conveying technologies, they are handling a diverse set of unit load types and sizes. The percentage of respondents handling individual items, poly-bagged items and plastic totes may be a reflection of the growing volume of direct-to-consumer orders:
55% are handling cases/boxes
42% are handling individual items
30% are handling plastic totes
27% are handling pallets
17% are handling poly-bagged items
14% are handling mixed SKU pallets
10% are handling beverage cartons
What's more, 82% of respondents say their conveyor equipment is moving various load configurations. The changing nature of distribution and order fulfillment is reflected in the types of orders being shipped. Only 19% of respondents are shipping full pallets and only 2% are shipping full cartons. Meanwhile, nearly 24% are shipping mixed pallets, 16% are shipping mixed cartons, and 22% are shipping item level orders directly to customers.
Most facilities are operating conventional order fulfillment solutions:
57% pick, pack and ship orders as they are received in the facility
30% handle items more than once during the order fulfillment process, such as picking to a tote that is conveyed to a packing area
23% are picking directly to a shipping container
18% let orders accumulate before they ship
Is distribution changing?
There is little question that distribution requirements are changing. Grocery store chains and big box retailers are receiving mixed-SKU pallets that are designed for specific aisles in a store. Retailers that once received full pallets of product once a week or month are now receiving a few cartons every day.
Distribution centers are handling more individual items than ever. In fact, nearly 44% of respondents agreed that their distribution requirements are changing. While this is not true for every industry, only 4% of respondents disagreed with that statement.
Given the changes in requirements, we asked if that changing landscape is impacting the use of conveyor.
On the one hand, the vast majority of respondents (69%) say that they have not changed the way they are designing or using conveyor systems in the last 12 months. Nor do they expect to make changes in the next 12 months. Another 27% said that they are not currently designing materials handling systems that use less conveyor than in the past.
However, more than 45% of respondents indicated that they are likely to evaluate a change in their order fulfillment processes within the next two years. Additionally, a surprisingly high percentage (30%), indicated that they are using some type of high-density storage technology, such as a mini-load or pallet-handling AS/RS, or deep lane rack system to buffer work-in-process and orders ready for shipment. A surprising 27% of respondents said that they have implemented or are considering the implementation of a goods-to-person fulfillment solution. Those types of solutions are likely to impact the way that conveyor is used in a facility, or whether conveyor is used at all.
Those points were illustrated by some of the verbatim responses we received from readers.
"Our focus has shifted to improving processes and material flow," wrote one respondent. "Conveyor may be necessary in our facility, but we are looking at alternate equipment so that the floor space can remain open.

"We are picking to a cart at some of our locations and only using conveyor for the takeaway process in packing," wrote another.
"We are building greater intelligence into our order fulfillment and wave planning processes," wrote a third.
"More automation and software," or some variation, was a phrase that cropped up over and over in written responses.
What matters to readers
The old adage that you can't manage what you don't measure is beginning to be applied to conveyor and sortation systems. A third of respondents indicated they are now using metrics to assess their conveying systems. Most are using more than one metric. The most commonly cited include:
71% are measuring maintenance costs
66% are measuring error rates
63% are measuring the man hours required to operate the facility
59% are measuring the units moved on an hourly or daily basis
59% are measuring time savings
54% are measuring energy efficiencies.
Since conveyor and sortation systems are mission critical to a distribution center, respondents were asked what factors were most important in the purchase of a conveyor system. It comes as no surprise that ease of maintenance (98%), reliability (98%), price (98%), uptime (97%) and design flexibility (96%) were listed as very important or somewhat important.
At the same time, 54% say they are willing to pay more for reliability, 52% say they are willing to pay more for ease of repair and maintenance, and 51% say they are willing to pay more for design flexibility.
At the other end of the spectrum, only 29% are willing to pay extra for a quieter conveyor system and only 24% are willing to pay extra for faster lead times.
Since item-level handling, faster turnaround times and mixed SKU palletizing show every indication of increasing in use, Modern expects to see the adoption of more automation in the future. We will revisit these questions in next year's survey to see how they are impacting conveyor and sortation going forward.
Read last year's Conveyor Survey Results.
About the Author
Bob Trebilcock Bob Trebilcock, editorial director, has covered materials handling, technology, logistics and supply chain topics for nearly 30 years. In addition to Supply Chain Management Review, he is also Executive Editor of Modern Materials Handling. A graduate of Bowling Green State University, Trebilcock lives in Keene, NH. He can be reached at 603-357-0484.
Subscribe to Modern Materials Handling Magazine!
Subscribe today. It's FREE!
Find out what the world's most innovative companies are doing to improve productivity in their plants and distribution centers.
Start your FREE subscription today!
Latest Whitepaper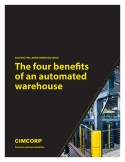 Solving the Labor Shortage Crisis: The Four Benefits of an Automated Warehouse
Not enough warehouse staff? Finding it difficult to keep up with orders during peak periods?
Download Today!
From the March 2018 Modern Materials Handling Issue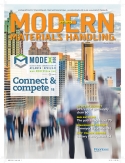 Conveyors & sortation: Carrying the e-commerce burden
2018 Productivity Achievement Awards
View More From this Issue
Latest Webcast

Emerging Technologies for Your Distribution Center
Come get an insider's view of the latest technologies for inside your Distribution Center. You'll learn which technologies are being piloted, which are having success and moving from concept to implementation and into production on the maturity scale, and what's coming on the horizon.
Register Today!