Conveyors & sortation: Carrying the e-commerce burden
In a case-quantity world, conveyor was king. E-commerce, poly bags and the need for incredible flexibility posed a brief challenge, but convey and sort technologies have reclaimed the crown.

Conveyors in the News
CEMA reports November 2018 shipments up 23.2% compared to November 2017
Inside Canadian Tire Distribution Center: Design for flexibility
Conveyors: A method to the maintenance
Panther Industries Creates Custom Labeling Automation Solution for Mountain Man Nut & Fruit Co.
UPS opens up new Atlanta-based 'super hub' operating facility
More Conveyors News
Equipment Resource
Southworth Brouchure Shows Practical Applications of Ergonomics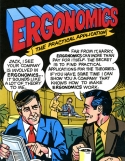 This little booklet done in comic book style uses simple illustrations to take readers on a walk through a hypothetical, yet typical, plant where the plant manager, safety director, and controller point out a variety of problems that were solved through the practical application of ergonomics.
All Resources
By
Josh Bond, Senior Editor
·
March 13, 2018
The growth of e-commerce is driving profound changes in the way warehouses and distribution centers operate, and the effect is particularly pronounced in the world of conveyors and sortation systems. Historically, these systems were designed around fulfilling retail, brick-and-mortar stores with full cases on a conveyor or line sorter.
Operating in a singulated flow, these systems ferry one large case after another. This design becomes much more difficult in e-commerce, where equipment is expected to handle each individual item. From small adjustments to wholesale replacement, there is no shortage of options to address the issue. Certainty of what the future will bring and how best to design solutions accordingly is in much shorter supply.
"I think of it as a journey," says Tim Kraus, director of product management for Honeywell Intelligrated. "The entire industry is trying to find better solutions as it shifts to handling individual items. The most critical element right now is that conveyors and sorters must be able to adapt."
Adaptability is not a feature for which conveyors and sortation systems are known. Brad Radcliffe, vice president of sales, sortation and distribution for Beumer Corp., says that thinking has already changed.
"High end sortation, loop sorters and fixed conveyors have always been seen as a fixed solution to a moving target, so they carry that stigma to some extent," Radcliffe says. "The technology now lends itself to more flexibility since it now incorporates the next evolution of communication. In the past, when you wanted to modify a sorter, you had to go put physical things on it to tell it to take a certain action at a certain point. Now, there's constant communication throughout, and so you can systemically make changes to the sorter on the fly. This is a game-changer, and customers are coming to understand that's a huge piece of the puzzle."
Modifications, modules and maintenance
Materials handling calls for highly configurable equipment as no two applications are the same. In fact, Kraus says, a single standard conveyor product could be configured in millions of different ways depending on length, speed, motor size, controls and more. But, what if you would like to transform the conveyor you have into one of its millions of other forms?
According to Ken Ruehrdanz, manager of the distribution systems market for Dematic North America, the technology has to be designed, engineered and implemented so it can be easily reconfigured.
"A lot of professionals might think of convey and sort as old technology from the 1990s for case conveying, but it has a foundational place in the new, modern DC," Ruehrdanz says. "Methods that are more automated, more space-saving and more productive need to be connected somehow, and that's with conveyor. Because the new supply chain is so variable, the mechanization also has to be able to change with ease. Ten years ago, the distribution environment didn't change as much as it does today, but if it did have to change, the legacy of convey and sort products was that each divert point, curve or incline is a separate piece of equipment hooked together, a ribbon of conveyor. Now, we can reset the components in the side channel to reconfigure one to the other."

The growth of e-commerce has driven adoption of goods-to-person (and goods-to-robot) systems, which rely heavily on intelligent conveyance to pickers.

---
For example, an operation might want to turn conveyor from a transportation function to accumulation or vice versa. Or, it might be beneficial to make a roller conveyor into a belt conveyor. Instead of removing the conveyor and installing different machinery, modular components allow the application of a belt over the rollers to better handle bags and envelopes. These sorts of changes can occur swiftly on a weekend or off shift.
Benjamin Thumm, head of product management for Dambach Lagersysteme, says customers justify modular features not just in financial terms, but to sustain competitiveness. "Customers require tailor-made solutions, while simultaneously expecting an adaptable and sustainable system," Thumm says. "Modular architecture means upgrades or expansions can be achieved rapidly."
Quicker maintenance is another benefit, he says, and is further supported by efforts to increase the number of identical parts within each product family. The "same spare part" concept is based on working toward a larger proportion of interchangeable components. As a consequence, maintenance and service is more efficient for operators, Thumm says, and spare parts inventory is minimized.
Modular features offer benefits even before the system goes live. Pre-installation and decentralized controls are increasingly important for conveyors, Thumm says. Installation time and the commissioning phase can be dramatically shortened and subsequent changes of the material flow are a matter of "plug and play."
"Lots of customers want to phase in automation," Ruehrdanz says. "First they want to get the process right, then use some semi-automation, then phase in more and more automation. A simple example is an embedded inline scale, or automated document insertion, or label print and apply. Modular conveyor products make these additions so much easier."
Motor-driven roller (MDR) technology allows individual conveyor segments to operate independently, further enhancing flexibility. Whereas conventional line shaft conveyors run all the time, MDR will only move when a load is present. This conserves energy to the point that solar-powered conveyor is viable, according to Chris Castaldi, vice president of sales for DMW&H. By changing acceleration rates, stopping points and other factors, MDR also offers opportunities for creativity.
"Say a customer has a 90-degree divert: What if they want an early out?" Castaldi asks. "You can do a right or left since you can program the conveyor to roll either way. For other conveyors there's an arrow on the side indicating the one direction of travel. With these options, you don't build yourself into a box."
Modern conveyor and sorter components are adaptive and flexible, but they are just pieces of the puzzle. With enough foresight and planning, it is possible to design a system so the pieces can be rearranged to create whatever picture the customer wants.
"We can engineer a solution that will fill retail wholesale orders four days a week, then shift and flex its muscles for e-commerce direct-to-consumer type orders," Radcliffe says. "That's something that has changed over the last five to 10 years."
Of course, the hardest part remains convincing customers to pay for that flexibility.
"They have a problem in front of them now, and if I tell them X amount of dollars will solve today's problem precisely, they're happy," Radcliffe says. "But they can be ready for business change by spending X+Y. They might not use it for the first five years, but they realize their world changes every nine to 12 months. About 90% of the solutions we've installed in the last three years are expandable, modular, and have capacity that is not used. They have 'white space,' so to speak. There is a carrying cost for white space, but most companies have stopped being so shortsighted."
Kinda sorter
Not everyone is working with a blank slate, and many are instead saddled with legacy systems struggling under changing demands. Kraus says many facilities that automated in the 1980s with a conveyor or a sliding shoe sorter are now trying to figure out what makes sense: completely replace or rebuild?
"It comes down to whether they can withstand the downtime required to replace," Kraus says. "It's a little more expensive to replace, and there are a whole lot of benefits to throughput and re-optimizing a system, but most often it's about that one or two weeks of downtime. A lot of times that answer is no."
There are some workarounds, like conveying in totes instead of installing a conveyor capable of handling both a sweater and a mini-fridge.
"Other times you get more bang for your buck by investing in one part of your system, like a stand-alone zone skip sortation system, for example," Kraus says. "An e-commerce shipping sorter can sort down to a smaller set of destinations before you hand off to a parcel carrier. Instead of all UPS orders for a day, you can sort out UPS orders for just Texas or New York and get a better rate."
Those prepared for a more comprehensive project can look forward to reaping the benefits of advances in software that help harmonize the flow of goods throughout a facility. Consider the example of a sorter destination capable of accumulating 15 cubic feet of goods bound for a retail store. The same space might be dynamically reconfigured to process ten 1.5-cubic-foot, e-commerce orders.

Modular and adaptable components mean the same system can fulfill retail orders in case quantities one day, then bagged e-commerce orders the next.

---
"The question is how to reuse the space from a process perspective," Radcliffe says. "You still use 15 cube, but there's a primary sort to a number of orders that are then distributed into a movable put wall. The thing that's changed in recent years is the software is smarter. The same software that does the primary sort is also going to do the secondary sort to put walls."
In such a setup, the sort engine will consider factors like how to maximize accumulation, minimize labor to complete an order and minimize order completion time. In the past, or when the two sort engines are not managed together, the warehouse management system (WMS) pre-allocates a pick to an order. From that moment forward, the item has only one possible path through the sorter to its destination.
"Here's what a smart sorter will do for you," Radcliffe explains. "It can look ahead and behind, take that item and make some business decisions based on the rules you have established."
---
Trends in conveyor and sortation
Dematic's Ken Ruehrdanz outlines four key trends impacting the design and usage of conveyor and sortation equipment.
Trend #1: Increasing use of goods-to-person workstations. Modular conveyor is the foundation of goods-to-person workstations. Modular conveyor is the structure that indexes the load into a precise position where it's accessed by a worker. Modular conveyor can sequence cartons and totes into and out of the goods-to-person workstation and conveyor configuration accommodates worker ergonomics.
Trend #2: Robotic piece picking for order fulfillment. Modular conveyor is the foundation of robotic piece picking cells. The robot is the centerpiece of the cell, but the robot requires a conveyor module that can sequence and position inventory containers and order containers. Modular conveyor indexes the load into a precise location where it is accessed by the robot.
Trend #3: Change creates need to reconfigure. The accelerating rate of change in operational requirements is driving the need to implement conveyor systems that can be reconfigured, and modular conveyor accommodates that need. For example, a steerable wheel sorter module can be relocated in the existing side frame.
Trend #4: E-fulfillment centers ship orders in bags. Conveyor systems with all-belt conveying surfaces accommodate poly bags for e-fulfillment operations. This trend has increased the application of segmented belt surface conveyor with accumulation zones.
---
For example, say six items of a certain stock-keeping unit (SKU) just arrived at the put wall, but there are eight orders waiting for that SKU. If the system knows three of those orders have been in the put wall longer and should be prioritized to meet service levels, the sorter will disregard what the WMS told it and marry the SKU to the optimal order.
"Then it gets even smarter and directs items to chutes where labor is readily available so workers don't have to walk as far to complete orders," Radcliffe says. "Finally, the smart sorter knows it's still short two pieces, so it will make sure they are immediately picked. It has now fulfilled its top requirements and rules on utilization of equipment and labor. It's always thinking upstream and downstream. Ten years ago, software was just not flexible enough to do this."
In addition to ultra-nimble software, sortation hardware has also developed solutions to the e-commerce need for targeted sorting and sub-sorting. Castaldi describes a modern alternative to a traditional tilt-tray shipping sorter. Capable of sorting to more than 150 destinations and often costing less than $1 million, the tilt-tray system moves at a more deliberate pace to enable flexibility.
"Optimizing those different shipping rates makes a big difference," Castaldi says, "and with this sort of solution, you are free to slice and dice it any way you like."
Sorters and sense
Once a state-of-the-art system is up and running, the next challenge is to keep it that way. Kraus says maintenance practices have evolved around more connected systems with more sensors, more data and more predictive recommendations on what to do to maintain stable operations.
"It's more cost-effective to collect data, but then it's about making data actionable," Kraus says. "This is a learning experience for the entire industry, since there are not many established rules for how to respond to some of this comprehensive, detailed equipment condition data."
Instead, Kraus recommends adding sensors and visibility only around those pieces of data that are most relevant to a given goal, like minimizing system downtime.
"A big contributor can be information flow. It's not always a mechanical failure that will stop a system," Kraus says. "It could be that you are losing a connection with some source of data somewhere, so you want to find out how to react faster or prevent those gaps. Can we monitor the speed of the connection and take action if it slows? Should we monitor the memory capacity of an operation that stores information and is filling up?"
This "super-connectivity," Ruehrdanz says, further unifies operational intelligence and maintenance intelligence. It is possible to prevent wear and tear with something as simple as allowing the system to slow a sorter when volume is lighter, for example. The same sensors that monitor the condition of equipment can alert a warehouse execution system (WES) to reallocate material flow from an overactive area to one that still has capacity.
Learning how to best configure and interact with an intelligent, proactive system is a dramatic departure from the steadily humming conveyors and sorters of the past, and Castaldi says success in the e-commerce world is a matter of sink or swim.
"We never knew how deep the water was, so some stuck their toes in. Others dove in," he says. "At this point you can try to wait and see, but you will be left way behind. Almost everyone is in the e-commerce world now, and if you're not swimming you're in a tough position now."
Companies mentioned in this article
Beumer Corp.
Dambach Lagersysteme GmbH & Co. KG
Dematic
DMW&H
Honeywell Intelligrated


March 14, 2018
About the Author
Josh Bond, Senior Editor Josh Bond is Senior Editor for Modern, and was formerly Modern's lift truck columnist and associate editor. He has a degree in Journalism from Keene State College and has studied business management at Franklin Pierce University.
Subscribe to Modern Materials Handling Magazine!
Subscribe today. It's FREE!
Find out what the world's most innovative companies are doing to improve productivity in their plants and distribution centers.
Start your FREE subscription today!
Latest Whitepaper
Making the Case for Warehouse Consultants
Benefits for logistics/operations managers, CFOs, and COOs all lead to safer workplaces, lower costs, and happier customers.
Download Today!
From the January 2019 Modern Material Handling Issue
Inside Canadian Tire Distribution Center: Design for flexibility
Continuous improvement in action
View More From this Issue