Content from our sponsor
Corrugated Packaging
How Corrugated Boxes Support Omnichannel Sustainability

Packaging in the News
ProMach acquires Code Tech
Pelican BioThermal opens new network location in Jeddah, Saudi Arabia
Automotive manufacturing leads digital factory market grows to $673 billion in 2030
MH10 subcommittees issue call for membership
Smurfit Kappa calls on innovation community to take on packaging challenge
More Packaging News
Warehouse Resource
Crossover Businesses: Blurring the Lines Between Manufacturers, Distributors, and Retailers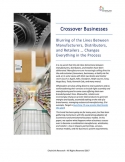 Download the report and uncover how to survive the new challenges businesses are facing and the technology required to keep pace.
All Resources
By
Fibre Box
·
October 1, 2018
Supply chain operations are changing quickly to accommodate new technologies and fulfill the promise of increased efficiency, accuracy and cost-effectiveness. Whether products are shipping to retailers, OEMs, e-tailers, or direct to consumers, customer satisfaction depends upon a highly efficient distribution channel that delivers the right product to the right destination at the right price – and in pristine condition.
In today's circular economy, every portion of the supply chain bears a measure of responsibility for sustainable business operations. Consumers want to feel good about their purchases and businesses are increasingly focused on doing the right thing to earn their trust and to deserve positive reputations as stewards of the environment.
Corrugated boxes have always been the predominant shipping container trusted to transport all kinds of products from manufacturer to DC to wholesaler and retailer. The retailers have played a leading role in building corrugated recovery for recycling to an amazing 90 percent of production – enormously better than any other packaging material on the planet.
The success of commercial and industrial corrugated recovery is owed in part to their operational circumstances. Retailers, especially, take in a lot of boxes – so their volume of used corrugated has justified installation of compacters and balers to maximize material recovery and economics. They are accustomed to earning revenue for the sale of their old corrugated containers (OCC) and reducing their waste disposal costs as a result, in addition to supporting their own sustainability goals.
Now, e-commerce is changing the distribution of products and moving more of them directly to consumers, sometimes bypassing brick-and-mortar retail destinations. Consumers see more corrugated boxes coming into their homes – what they may not understand is that this does not represent an increase in packaging waste.
The fact is, while more boxes are now visible to consumers, showing up on their doorsteps, less corrugated is being used to deliver products to retailers. The amount of corrugated packaging being produced is quite stable and still below its 1999 peak production volume. So the good news is, the growth of e-commerce is not increasing the amount of corrugated going to waste.
Why is this important? First – when considering sustainability, corrugated packaging is truly a guilt-free and responsible choice. Ninety percent of it is successfully recycled to make new paper products and that has been true for several years. As the corrugated recovery rate consistently exceeds that of all other packaging materials, the industry's overall environmental footprint also continues to improve. This has been demonstrated in continuous life-cycle assessments, which are available online to provide total transparency and demonstrate the integrity of the studies' conclusions.
Meanwhile, the accelerating transition from traditional retail to omnichannel distribution shifts the placement of some responsibility for corrugated's end-of-life disposition; now that consumers are receiving more boxes, it's more important than ever for them to recycle at home. Fortunately, 96 percent of Americans have access to corrugated recycling programs.
Those programs – whether managed by municipal and county governments, or by private enterprises – are handling more OCC that comes direct from households. Consumer education to minimize contamination and encourage proper collection will enhance the economics of recycling for those entities.
Businesses can help by making sure they use boxes with the Corrugated Recycles imprint and by reinforcing the message wherever they can, building the use of recyclable packaging into their own sustainability efforts and brand communications.

October 1, 2018
Subscribe to Modern Materials Handling Magazine!
Subscribe today. It's FREE!
Find out what the world's most innovative companies are doing to improve productivity in their plants and distribution centers.
Start your FREE subscription today!
Latest Whitepaper
Insider Q&A: The Robotics Revolution is here. Is your company ready for it?
Download this free Insider Q&A with Matt Wicks, VP, Product Developent, Honeywell Intelligrated for his unique perspective on robotics in the modern-day warehouse.
Download Today!
From the February 2019 Modern Materials Handling Issue
Modern's System Report: Robots at GEODIS
ProMat 2019 to showcase record number of exhibitors, 45,000+ attendees
View More From this Issue