Diversity Vuteq brings iPads to the shop floor
Automotive OEM Diversity Vuteq deployed an innovative WMS on iPads adapted for the DC. The result is improved quality and a satisfied customer.

Bob Trebilcock
·
July 31, 2014
Editor's Note: When it comes to materials handling and order fulfillment, the action is no longer focused on equipment. Instead, software and information technology is transforming and optimizing operations. In this month's System Report, we look at how Diversity Vuteq implemented a highly visual WMS operating on iPads to deliver perfect orders to its automaker customer. It's the final in our series of three articles focused on technology that began in May with Wyoming Liquor's use of VoIP voice technology, and was followed in June with how Tech Data rolled out a warehouse control system across its network of DCs. Perhaps these examples will encourage you to look for areas in your own operations where technology or software can make a difference.
Mobility has been one of the most pervasive trends inside and outside the four walls of the distribution center in recent years. Every organization is looking for more opportunities to automatically collect and use data to improve processes. While conventional, industrialized mobile computers, scanning devices and voice hardware are still the norm, analysts and end users alike are asking when consumer devices like tablets and smart phones that we all use in our daily lives will find their way to the shop floor.
According to Bill Buck, assistant manager of sales and logistics at Diversity Vuteq's plant in Princeton, Ind., the answer to that question is: "Right now!" Last fall, Buck and his logistics team deployed a highly visual warehouse management system (WMS; HOJ Logistics Engineering) in the plant, which manufactures injection-molded plastic components used at a nearby Toyota assembly plant for the interiors of vehicles like the Toyota Highlander and Sienna.
There were three primary goals to the project:
1. Develop a process that minimized the number of picking errors, measured by the number of plastic kanban containers sent back by Toyota because they held the wrong part;
2. Provide 100% accountability so that if someone does make a mistake, Buck's team can investigate where the error occurred and take corrective steps so that it doesn't happen again; and
3. Eliminate redundant team members from the process whose only purpose was quality control.
Since going live in October 2013, the plant has reduced errors from an average of 10 to 15 containers a month being shipped back to virtually none in those areas where the system has been deployed. "Our total error for the current month was two containers," says Buck, "but those two containers were pulled from a dock area where the WMS is not yet in place. Where we're using the system, we have zero errors."
As a side benefit, Buck says the system is so simple and visual that almost anyone can come into the plant and quickly learn the job with little or no experience. "We are a Japanese plant and we have embraced lean methodology," he says. "Visualization is an important component of lean. That was a big selling point to implementing this solution."
Running lean, delivering just in time
Although Diversity Vuteq has been operating in North America since 1986, it may not be a household name to most North American readers of Modern. However, Vuteq, its parent company, is a leading supplier of parts and components to automakers around the globe. Vuteq manufactures or assembles and sequences a range of products for its customers, from glass components to instrument panels.
One of the company's hallmarks is its ability to support its automotive customers on a global basis. When Toyota moved production of the Highlander to Indiana, Diversity Vuteq was slated to play a leading role. The Princeton plant shipped the first load of parts in October 2008, just nine months after breaking ground. "We were making parts with just a roof, no walls, and tarps to cover the machines from rain," Buck recalls.
Diversity Vuteq is a lean plant. It produces 100 different parts and each part is available in three colors. The production team receives a six-week forecast on a rolling basis. At the start of each month, Toyota provides a firm production number that details how many vehicles will be produced in a specific period of time. However, the monthly forecasts don't tell Diversity Vuteq what colors or options will be required—that information isn't available until closer to the run. As a result, the plant creates production schedules broken down by part and color based on the law of averages.
"We try to keep one-and-a-half to two days worth of inventory in storage at all times," Buck says. "Using the forecasts and Toyota's order history, we try to anticipate what they may order and build stock from that." He adds, however, that there are days when the production run will consist entirely of options, which are hard to forecast.
About 90% of the production is packed at the end of the assembly line into plastic kanban containers that are used for both storage and delivery to the assembly line. In fact, Buck says, there is an intense design process at the beginning of every project with Toyota to optimize the package that will go to the line. "On the last launch, we provided eight different samples before we all agreed on the right package," Buck says.
Kanban containers are stored in a rack system that consists of carton flow for full containers ready to go to the plant on the bottom and pushback pallet storage for empty containers received back from Toyota on top.
Each evening, Diversity Vuteq receives an order release detailing what parts will be needed for the next day's run. The master order is broken down into 36 deliveries, with a pick up roughly every 42 minutes. Deliveries are made to the assembly plant in Toyota trucks on a just-in-time basis.
Getting visual, reducing errors
Prior to putting in a WMS, picking for those 36 delivery runs was done with paper-based pick lists. The old system was a three-person affair: One team member picked the containers from storage and placed them on a staging area on the floor. A second team member was assigned to quality control, checking each of the staging areas to make sure the right containers had been picked. Once verified, a third team member pulling six dollies behind a tugger would put the containers on pallets and deliver them to the shipping dock.
Even with the extra verification step, Toyota was shipping back 10 to 15 containers per month because of errors. "We were still relying on a person for quality control," says Buck. "We tried variations of the process to reduce errors and make it less time consuming, but we basically had two people doing one person's job and we still had some errors."
Meanwhile, he adds, Toyota's goal is zero returned containers per month.
Buck began looking for a solution to automate the verification process and eliminate those manual errors. The first option was a full-blown enterprise resource planning (ERP) system. That seemed like more horsepower than was required for the job at this stage in the plant's development. Researching options on the Internet, Buck and his team came across a video illustrating a different approach to WMS using iPads. The iPads had been industrialized by the solution provider to account for the rigors of the floor: The tablets are housed in a protective metal case that is mounted on a vehicle; the case has its own rechargeable battery that can last up to 18 hours between charges—much longer than the standard internal iPad battery.
Although unconventional, there were at least four reasons Diversity Vuteq chose to investigate the system:
1. One was that it was so visual. For instance, the iPad screen is larger than the screen on a conventional mobile computer. Instructions are color-coded as well. When a task is delivered to the iPad, the border of the screen is yellow. If a team member performs the task correctly—if the right item or location has been scanned—the border turns green indicating that the task was correct and it's time for the next task. If the border turns red, the team member knows an error occurred and has to be corrected. "Visualization is an important component of lean, which was attractive to our management," Buck explains.
2. Another was the fact that the system used iPads specifically. "Our management admires Apple products and that made it an easier sell," Buck says.
3. In this case, unconventionality—or innovative—was a selling point. If successful, it would set that plant apart from other suppliers as an innovator. The Princeton plant already stood out for being the first plant in North America to install a certain kind of injection press. This would be another first. "Toyota favors suppliers that are considered leaders," Buck says. "If you're having problems in your plant, they'll suggest you look at those supplier's processes because they're doing something unique. My goal was to be that supplier."
4. Finally, the solution would make team members 100% accountable. "The system is so visual that you can look at the iPad and see whether the process is being followed just by the colors," Buck says.
In the new process designed to work with iPads, tasks are optimized by the system to eliminate unnecessary walking time and then delivered to the tablets in steps. When orders drop to the device, the team member first sees a storage location—say FL01—on the screen with a yellow border. If the team member scans the right location, the border turns green. The storage location is next, the associate sees a part number, such as MBRO, and a yellow border. If the associate scans the right container, the border will again turn green. Finally, the associate sees the the number of totes to be picked and a yellow border. Once each pick has been scanned, the border will turn green again. If there are any errors in those steps, the yellow border turns red. The team member can't move to the next step in the task until correcting the error.
Buck admits there was a learning curve. For one, the internal Wi-Fi infrastructure had to be expanded to accommodate additional users and provide coverage throughout the facility. For another, team members didn't pay attention to battery life, even though the external batteries will last 18 hours.
Last, Buck says that initially the error rate remained stuck at previous levels. However, because the new system-based approach kept a record of transactions, Buck's team identified where the process was breaking down. It turned out that the production team was sometimes loading finished goods into the wrong containers because they weren't paying attention to the internal label system used to identify kanban containers. "Because we could now review data, we were able to identify the problem," Buck says. "We'll be rolling this system into production shortly."
In the future, Diversity Vuteq plans another modification to the system, adding a color picture of the part required for a pick along with the part number. "We make 300 SKUs, which consists of 100 different parts in three different colors," he says. "Now, they'll see a picture of the right part in the right color."
Nine months after going live, the process is streamlined and error free. As Buck points out, where the iPads are in use, errors are virtually non-existent. And, the team members previously assigned to quality control have been reassigned to other tasks. "Today, we have one person doing a one-person job, and we're investigating ways to further streamline picking and palletizing," he says.


System suppliers
WMS: HOJ Logistics Engineering, hoj.net/hoj-logistics
Mobile computing: Apple, apple.com
Bar code scanning: Socket Mobile, socketcom.com
Lift trucks: Yale, yale.com; Crown, crown.com
Push back racking: Steel King Industries, steelking.com
Tuggers: Toyota Industrial Equipment, toyotaforklift.com
Plastic pallets and containers: Orbis Corp.,
orbiscorporation.com

July 31, 2014
About the Author
Bob Trebilcock Bob Trebilcock, editorial director, has covered materials handling, technology, logistics and supply chain topics for nearly 30 years. In addition to Supply Chain Management Review, he is also Executive Editor of Modern Materials Handling. A graduate of Bowling Green State University, Trebilcock lives in Keene, NH. He can be reached at 603-357-0484.
Subscribe to Modern Materials Handling Magazine!
Subscribe today. It's FREE!
Find out what the world's most innovative companies are doing to improve productivity in their plants and distribution centers.
Start your FREE subscription today!
Latest Whitepaper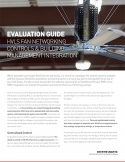 How to Invest Smartly in Industrial Fans
Read this white paper to learn the 7 defining factors to consider about your facility so you can maximize the benefits of your fan investment. HVLS High volume low speed fan white paper, Entrematic fans white paper. Benefits of HVLS fans in the warehouse.
Download Today!
From the April 2018 Modern Materials Handling Issue
Why smarts are central to Internet of Things in the warehouse
New warehouse gives winemaker a "Smooth Finish"
View More From this Issue
Latest Webcast
Industry 4.0: What you need to know today
This webinar takes a closer look at industry 4.0 and provides a roadmap for building and effectively utilizing Industry 4.0 capabilities.
Register Today!