Elevating the fuel cell lift truck market
With use by Walmart, BMW and other large, 24/7 facility operators, hydrogen-powered lift trucks are proven at the higher end of the market, but can they catch on elsewhere? Fuel cell providers are betting that turnkey, streamlined offerings will help.

Roberto Michel
·
August 1, 2014
When a materials handling technology keeps landing big wins with marquee customers such as Walmart and can boast productivity benefits, it seems its destiny is one of explosive growth. But even though hydrogen fuel cell-powered lift truck solutions have plenty working in their favor, there are reasons to be guarded about their potential for making huge inroads in the market.
Hydrogen fuel cell lift trucks have been around for several years, offering a compelling alternative to conventional electric lift trucks, which use lead acid batteries, especially for larger fleets running multiple shifts per day. The main advantage lies in the time savings for refueling a fuel cell lift truck versus a battery swap for a conventional truck. Multiply the savings by three shifts a day, and the time savings add up.
Fuel cell-powered lift trucks also do away with battery rooms and have other advantages, such as no power degradation over the course of a shift. These widely recognized advantages have helped fuel cells garner some impressive customer wins, including when Plug Power announced earlier this year that Walmart would be expanding its use of fuel cells by more than 1,700 trucks over two years.
So what's holding fuel cells back from claiming a bigger chunk of the market? For one thing, there is the high cost of the cells and the supporting infrastructure, which can make the technology hard to justify for smaller operations that aren't running multiple shifts. So while fuel cell solution providers are growing their sales, they have yet to capture a big share of the market.
"Hydrogen fuel cells, when you look at the total numbers of lift trucks sold, still have very small penetration, at most maybe 1% of the market," says Mike Deneen, a senior industry analyst with the research firm Freedonia Group. "The technology is still relatively new; it's expensive; and there is the cost of the infrastructure to consider," he adds. "Right now, it remains something that the bigger players and the bigger fleet operations are going to be more attracted to."
Then there are other hurdles to broad adoption, such as competition in the form of other technologies like lithium ion batteries, and efficiency improvements to conventional electric lift trucks, such as regenerative braking. Additionally, the federal tax credit on fuel cells is set to expire at the end of 2016.
The fuel cell solution providers, however, say the future looks good for hydrogen lift trucks. They see more facilities, even modest-sized ones, being able to take advantage of the productivity benefits. The reason for this is not so much a huge breakthrough in fuel cell costs, but rather turnkey approaches by vendors to make the fuel cell transition more streamlined and free of upfront costs. When you combine this turnkey approach with steady improvements in the technology and the inroads that fuel cells are starting to make in the automotive market, the outlook for fuel cell lift trucks remains strong.
Simplifying the transition
To gain the rapid refueling benefit of fuel cells, warehouse managers first have to consider the cost, installation, maintenance and fuel delivery concerns involved in keeping a fleet of fuel cell lift trucks humming along. Suppliers are addressing these cost concerns with turnkey approaches, which are leading to customer wins.
Plug Power's agreement with Walmart for more than 1,700 fuel cell lift trucks at six facilities over two years is a good example of the attractiveness of the turnkey approach, says Keith Schmid, COO of Plug Power. The "framework agreement" with Walmart, he notes, was for Plug's GenKey offering, which spans fuel cells, preventative care services, and hydrogen fueling infrastructure. Under the agreement, Walmart can add additional sites under the same terms, and recently did just that by adding a seventh site to the agreement, says Schmid.
"I think what is really starting to drive our share and penetration of the market is our total turnkey offering, which we call GenKey," says Schmid. "The customer can essentially place the entire transition into our hands, and know that they have a trusted partner that will execute it."
Already, Schmid adds, Plug's fuel cells and infrastructure are an attractive option for multi-shift facilities with fleets of 50 trucks or more, but the turnkey approach will further simplify customer concerns about complexity, whether it be a more modestly sized fleet, or a mega facility with well more than 100 vehicles.
"We make that transition seamless for the customer so that the customer need not manage the construction process; they need not manage a separate industrial gas supplier; they need not manage a separate hydrogen infrastructure and fueling station partner, as well as a fuel cell provider," he says. "We take care of all of that."
Warehouses with fewer than 25 lift trucks are not a focus for Plug Power currently, says Schmid, with the main focus being on sites with 50-plus vehicles. However, since some of Plug's major customers also have large retail outlets with materials handling needs, the company is looking at ways to make the fuel infrastructure viable for use at the retail level. "Our customers are actually asking us to follow them into their retail storefronts, so as we move forward, that definitely is part of the target market for Plug," says Schmid.
Other ways that Plug Power has looked to expand its market reach has been through a joint venture to address international markets. It also has introduced a new, large fuel cell option, the GenDrive 1900, capable of powering large lift trucks often used in manufacturing settings.
Expanding the sweet spot
Despite some high-profile wins for fuel cell lift trucks, the technology only represents a small portion of the lift truck market. Overall, the U.S. lift truck market moved about 200,000 units in 2013, with fuel cell lift trucks comprising only about 1,000 to 1,500 of those units, says Deneen. And, even though 2014 is shaping up as a much stronger year, closer to 3,000 fuel cell lift trucks in North America, he adds, it still amounts to only a small slice of the overall market.
To expand, one way the fuel cell lift truck suppliers need to go is downward into modestly sized facilities. Since the cost of fuel cells isn't dropping dramatically, one way of doing this is by reducing the infrastructure burden.
By providing facilities with an on-site hydrogen generation capability so that liquid hydrogen doesn't have to be delivered and stored, Nuvera Fuel Cells simplifies the use of fuel cell lift trucks for relatively smaller operations, according to Gus Block, director of marketing for Nuvera. With on-site generation, a distribution center consuming around 25 to 50 kilograms (kg) of hydrogen per day can tap the benefits of fuel cell lift trucks.
"We offer an on-site solution that generates hydrogen from natural gas and water, and what this does is provide an economical source of hydrogen at a smaller scale," Block says.
Nuvera's hydrogen generation equipment uses steam methane reforming to produce up to 50 kg per day of hydrogen on demand. Multiple units can be combined to scale up to handle applications consuming as much as 250 kg per day. At the other end of the scale, Nuvera's 50 kg/per day generation system can operate at a 50% turndown rate, generating 25 kg of fuel per day. The approach is said to be economical, in part because of the compact equipment, but also because it uses a facility's existing natural gas and water supply to produce fuel.
The infrastructure consists of a modular generation, compression and storage unit that fits on a compact pad outside a facility, with dispensers designed to be located indoors at a convenient refueling spot. Nuvera handles the installation and maintenance of the gear, says Block, and offers leasing to defray upfront costs.
"You don't need as big a footprint for on-site generation as you would for delivered liquid hydrogen," says Block. "And, because you don't have that on-site storage for liquid hydrogen, you don't need as much offset from the building, which makes the permitting process easier. When you combine all these factors, we definitely see on-site generation as an economical way of getting hydrogen at that smaller scale of use."
Nuvera's on-site hydrogen generation system has been used by some relatively modest-sized fleets. For example, says Block, one fleet has seven reach trucks and 10 pallet jacks, consuming about 25 kg of hydrogen in 24 hours. Essentially, says Block, it's a misperception to think that hydrogen fuel cell lift trucks are only a fit for mega warehouses with fleets exceeding 100 lift trucks.
For example, last July, Nuvera announced that Ace Hardware selected Nuvera and its PowerTap onsite hydrogen generation and refueling solution for a retail support center in Wilmer, Texas. Plug Power is the fuel cell provider for that implementation, which uses Raymond lift trucks. According to Plug Power, that deployment will involve 65 GenDrive fuel cell units.
Typically, add Block, smaller sites using on-site hydrogen generation are running multiple shifts, because this is where the rapid refueling and associated productivity benefits come into play. "If you're not running multiple shifts and needing to change out batteries, you would probably not be looking at fuel cells," he says.
Lift from automotive
To date, the materials handling market has been ahead of the automotive market in terms of shipping commercially available products that use hydrogen fuel cells as their main power plant, but lately, the automotive market is starting to announce products. Toyota announced in June that it would launch a fuel cell-powered sedan in Japan before April 2015, with launches in the U.S. and European markets planned for the summer of 2015.
The Toyota fuel cell sedan would join the 2015 Hyundai Tucson SUV which is already is available in small quantities in the California market. GM also has test fleet of fuel cell-powered SUVs. To some vendors serving the materials handling market, the advent of fuel cell motor vehicles is bound to help fuel cell use in the industrial market by contributing to economies of scale.
Micheal Ciotti, a principal equipment engineer for hydrogen fueling with Linde North America, says fuel cell-powered automobiles should accelerate the buildup of hydrogen infrastructure, and reinforce acceptance of the technology. Linde provides liquid hydrogen to industrial customers, working closely with fuel cell suppliers such as Plug Power. While Linde does not yet have a customer who is using fuel cell lift trucks at a site and also plans on fueling a fleet of hydrogen-powered cars, such a scenario could be possible in a market like California. "The more uses you can find at one site for the fueling infrastructure the more economic sense it makes," Ciotti says.
Schmid agrees that automotive use of fuel cells will be good for the industrial side of the market. "Volume in the entire industry, both automotive and by other fuel cell manufacturers, will help bring components and fuel cell materials down on the cost curve," he says.
For now, providers of fuel cell lift truck systems are focused on simplifying the transition to fuel cells for end users, making it more attractive to mid-sized, multi-shift sites, while also growing from repeat wins from large, existing customers. As Deenen notes, "Companies are doing some repeat buying, and with any new technology, that's key, because it indicates the technology is working."
Companies mentioned in this article
Freedonia Group: http://www.freedoniagroup.com
Linde: http://www.linde.com
Nuvera: http://www.nuvera.com
Plug Power: http://www.plugpower.com

August 1, 2014
Latest Whitepaper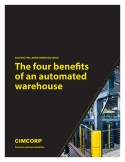 Solving the Labor Shortage Crisis: The Four Benefits of an Automated Warehouse
Not enough warehouse staff? Finding it difficult to keep up with orders during peak periods?
Download Today!
From the March 2018 Modern Materials Handling Issue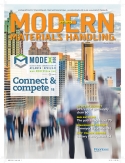 Conveyors & sortation: Carrying the e-commerce burden
2018 Productivity Achievement Awards
View More From this Issue
Latest Webcast

Emerging Technologies for Your Distribution Center
Come get an insider's view of the latest technologies for inside your Distribution Center. You'll learn which technologies are being piloted, which are having success and moving from concept to implementation and into production on the maturity scale, and what's coming on the horizon.
Register Today!