Fleet management: Fleet-footed operations
Having sprouted from mere lift truck maintenance, fleet management is now budding into a powerful and integral part of labor management.

Equipment in the News
A3 announces call for 2019 Automate Launch Pad Startup Competition
CEMA reports November 2018 shipments up 23.2% compared to November 2017
SencorpWhite names Corey Calla president
RFID companies innovate to harness the growth opportunities generated by Manufacturing 4.0
Systems Report: Bulking up at Canadian Tire
More Equipment News
Equipment Resource
Southworth Brouchure Shows Practical Applications of Ergonomics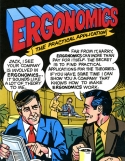 This little booklet done in comic book style uses simple illustrations to take readers on a walk through a hypothetical, yet typical, plant where the plant manager, safety director, and controller point out a variety of problems that were solved through the practical application of ergonomics.
All Resources
By
Josh Bond, Senior Editor
·
August 1, 2015
With the benefit of hindsight, fleet management might have been named differently at the outset. Perhaps "equipment productivity management," or "employee visibility and accountability management." The state of the practice has evolved past mere hour meter readings, impact sensors and even sophisticated, real-time telematics. The purview of fleet management now encompasses everything the lift truck touches in an organization—which is just about everything.
"If you ask 10 people, you will get 10 definitions of what fleet management means," says Pat DeSutter, vice president of fleet service and aftermarket for Yale Materials Handling Corp. "In general, it's becoming more about business solutions, not just fleet attributes. 'Fleet management,' in the sense we traditionally talked about it, is now woven into the entire fabric of an organization."
At the same time, software and intelligent solutions elsewhere in a facility collaborate with fleet management solutions to improve the efficiency of each system. As lift truck users study connections between the costs and performance of equipment, technicians and operators, they work to unify disparate fleet management systems, a theme seen throughout the materials handling industry.
"Each of those fleet management pieces doesn't have to be world class," says Torrence Smith, senior manager of fleet management services for Mitsubishi Caterpillar Forklift America. "But if you glue them all together, it will become world class because you'll be doing something almost nobody else is."
We still have a long way to go before operations, operators, purchasing, technicians, dealers, service providers, third-party fleet managers and solution providers work in perfect harmony. The industry is still settling into its increasingly broad adoption of basic fleet management tools and telemetry devices, some of which now cost a quarter of what they did 10 years ago. Once these solutions help right-size a fleet and reduce maintenance costs, the next big cost center is labor.
There's a hole in the labor cost bucket
It's widely accepted that the operator makes up about 70% of the total cost of ownership of any lift truck. It is less obvious that common, well-intentioned practices can inflate those costs dramatically. For example, if six people and lift trucks are allocated to shipping, at any given time only four of them might be needed. Although the two "floaters" might be quick to respond when needed, the wasted time can add up fast.
"Lift truck operators will do what they are told, so if they are assigned to shipping, they will clock in and try to get pallets onto outbound trucks," says Ken Ehrman, founder and president of I.D. Systems. "Meanwhile, if there's a panic on the other side of the facility, that operator might have no knowledge or ability to react."
If tracking a lift truck, a company might measure 50% utilization, Ehrman says, but they might deem this acceptable because of the nature of the operator's job. "If you then learn that a similar facility is at 30% utilization and another is at 70%, why would you assume there's no opportunity to improve on your 50%?"
Systems that enable dynamic labor reassignment are great, but even simple directives can have an immediate impact. "If a lift truck operator doesn't have materials to move, what do we expect him or her to do?" asks Mike McKean, fleet management sales and marketing manager for Toyota Material Handling USA. It could be as simple as "grab a broom," McKean says, but expectations should be set and supported. In fact, this is most critical when introducing new fleet management technologies.
"For operators, it could appear that someone decided to deploy an access control solution and one day it just showed up on a new truck," McKean says. "The only things they're told is they need a key fob to get on or off, and they can do checklists on the same device. If the leadership perspective is focused on what's in it for the company, the operator can be left wondering 'what's in it for me?'"
Whether cross-trained or not, ideally you direct an operator to the next task as quickly as possible. This direction is often monitored with engineered labor standards based on time studies of tasks. However, given the pace of change in warehousing and DC environments, Ehrman says these standards are often off by 60%. Before relying on a warehouse management system (WMS) or labor management system (LMS) to orchestrate activity, it is essential those systems have accurate data.
"There is a lot of low-hanging fruit," DeSutter says, "and the advancement of telematics will be rooted in labor management. I would suggest the value of these systems will lead the industry toward embedding that functionality standard in lift trucks, rather than offering them as an option."
Hard data and soft standards
When supported by integrated hardware and software, fleet management becomes less a discrete discipline and more a team effort. John Rosenberger, manager of iWarehouse Gateway and global telematics for The Raymond Corp., notes some blurring of what he calls "application scope."
"Traditionally, as recently as 2012 or so, fleet management meant telematics reporting," he says. "With the growth of WMS and LMS, we now see a lot of gray areas where some of the higher-level applications are taking over those telematics functions."
Combining and coordinating multiple systems can seem overwhelming, so customers have been pushing back on suppliers' attempts to create proprietary solutions. Steven LaFevers, telematics solutions manager for Hyster, says customers do not want enclosed ecosystems of data.
"They prefer one password with all KPIs visible in as few avenues as possible," he says. "They want productivity measures from the truck tied to the WMS, tracking load movement and operator activity. I think the next evolution will be capturing not only the cost and operator behavior, but every inch of physical movement on that truck."
For example, consider the connection between a fleet, labor standards and slotting. If a product's position is rearranged so it's 10 seconds further from a picker, the traditional approach would require an engineer to remeasure that standard, Rosenberger says. A unified system can recognize that the task used to take 25 seconds, but the last six runs took 35 seconds after it was re-slotted. It can then update accordingly or, at least, send an alert.
"Telematics, LMS, WMS, what have you, won't get rid of stop watches and engineered labor standards overnight, any more than all warehouses will be lights-out next year," Rosenberger says. "But if you integrate those systems, you can create a self-regulating labor standard mechanism."
Smoothing out the bumps
All the productivity in the world is not worth compromising safety, and curbing vehicle abuse requires cultural change management more than technology. Abuse damage can account for 30% to 40% of a fleet's operating cost, according to Jim Gaskell, director of Global Insite products for Crown Equipment. A good first step involves examining maintenance data to target misuse or abuse. Managers can then use that information to coach operators.
"Many will find that a very small percentage of operators will own most of that damage, maybe 5% or 10%," Gaskell says. "If you have a collision, a system that shuts the lift truck down and activates a flashing light is a powerful deterrent. It's not uncommon to very quickly reduce impact damage by 80%."
Access control systems can add accountability, says Terry Wickman, president of Keytroller, but management must use the data to continuously reinforce safe practices. The message to operators should be positive, not punitive.
"One customer told us that operators would come directly to management to report incidents before managers were even able to follow up on the system's notification," Wickman says.
But since humans make mistakes, Wickman describes some simple ways technology can boost safety. He notes the increased desire to improve pedestrian safety throughout the industry. As a result, automatic zone controllers have been used to control different top speeds for lift trucks in different areas of a facility. Wireless warning alarms positioned in high traffic pedestrian areas might also be set to activate when a forklift comes within a preset range of 15 to 75 feet.
Despite the common misconception, enhanced safety does not need to come at the expense of productivity, according to Brian Markison, director of North American sales for UniCarriers. In fact, the two can often increase simultaneously.
"The traditional thinking was that if you needed high productivity, you needed high speed," Markison says. "As paths are optimized, there are ever fewer long runs from one side of a facility to another where speed helps. Instead, you see more short, start-and-stop movements, and those are what you want to manage."
Operator training and culture also impact another key cost center. Markison suggests the checks paid to fuel companies for propane are under increasing scrutiny.
"The reality is that an operator preparing for a six-hour shift might change the tank first thing just so he doesn't have to worry about doing it mid-shift," Markison says. "He might have just given half a tank back to the fuel company, but that will only be reconciled later when the bill comes."
Markison recommends an effective low-LP indicator and enforcement of the mentality that an operator will not swap tanks until they are empty. Some lift truck suppliers also offer economy modes for internal combustion lift trucks that regulate top speeds and acceleration. "The gas pedal is typically either fully up or fully down," he says. "Economy modes can create fuel savings of 10% to 15% with virtually no change in productivity."
Companies mentioned in this article
Crown Equipment
Hyster
I.D. Systems
Keytroller
Mitsubishi Caterpillar Forklift America
The Raymond Corp.
Toyota Materials Handling USA
UniCarriers Americas
Yale Materials Handling

March 31, 2016
About the Author
Josh Bond, Senior Editor Josh Bond is Senior Editor for Modern, and was formerly Modern's lift truck columnist and associate editor. He has a degree in Journalism from Keene State College and has studied business management at Franklin Pierce University.
Subscribe to Modern Materials Handling Magazine!
Subscribe today. It's FREE!
Find out what the world's most innovative companies are doing to improve productivity in their plants and distribution centers.
Start your FREE subscription today!
Latest Whitepaper
Making the Case for Warehouse Consultants
Benefits for logistics/operations managers, CFOs, and COOs all lead to safer workplaces, lower costs, and happier customers.
Download Today!
From the January 2019 Modern Material Handling Issue
Inside Canadian Tire Distribution Center: Design for flexibility
Continuous improvement in action
View More From this Issue