Food and Beverage: Keeping up with the SKUs
The food and beverage sector is ripe with unique and difficult materials handling challenges due in part to the growing number of product choices. Here's a look at how technology can help keep the shelves stocked and the customer satisfied.

Warehouse in the News
ID Label celebrates 25 years
ProMach acquires Code Tech
Motion Industries to acquire automation and robotics company
Pelican BioThermal opens new network location in Jeddah, Saudi Arabia
AMT U.S. Manufacturing Technology Order Report: December dip caps off strong 2018
More Warehouse News
Warehouse Resource
Crossover Businesses: Blurring the Lines Between Manufacturers, Distributors, and Retailers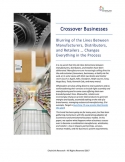 Download the report and uncover how to survive the new challenges businesses are facing and the technology required to keep pace.
All Resources
By
Lorie King Rogers
·
July 1, 2012
Food and beverage producers are trying to be all things to all people at all times. That's because consumers are demanding an ever-increasing variety of food and beverage products that satisfy the taste for ethnic organic, gluten-free, sugar-free, low-fat, high-fiber, low-sodium and caffeine-free products.
And it's not just more food choices. Products are now available in a wider array of package forms than ever before, including six packs and fridge packs, single-serve, family-size and club size.
The result is warehouses and retail stores bursting at the seams with profound SKU proliferation—creating a demand for flexible materials and information handling solutions that allow manufacturers and distributors to deal with all those SKUs as efficiently as possible. Here's a look at best practices that food and beverage companies use to help handle the growing number of SKUs.
Convey with care
New packaging creates materials handling challenges. Smaller, softer containers and less corrugate are making it more challenging to move product through the supply chain. Bottled water is a good example. "A water bottle is now more like a water bag," says Brian Keiger, logistics account manager for KUKA Systems, "and that can have an effect on every piece of automation along the way."
Conveyors are used to move these products through a facility, but varying package types, sizes, shapes and weights mean that there's no one right conveyor for all jobs.
"There are a number of types of conveyor technology
available," explains Tom Roberts, director of manufacturing systems regional sales and operations for Intelligrated. "But the variations that come into play make it difficult to make a universal statement."
For example, Roberts says, roller conveyor could be the best form of conveyance if your products have a solid base and are long enough to be supported by at least three rollers at all times, like a case of dog food, for example. But if the packages are too small, rolling could cause marring of the primary package.
Nobody wants to pay top dollar for damaged goods, so one solution is to consider a belt conveyor. "The advantage," says Roberts, "is that the plastic belt gives the complete support you need for small packages or packages with soft bottoms."
Store slow movers
Along with conveyance, you should consider velocity. A DC with thousands of SKUs, might store slower movers in an automated storage and retrieval systems (AS/RS). Scalable and flexible, an AS/RS is a computer-controlled system that uses automated moving vehicles to put away, store and retrieve goods, and bring them out to the picker in sequence to fill an order.
It's a good idea to assign the fast moving SKUs a fixed location and store the slow movers in a mini-load AS/RS or shuttle AS/RS that handles lighter micro-loads, recommends Sean O'Farrell, market development director for Dematic.
"Since the majority of warehouses and distribution centers were established many years ago, the existing buildings are being challenged by more SKUs. As more space is needed to accommodate more SKUs, automated storage systems can reduce the footprint required by a ratio of 8-to-1," O'Farrell says.
You've got to slot
Slotting software
can calculate best use of storage space by finding the ideal location for SKUs. "Operations are shuffling or re-slotting their picking slots to face the challenges presented by more SKUs," says O'Farrell. And, slotting software can provide an analysis to help you know your orders, simulate moves, and put fast moving SKUs in the ideal picking slot.
In fact, before you actually change the location of an SKU, it's a good idea to simulate the move. "The dynamic slotting of pallet and case locations puts a lot of stress on the [AS/RS] machines, so it needs to be simulated before its put into action," says Bill Ostermeyer, vice president of sales for viastore. "A system with dedicated locations for all SKUs can be more simply, mathematically calculated, but dynamic reallocation for picking makes simulation vital for its success."
Slotting software can also determine the right size of the picking location and effectively manage the real estate inside the four walls. "In a perfect world, you'd have enough floor space, but even warehouses with a million square feet have issues with floor space," says Tom Kozenski, vice president of product strategy for RedPrairie.
This situation forces the best practice, Kozenski says, which is to slot product in a very sophisticated manner, even multiple times during the day, which requires an automated system. There are countless reasons for an SKU's velocity to change. Whatever the reason, SKU velocity can change overnight and so should SKU storage locations.
As a bonus, in the evaluation process, you could uncover unexpected opportunities like being able to consolidate a number of slow movers into a bigger tote and bringing many items to a picker in one tote. Not only does this save labor, it cuts down on wear and tear of the equipment.
Palletizing process
Palletizing
needs on the manufacturing side of the food and beverage sector are different from the needs on the distribution side. On the manufacturing side, a single production line can be directly linked to a palletizer, repeatedly handling a single SKU.
Inside a DC however, SKU proliferation and the retailers' demand for store-ready orders makes palletizing more like solving Rubik's cube. This is where software and robotic palletizers work together. "Software tells the storage system what cases to send and in what sequence. Then it tells the palletizer, here's what you're getting and here's how you have to put it together," explains RedPrairie's Kozenski.
Since robotic palletizers
can handle virtually any product—whether it's fragile, has a solid bottom or open top—and can adapt quickly to an operation's changing needs and changing SKUs, they are ideal for palletizing in the food and beverage sector. "Not only can the robot's end effector be changed to handle multiple package types," explains Kuka's Keiger, "you can add a robot to increase throughput, and a robot's arm can work 24/7 without getting tired."
With a number of end-or-arm tooling devices like grippers and vacuums, the ability to lift and rotate product, robotic palletizing solutions are designed to handle the latest big box directive called "labels out." Keiger explains that certain retailers demand that all product in a pallet to be positioned with its front label facing out to form a type of mobile billboard.
Food-grade components
The Food and Drug Administration and USDA set extremely strict requirements for food and beverage manufacturers, and often times those requirements can follow a product out into the packaging areas. These requirements can determine the specific type or style of equipment used for a certain process—like sanitary designs for mezzanines that support picking operations.
"The simple rule of sanitary design in production equipment is to prevent catch points where bacteria, pathogens, microbiological organisms or other debris could collect, grow and ultimately contaminate the food or beverage," explains John Moore, vice president of marketing for Cubic Designs.
One way to meet sanitary regulations is to construct food-grade platforms with square tubing rather than C-channel framing. The square shape is completely closed off which prevents contaminants from getting inside.
In today's complex food and beverage sector, regardless of the number of SKUs that come on the scene, the goal is to deliver high quality products to the consumer in a timely manner.

August 17, 2016
About the Author
Lorie King Rogers Lorie King Rogers, associate editor, joined Modern in 2009 after working as a freelance writer for the Casebook issue and show daily at tradeshows. A graduate of Emerson College, she has also worked as an editor on Stock Car Racing Magazine.
Subscribe to Modern Materials Handling Magazine!
Subscribe today. It's FREE!
Find out what the world's most innovative companies are doing to improve productivity in their plants and distribution centers.
Start your FREE subscription today!
Latest Whitepaper
Insider Q&A: The Robotics Revolution is here. Is your company ready for it?
Download this free Insider Q&A with Matt Wicks, VP, Product Developent, Honeywell Intelligrated for his unique perspective on robotics in the modern-day warehouse.
Download Today!
From the February 2019 Modern Materials Handling Issue
Modern's System Report: Robots at GEODIS
ProMat 2019 to showcase record number of exhibitors, 45,000+ attendees
View More From this Issue