Packaging Corner: How robotic palletizers stack up
As the industry moves toward automation, many facilities consider robotic palletizers, but are they right for your packaging operation?

Sara Pearson Specter
·
March 1, 2012
When it's time to move from manually building a unit load to automation, more facilities are taking a closer look at robotic palletizers, says Terry Zarnowski, sales and marketing director for Schneider Packaging Equipment.
"The flexibility of robotic palletizers makes them attractive," he adds. "They can perform simple or complex case stacking patterns, build mixed pallets of different products and sizes, and palletize multiple SKUs simultaneously. Plus, the same robot can easily be adapted to handle a variety of different products: from small bags to 120-pound bags of concrete, to any case type, including trays, lidded trays, standard regular slotted cases or half slotted cases and bundles."
Placing a single robotic palletizer in a central position (to be fed by two or more lines), says Zarnowski, saves space while increasing efficiency because it can build multiple pallet loads concurrently instead of only sequentially.
"Unlike traditional palletizing equipment that may need multiple mechanical changeovers for different unit load patterns, a robotic system can be ready to go with a simple control menu change," he explains.
Since a conventional palletizer can only palletize one type of case or product at a time, a long case accumulation conveyor is required prior to their release to the unit load, as are mechanical components—such as conveyor laners, stops, pushers, turners and sizing mechanisms—that sort, pre-orient and align the cases.
Not so with a robot, says Zarnowski, "The robot's end-of-arm tool picks one or more cases and rotates, flips and/or stacks the cases flat, sideways or at any angle to orient them as required to build the unit load."
Also, because robots palletize with fewer components than conventional counterparts, they typically offer greater reliability and uptime while using less energy, says Zarnowski.
"Robotic arms are rated for 80,000 hours. That's an extremely high mean time between failures and one that is far greater than any mechanical system consisting of cylinders, sensors, solenoids, air or hydraulic systems and discrete controls," he says. Further, typical robot maintenance is an annual grease change and periodic cleaning and lubrication of the end-of-arm tool.
Read more Packaging Corner.

March 20, 2012
Latest Whitepaper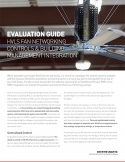 How to Invest Smartly in Industrial Fans
Read this white paper to learn the 7 defining factors to consider about your facility so you can maximize the benefits of your fan investment. HVLS High volume low speed fan white paper, Entrematic fans white paper. Benefits of HVLS fans in the warehouse.
Download Today!
From the April 2018 Modern Materials Handling Issue
Why smarts are central to Internet of Things in the warehouse
New warehouse gives winemaker a "Smooth Finish"
View More From this Issue
Latest Webcast
Industry 4.0: What you need to know today
This webinar takes a closer look at industry 4.0 and provides a roadmap for building and effectively utilizing Industry 4.0 capabilities.
Register Today!