Lift Truck Tips: Narrow aisle solutions challenge assumptions
Cramped customers who increase throughput suddenly find they have all the space they need.

Josh Bond, Senior Editor
·
September 1, 2012
Facility expansion, redesign and installation are among the weightiest projects a business can undertake. However, as with too many business decisions, the company's best intentions are often wrapped up in traditional notions of how things ought to be done. For instance, the role of a lift truck is rarely considered in retrofits or new building and is often only addressed once the lift truck's future home has already been designed.
According to Michael Wiesenegg, product line manager of warehouse systems for Mitsubishi Caterpillar Forklift America, the lift truck can be among the most crucial elements to the productivity of a new or existing space.
When selecting the right equipment for any lift truck application, says Wiesenegg, there are three key factors: available space, the nature of the product, and the required (or potential) speed of the product through the facility. Depending on the application, narrow aisle setups can offer the optimal blend of efficient use of storage space, safe handling of sensitive products, and rapid product processing. Whatever the application, the lift truck will only be ideal if correctly paired with the racking, aisle width and overall facility design.
"Often, the customer goes to a consultant company to design their new building. Unfortunately, by the time they get to the lift truck provider, the racking is already in place and poses problems," says Wiesenegg. "We recently provided a customer with the perfect truck for their food handling application, but the truck did not accommodate the double-deep racking the customer had already installed. However, the speed and efficiency of the truck actually proved more valuable than the lost space, which remains unused. It makes sense to involve the lift truck manufacturer as soon as you get a rack supplier involved. The sooner you start that conversation, the more options you will have."
In fact, by beginning that conversation early, a company might learn a new facility is not necessary in the first place. "Some say they need space when speed might help them reduce the amount of storage needed," says Wiesenegg. "Do you need to move more product or do you need to move it quicker?"
In addition to improving speed, narrow aisle configurations can help make better use of space by enabling customers to lift heavier loads to greater heights. For even greater speed, and a significantly reduced likelihood of damage to racks, equipment or product, customers might consider a guided very narrow aisle (VNA) setup.
For instance, in the pharmaceutical industry the product can be very expensive. With single pallets often valued at thousands of dollars, product loss as a result of lift truck impact can add up quickly. This could be a good candidate for very narrow aisle, because although the product might sit on the shelf for longer periods, the customer wants to virtually eliminate the risk of product damage.
"If you know the cost per pallet and can think about what it means to move more of them, then you can determine whether that system will pay itself if in one or two or more years," says Wiesenegg.
Read more Lift Truck Tips.

September 7, 2012
About the Author
Josh Bond, Senior Editor Josh Bond is Senior Editor for Modern, and was formerly Modern's lift truck columnist and associate editor. He has a degree in Journalism from Keene State College and has studied business management at Franklin Pierce University.
Subscribe to Modern Materials Handling Magazine!
Subscribe today. It's FREE!
Find out what the world's most innovative companies are doing to improve productivity in their plants and distribution centers.
Start your FREE subscription today!
Latest Whitepaper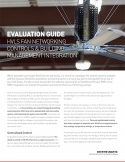 How to Invest Smartly in Industrial Fans
Read this white paper to learn the 7 defining factors to consider about your facility so you can maximize the benefits of your fan investment. HVLS High volume low speed fan white paper, Entrematic fans white paper. Benefits of HVLS fans in the warehouse.
Download Today!
From the April 2018 Modern Materials Handling Issue
Why smarts are central to Internet of Things in the warehouse
New warehouse gives winemaker a "Smooth Finish"
View More From this Issue
Latest Webcast
Industry 4.0: What you need to know today
This webinar takes a closer look at industry 4.0 and provides a roadmap for building and effectively utilizing Industry 4.0 capabilities.
Register Today!