Lift trucks: The greening of Toyota
Toyota's sustainability effort has delivered the triple bottom line: lower costs, employee engagement and a cleaner environment

Bob Trebilcock
·
September 6, 2011
From fuel cells to new batteries to regenerative braking technologies, the lift truck industry is greening its products. That's one of the key takeaways I learned while writing about the evolution of the lift truck for the August issue.
Toyota Industrial Equipment Mfg., number one on Modern's list of the Top 20 lift truck suppliers for 2011, has a green manufacturing story to tell as well. It's delivering what folks in the sustainability community call the triple bottom line. That's when a green initiative is not only profitable for the company, it also creates a better work environment and is good for the community.
According to Tim Hollkamp, the manager of human resources at TIEM's Indiana plant, and Ron Allen, TIEM's environmental engineer, Toyota's focus on environmental improvements began with ISO certification in 1999. Five years later, in 2004, TIEM decided to incorporate environmental-friendly practices into the manufacturing processes at its plant in Indiana.
"When we talk about sustainability," says Hollkamp, "we're really talking about utilizing the strengths of the Toyota system to pull in that environmental piece."
One of the first goals was to become a zero landfill facility. That is a plant that is able to reuse or recycle all of its waste without sending anything to the landfill. Initially, this was done by sending all of the trash from the plant that used to go to the landfill to a waste-to-energy facility where it is burned to produce steam. In 2004, the first year of the initiative, TIEM diverted 956 tons of trash to the utility.
However, TIEM's disposal costs went up, not down. That's because the cost of transporting trash to the energy plant was more than the $28.50 per ton TIEM had been spending to send it to the landfill. "That, combined with our continual goal of reducing waste, got us to thinking about how we do things around here so we could reduce that cost," Hollkamp says.
To do that, Toyota looked for ways to increase the amount of recyclables it was using.
Rather than put wooden pallets in the trash compactor, Toyota began to recycle them. Similarly, wherever possible, corrugated cartons and containers were replaced by RPCs that TIEM provided to its vendors. Another initiative replaced protective packaging, such as plastic bubble wrap and peanuts, with reusable packaging.
Other recycling efforts were revisited to increase the amount of aluminum cans, ink cartridges and paper products recycled.
For the initiative to be truly successful, TIEM believed it had to involve its suppliers and its associates on the floor. It made a simple offer to suppliers: TIEM would share some of the savings with any supplier that could help reduce its cost through green supply chain practices. That led one vendor to suggest that TIEM recycle the scrap metal shavings that fell to the floor in the welding department rather than sweep them into the trash.
To encourage associates to be more diligent about recycling, TIEM offered to donate the funds it received for recycling materials to local and national charities, such as the Make-A-Wish Foundation. Some charities have received thousands of dollars as a result.
The benefit to TIEM: By 2010, thanks to the efforts of suppliers and employees, TIEM was sending just 129 tons of waste to the energy plant.
As a result of the success with recycling, TIEM launched an energy and resource conservation initiative to reduce the amount of natural gas, electricity and water the plant uses every year. It also became a member of the Indiana Department of Environmental Management Partners For Pollution Prevention, an association of about 85 large corporations in the state. "Initially, we looked at this as an energy reduction program," says Allen. "But, as we got into it, we also realized there was a CO2 reduction as well that could reduce our carbon footprint."
One simple step was to turn off lights and equipment that weren't needed overnight. In one year alone, TIEM saved $166,000 in energy costs and reduced its CO2 output by 3,911 tons. In 2006 and 2009, it was honored with the Indiana Governor's Award for Environmental Excellence.
While going green is certainly one of those nice fuzzy things that businesses like to talk about, Allen believes it is also one of the keys to Toyota's continued strength in the market. "We continue to set goals every year to reduce our usage of natural gas, electricity and water," he says. "That's not just part of a sustainability program. It's part of increasing our profitability."

February 27, 2013
About the Author
Bob Trebilcock Bob Trebilcock, editorial director, has covered materials handling, technology, logistics and supply chain topics for nearly 30 years. In addition to Supply Chain Management Review, he is also Executive Editor of Modern Materials Handling. A graduate of Bowling Green State University, Trebilcock lives in Keene, NH. He can be reached at 603-357-0484.
Subscribe to Modern Materials Handling Magazine!
Subscribe today. It's FREE!
Find out what the world's most innovative companies are doing to improve productivity in their plants and distribution centers.
Start your FREE subscription today!
Latest Whitepaper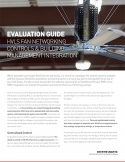 How to Invest Smartly in Industrial Fans
Read this white paper to learn the 7 defining factors to consider about your facility so you can maximize the benefits of your fan investment. HVLS High volume low speed fan white paper, Entrematic fans white paper. Benefits of HVLS fans in the warehouse.
Download Today!
From the April 2018 Modern Materials Handling Issue
Why smarts are central to Internet of Things in the warehouse
New warehouse gives winemaker a "Smooth Finish"
View More From this Issue
Latest Webcast
Industry 4.0: What you need to know today
This webinar takes a closer look at industry 4.0 and provides a roadmap for building and effectively utilizing Industry 4.0 capabilities.
Register Today!