Logistics community assesses in wake of superstorm Sandy
Community partners with relief agencies while reflecting on lessons learned.

MMH Staff
·
October 31, 2012
As the remnants of Superstorm Sandy continue to make life difficult from Nova Scotia to North Carolina to Wisconsin, millions who bore the brunt of the storm are now working to assess the damage and begin the hard work of rebuilding. As relief agencies work to identify and assist those hardest hit, the American Logistics Aid Network (ALAN) is connecting communities in need with concerned members of the supply chain community.
"We are in communication with state, regional, and national Voluntary Organizations Active in Disaster (VOADs) as well as emergency management agencies," said Jock Menzies, president of ALAN, a non-profit organization that engages the supply chain community in support of humanitarian relief efforts. "We are standing by to provide assistance for transportation services, staging areas, storage, expert advice, and other vital resources."
To make in-kind donations of needed supply chain and logistics goods and services, visit www.alanaid.org/relief-needs.php. To streamline relief efforts, ALAN is aggregating needs posted to the National Donations Management Network (NDMN) from the affected states, so potential donors do not have to review each state portal individually.
In conjunction with Rutgers University, ALAN is collecting information on supply chain disruptions resulting from this event to help identify potential resource shortfalls and determine where support from emergency and non-profit organizations may be needed most. Business disruptions resulting from this event may be reported here. All information will be treated confidentially.
Willis Group, a global insurance broker, has issued a statement on the estimated business disruptions and the lessons that might be learned from Sandy. Hurricane Sandy could cost insurers between $5 billion and $10 billion, according to a report in the Wall Street Journal. Bloomberg reports that the hurricane's toll is poised to top $20 billion worth of "economic damage".
"These numbers, unfortunately, are not surprising," says Tom Teixeira, a Practice Leader in Willis Global Solutions. "In fact, I expect the figure to be a lot bigger once all of the losses have been analysed, including the business interruption losses."
That's because many major companies have failed to take on-board the lessons learned from last year's catastrophes, he says. "There is still not enough alignment between the procurement function and group risk. The silo mentality – driven by localized profit and loss accounts – has created opposing objectives, such as procurement trying to significantly reduce inventory and group risk trying to reduce the level of business interruption should disasters occur."
Teixeira says that business interruption losses will be compounded by two key issues:
Many companies have failed to drive effective business continuity planning across their supply chains.
Cost reduction measures continue to increase the dependency of companies on a greater number of critical suppliers. This causes large business interruption losses and additional cost of working when one of these suppliers goes down.
More industry perspectives on Sandy's impact:
-U.S. Xpress: "We have spent the last few days preparing by moving equipment from harm's way from Maryland through New England and this mainly entails getting our trailing equipment that could be in flood prone areas to higher ground. Freight flows continue to move and of course we are responding with emergency relief loads both for the government and for our customers. I estimate we have at least 200+ loads moving currently with water, generators and other relief merchandise. These loads are being moved from the Southeast and Midwest either to staging areas or direct to customer DC locations for redeployment after the effects of the storm are known."
-ABF: "ABF is closely monitoring Hurricane Sandy. We are taking precautions to ensure the safety of employees and to minimize service disruptions for our customers. However, with a storm of this magnitude, service disruptions are inevitable. For this reason, customers may monitor the latest service center closures by visiting http://www.abf.com/closures. Customers with freight currently in ABF's care can rest assured that we are taking the proper steps to keep it safe until we are permitted to deliver it. Following the aftermath of a hurricane, ABF is bound to federal, state, and local municipality safety mandates, which dictate service areas we may conduct business in. We will resume service in these areas as soon as conditions allow."
-YRC: Several YRC terminals are closed. For a full listing, please click here;
-A. Duie Pyle: "As the remnants of Hurricane Sandy continue to pass through the Northeast many areas are still hazardous and impassable. Because of this issue we are not running any Pickup and Delivery operations Tuesday morning. As the day progresses we are planning to bring drivers in to perform pickups as our customers get their operations up and running. Please call customer service at 800-523-5020 for more information.";
-New Penn: "New Penn facilities will be closed and not operating Tuesday, October 30. Additional updates will be posted on NewPenn.com when conditions change;
-Pitt Ohio: The following terminals are closed for deliveries as a result of Hurricane Sandy: East Windsor NJ, Baltimore MD, Cherry Hill NJ, Cumberland MD, Hazleton PA, Allentown PA, Harrisburg PA, and Norristown, PA. All other terminals are operating. Our linehaul is limited to the Western part of our service territory due to weather conditions last evening. We have power outages in Norristown PA, Allentown PA and East Windsor PA resulting in no phones at this time. Thank you in advance for your cooperation and understanding.";
-UPS Freight: "As Hurricane Sandy transforms into an overland storm, UPS Freight will resume operations in some impacted areas as soon as we can do so safely. In those areas, UPS Freight people will be out making pickups and deliveries for customers whose businesses are open and require service. To schedule pickups, please log in to My LTL Freight or call UPS Freight Customer Service at 1-800-333-7400. Power outages, flooding, snow, road closures and civic restrictions will still affect service today. Disruptions can be expected in Delaware, Maryland, Washington D.C., New Jersey, New York, West Virginia, Connecticut, Rhode Island, Pennsylvania and coastal and northern Virginia.";
-FedEx Freight: "Unavoidable service delays should be expected due to local road conditions. FedEx Freight is committed to providing service to the best of our ability in areas that can be safely accessed and where conditions have improved. We will continue to monitor the situation to minimize the impact on service. Please continue to check fedex.com for updates." More information for FedEx Freight can be found http://www.fedex.com/us/freight/outage.html" title="here">here.

February 27, 2013
Subscribe to Modern Materials Handling Magazine!
Subscribe today. It's FREE!
Find out what the world's most innovative companies are doing to improve productivity in their plants and distribution centers.
Start your FREE subscription today!
Latest Whitepaper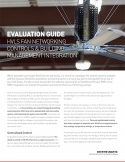 How to Invest Smartly in Industrial Fans
Read this white paper to learn the 7 defining factors to consider about your facility so you can maximize the benefits of your fan investment. HVLS High volume low speed fan white paper, Entrematic fans white paper. Benefits of HVLS fans in the warehouse.
Download Today!
From the April 2018 Modern Materials Handling Issue
Why smarts are central to Internet of Things in the warehouse
New warehouse gives winemaker a "Smooth Finish"
View More From this Issue
Latest Webcast
Industry 4.0: What you need to know today
This webinar takes a closer look at industry 4.0 and provides a roadmap for building and effectively utilizing Industry 4.0 capabilities.
Register Today!