Maintenance at American Eagle Outfitters
Uptime is critical at AEO's highly automated distribution center in Pennsylvania. The maintenance team shares five of the best practices that keep the conveyors and equipment humming

Warehouse in the News
How to Invest Smartly in Industrial Fans
CHEP launches first-ever CarbonNeutral pooled platform in North America
Warehouse System Report: A.B. Beverage Racks Up Productivity
Packaging & Processing Hall of Fame nominations open
Made From Scratch: Manufacturers set sights on direct-to-consumer (D2C) fulfillment
More Warehouse News
Warehouse Resource
How to Invest Smartly in Industrial Fans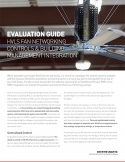 Read this white paper to learn the 7 defining factors to consider about your facility so you can maximize the benefits of your fan investment.
All Resources
By
Bob Trebilcock
·
December 15, 2016
Two years ago, American Eagle Outfitters (AEO) opened a new 1.6-million-square-foot distribution center in Hazle Township, Pa. Highly automated and designed to handle AEO's omni-channel needs, it replaced an older, more conventional facility in Warrendale, Pa., near Pittsburgh.
Given all of the technology and software in the new DC, Brian Poveromo, senior facility and maintenance manager, had a choice to make: Outsource the maintenance to a third party or develop an in-house team. Poveromo says the choice was simple. "We considered outsourcing for one hot minute and that was about it," he says. "When it comes to flexibility and adaptability, we think we are best situated to service our buildings, and I'm blessed with a maintenance team that takes ownership of the property."
Poveromo manages a 20-member team of technicians, plus three supervisors and three individuals who manage procurement and approximately $2 million worth of spare parts, components and consumables. Two team members are on the premises on all three shifts Monday through Thursday, and one 12-hour shift the other three days of the week. "We're responsible for about 90% of what happens here, including all of the equipment maintenance such as basic lift truck repairs, grounds work repairs, and even some of the HVAC maintenance," he says. "We bring in specialists when it's required and our lift truck dealer handles all of our planned maintenance."
Poveromo outlined five best practices that are essential to the maintenance program at AEO.
1. Look and listen
Automation in and of itself is not new to AEO. The Warrendale facility, for instance, had more linear feet of conveyor than the new facility. However, it was conveyor from a different era, with a focus on mechanization. When the conveyor broke down, it was usually the result of a jam that could easily be cleared, or a bad motor or roller that could be swapped out by someone with mechanical skills. The mechanics of today's systems take a back seat to technology, including the sensors, software and PLCs that route totes and containers through the facility. What's more, the flow of containers through the building is important. "It's easy to underestimate how much has changed, because the conveyor looks the same as the old system," Poveromo says. "There are fewer breakdowns, but that's because you are constantly monitoring the system as it runs."
Poveromo likens the maintenance of today's systems to a physician monitoring a patient's vital signs for tell-tale signals that something is about to go wrong. Looking and listening is everyone's job. "You won't find our technicians in the maintenance shop," Poveromo says. "We are constantly going through the building looking and listening for the tell tale squeaks, noises, leaks and signs of wear or over-heating that tell us something might be ready to fail."
AEO is not yet doing vibration and infrared readings on the equipment for predictive maintenance, but as a relatively new facility, the team is in the process of capturing data to create baseline performance information that can be used for historical purposes.
"At a minimum, we're identifying key failure areas and developing plans to address those," Poveromo says. As an example, the sortation system has a strut that breaks down after a certain number of hours. Items like those are replaced before the holiday rush or other especially busy times to stay ahead of the game. "Is it scientific? No," Poveromo says. "But, we're moving the team in that direction."
2. Be prepared
In the old Warrendale facility, AEO had a "breakdown mindset—if it broke, we fixed it." That worked in a building where the primary purpose was store replenishment, and a delayed shipment was not a make or break event. In an omni-channel building that is also filling online orders with strict customer service-level agreements, the maintenance team has to respond and fix breakdowns immediately. He thinks of it as a "preventative and predictive mindset."
As part of that change, Poveromo says he wants to be prepared to address predictable events. Going into the holiday season, for instance, the team prepositions specific parts that are vulnerable, like gears and motors, out on the floor where they can be accessed quickly in the event of a breakdown.
3. PMs and CMMS
If looking and listening is like monitoring the vital signs of the facility, preventative maintenance (PM) is the building's wellness program. "PMs are something we take seriously, and we most definitely have a schedule," Poveromo says.
His best practice is to use a computerized maintenance management system (CMMS; CMMS Data Group) to schedule PMs, issue work orders, maintain a record of the work that has been performed, and manage inspections. "Every piece of equipment in the facility has been bar coded and all of our technicians carry iPads," Poveromo says. "They get their work orders on the iPads, and they scan a bar code on a piece of equipment to initiate the work that needs to be done."
The CMMS is also used to keep track of which technician checked out a tool and to manage the inventory levels of the parts and consumables on hand. When an item reaches its minimum/maximum level in stock, the CMMS alerts a parts manager to place a re-order. Inventory management has been further streamlined by standardizing on equipment types, such as using one model of sortation or a specific brand of conveyor in the pick modules. "We think a key to today's maintenance is having a great relationship with your local parts and supply vendors," Poveromo says. "We leverage our spend so that they keep specific parts on hand for us or can get a fast response from a manufacturer when we need a part couriered."
Last, but not least, the CMMS is also used to maintain a record of the work done by vendors—when a vendor comes into the facility to work on the HVAC or lift trucks, a work order is created in the CMMS. It's especially useful for work that isn't performed often.
4. Decentralized monitoring
Equipping technicians with tools like iPads has also allowed AEO to decentralize the old control room. A SCADA system (Schneider Electric) monitors all the conveyor systems and displays color-coded operational information on the human machine interface (HMI) on the technicians' iPads or even their home computers. Departments, such as the picking and packing operations, have their own HMI that allows them to take personal ownership of their areas. When something appears to have gone awry on the HMI, a technician can get a live video feed from cameras installed at key pinch points to see what's going on.
"The HMI is one of the best decisions we made," Poveromo says. "It allows operations to manage simple calls, like a jammed line, and rely on maintenance for more complex repairs."
5. Building and retaining a team
Skilled technicians are in high demand and job hopping is par for the course today. For that reason, Poveromo says he looks beyond the skill set on a technician's resume to whether they are looking for a home, enjoys maintenance, and wants to take ownership of the facility. The latter is of key importance.
"My group leads, not necessarily the supervisors, run the show, and the technicians all have input into what needs to be done," Poveromo says. "If you treat your technicians as if they have ownership, it becomes a very family-like operation."
He reinforces that sense of ownership with "a lot of lunches for the team" as well as team recognitions, such as a "High Five" for individuals nominated for doing little things well and a "Soaring Eagle" award for ideas that have been adopted in the facility. "Maybe the biggest thing we do is say thank you a lot," Poveromo adds.
Training is also emphasized. The Pennsylvania facility shares with another facility in Kansas an online training program with Flint Hills Technical College. Poveromo allows technicians two hours a week to access online modules covering everything from tools basics to PLC programming. He also implemented "lunch and learns" with local vendors and assigns technicians to work with electrical and HVAC vendors to learn more about their jobs.
The result, he says, is that as the team has matured together, maintenance is becoming a focal point of the operation, especially as the demands of e-commerce put a premium on uptime on a highly technical automation system. "The operations team recognizes that we don't just ride around in carts or sweep floors," Poveromo says. "We're facility professionals, and being treated like professionals is key to our success."

December 19, 2016
About the Author
Bob Trebilcock Bob Trebilcock, editorial director, has covered materials handling, technology, logistics and supply chain topics for nearly 30 years. In addition to Supply Chain Management Review, he is also Executive Editor of Modern Materials Handling. A graduate of Bowling Green State University, Trebilcock lives in Keene, NH. He can be reached at 603-357-0484.
Subscribe to Modern Materials Handling Magazine!
Subscribe today. It's FREE!
Find out what the world's most innovative companies are doing to improve productivity in their plants and distribution centers.
Start your FREE subscription today!
Latest Whitepaper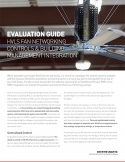 How to Invest Smartly in Industrial Fans
Read this white paper to learn the 7 defining factors to consider about your facility so you can maximize the benefits of your fan investment. HVLS High volume low speed fan white paper, Entrematic fans white paper. Benefits of HVLS fans in the warehouse.
Download Today!
From the April 2018 Modern Materials Handling Issue
Why smarts are central to Internet of Things in the warehouse
New warehouse gives winemaker a "Smooth Finish"
View More From this Issue
Latest Webcast
Industry 4.0: What you need to know today
This webinar takes a closer look at industry 4.0 and provides a roadmap for building and effectively utilizing Industry 4.0 capabilities.
Register Today!