Maintenance, Repair and Operations (MRO) at ES3
One of the grocery industry's largest distributors is on the path to continuous improvement and predictive maintenance.

The maintenance team at ES3 (from left to right): Celestino Gonzalez, senior director of engineering and maintenance; Marlin Cutshall, parts manager; Luis Fontes, senior director of engineering and maintenance; Travis Sanderson, ACP maintenance manager; and James Jones, director of operations, maintenance and engineering.
MRO in the News
Motion Industries to acquire automation and robotics company
Conveyors: A method to the maintenance
Have you checked your lift truck tires enough lately?
Guarding has your back - and more
MRO Technician Spotlight: Jordan Vander Woude
More MRO News
Warehouse Resource
Crossover Businesses: Blurring the Lines Between Manufacturers, Distributors, and Retailers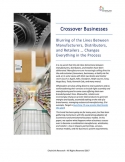 Download the report and uncover how to survive the new challenges businesses are facing and the technology required to keep pace.
All Resources
By
Bob Trebilcock
·
May 8, 2018
In a three-room cubicle off the main floor of ES3's 1.3-million-square-foot distribution center in York, Pa., Christopher Orr places a drop of a lubricant on an interferometer slide to perform Fourier-Transform Infrared (FTIR) analysis on the sample.
Orr's official title is automation reliability engineer, but you can think of him as ES3's CSI. Like a blood test to see what's going on in your body, the FTIR analysis reveals the chemical structure of the oil used to lubricate thousands of motors and automation in the facility—everything from automated storage and retrieval systems (AS/RS) and mini-load cranes to robotic palletizers. "It's the fingerprint of the oil," explains Travis Sanderson, a maintenance manager on the automated case handling side of the distribution center. "The FTIR is one of the tests that tells us if the oil needs to be cleaned or flushed, and helps us predict what might be going on in that equipment."
ES3's in-house Lubrication Lab, believed to be unique in the distribution industry, is just one of the MRO initiatives launched at a facility that provides third-party distribution of non-perishable grocery products to distribution centers and stores. The other two involve an apprenticeship program designed to develop maintenance talent from the ranks of ES3's 1,100 associates and an in-house parts production center where ES3 manufactures some of its own replacement parts.
They are components of ES3's Technology and Maintenance Excellence strategy, or TME. "TME is part of a continuous improvement philosophy that we implemented across the company a few years ago," says Luis Fontes, the senior director of engineering and maintenance. "When we have our weekly and monthly meetings, they're all around continuous improvement."
Moving toward TME
Built about 15 years ago, the York site receives full pallets of mostly non-perishable products from suppliers to its grocery customers. Those pallets are stored in an automated storage and retrieval system and then depalletized and sent to a mini-load system until they're retrieved to build mixed SKU pallets with case-handling robots. Direct-to-store pallets are built in another part of the building using manual selection processes. (See box at bottom of article for more detail on the facility.)
Continuous improvement was not always a guiding maintenance principle. "In the past, we rarely did preventative maintenance (PMs)," says Sanderson. "But with 6,000 assets and 20,000 motors just on the case handling side of the building, running to failure meant we couldn't predict when things might fail or what quantity of repair parts we should keep on hand."
There were four main catalysts to change. The first was the 2009 expansion of the AS/RS to its present 38 cranes and 400,000 pallet positions. "With that amount of technology in the building, you could no longer just throw more techs to keep it running," says Celestino Gonzalez, senior manager of facilities and automation. "We had to get smarter and more efficient."
The second was the 2015 continuous improvement initiative. One of the first steps in the maintenance department was the development of something that ES3 calls BDA, or Break Down Analysis. Essentially, the Break Down Analysis determines how a given piece of equipment should be maintained—a schedule for preventative maintenance versus running to failure, for instance—based on factors like the criticality of the equipment to the operations, the cost of downtime and the cost of a repair. Some pieces of equipment are too important to the operation to fail; others can still be run to failure because their impact is minimal.
Another outcome was the use of real-time equipment data that is analyzed by Maximo, ES3's computerized maintenance management system (CMMS), and turned into KPIs. "We get a score card for the site every three hours that includes certain key measures across the campus," says Fontes. For example, if crane uptime in the tower is 95%, "a manager can look at a fault log to determine which of the 38 is the worst performing crane," adds James Jones, the director of operations, maintenance and engineering. That data is further rolled up for review at weekly meetings to see if there are general faults that the team is fixing on a regular basis. "With that kind of data, we begin to get a big picture of the facility," says parts manager Marlin Cutshall.
A third was the combining of the operations and maintenance teams in the case handling portion of the building, with the full team reporting to Jones. Now, technicians not only maintain equipment, they also occasionally run it, say before a scheduled PM "to understand any issues the operators are dealing with," says Jones.
Last, ES3 launched three unique initiatives to take MRO to the next level. They include an internal technician apprenticeship program along with the Lubrication Lab and the in-house parts production program.
Focus on people
Go to almost any conference, and the No. 1 issue cited by operations and maintenance people is turnover. ES3 is no exception. "Turnover was one of the first things I noticed when I got here three years ago," says Fontes, adding that given the level of automation, ES3 needs technicians with mechanical, electrical and controls capabilities. One of the solutions was an internal apprenticeship program designed to develop technicians with the skills needed to maintain the York facility and provide a career path that could take an individual with potential from an operator to a skilled technician.
The program was built around a skills matrix. The matrix details the skills required by the three levels of technician across the facility, beginning with safety procedures like harness training to fault repairs and recovery to electrical, mechanical and controls repairs. In all, there are potentially 720 skills used in York, although no one area requires all 720. For instance, there are a potential 700 skills in the case handling side of the facility.
Applicants are interviewed for the program and then potentially offered an apprenticeship. "Typically, we bring on two to four apprentices at a time," says Sanderson. Once an apprentice demonstrates mastery of 80% of the skills required for a Level 1 technician, they are promoted and can begin working toward Level 2 status. "In our experience, it usually takes a year to move to Level 1," says Sanderson.
The program is contributing to a new culture. "In the last year and a half, I've had five technicians leave and then come back to us," says Sanderson. "We're building a team where they don't want to leave."
Making parts
Not far from the Lubrication Lab, senior lead Daniel Woodling manufactures replacement parts on a CNC machine that can hold 19 tools. Woodling has made parts ranging from a wiper brush that smooths out the stretch wrap on a load of pallets to a drive shaft for the mini-load cranes to a new design for the finger holder on the robotic palletizer. "Dan has the capabilities to make any part that can be made from a billet of aluminum," says parts manager Marlin Cutshall.
ES3 began investigating making parts in-house as a practical response to the cost and lead time of replacement parts for the European-built equipment. Rather than stock expensive, critical replacement parts, the team identified parts that could be better made in-house. One example is a tray that delivers pallets to the depalletizer: Woodling's design uses U.S. measurements rather than metric, allowing for off-the-shelf components, and a stronger aluminum that allowed him to reduce the weight of the part by 30% over the original. The savings: The in-house part costs 20% of the original.
Having a CNC machine on the premises also allows Woodling to quickly re-engineer a prototype of a new part if the first iteration isn't quite right. "We've had prototypes that Dan changed three or four times in a few weeks or a month," says Jones. "That process might have taken 6 months working with an outside vendor."
Predictive maintenance
In today's world, predictive maintenance typically involves sensors that monitor the temperature and vibration levels of motors, gearboxes and bearings and the analysis of programmable logic controller (PLC) data related to fault times and equipment run and cycle times. ES3 is doing those as part of its Break Down Analysis. With the Lubrication Lab, however, it is monitoring the conditions that might lead to a piece of equipment beginning to overheat from wear.

ES3 is manufacturing a wide array of parts in-house.
---
"One of the fundamentals of a predictive strategy is lubrication," says Sanderson. "All of the other strategies are dependent on lubricating equipment and changing oils and fluids as you should." Between them, Sanderson and Orr carry seven different lubrication certifications and Sanderson is one of only 1,266 worldwide to have earned a Certified Lubrication Specialist (CLS) certification.
To get the lubrication strategy rolling, ES3 consolidated the number of lubricants on site from 54 to 22. That led to better pricing and more control over what the technicians were using.
Next, Sanderson and Orr created a lubrication map for each piece of equipment in the facility. An AS/RS crane, for instance, has 27 different lubrication points that need to be addressed when servicing the equipment. The map includes an icon system—a triangle designates oil, a circle stands for grease, while a square denotes an aerosol. The color of the icon determines the brand or type of lubricant. The map also details the frequency and quantity to be used for each lubrication point.
Within the lab, Orr uses two tests to monitor the quality of the lubricants in use. One is the FTIR infrared test, which tests the chemical structure and integrity of the oil. The other, a Laser Net Fines test, looks at the number and shape of particles in the oil down to the micron level. Based on the distribution, size and shape of particles, Orr can predict what type of wear might be going on in a piece of equipment.
The combination of the two determines next steps. "If the oil is chemically sound but dirty, we can run a bypass operation and cleanse it, like a dialysis machine," says Sanderson. "If we find that it's dirty and also chemically degraded, we flush it and replace the fluid." The tests can also be used to determine if a gearbox, motor or bearing might be getting ready to fail. With that information, the maintenance team can plan for a changeout before it fails.
Today, every 55 gallons of new oil that comes into the facility is cleansed and stored in plastic totes to make sure that it's as clean as possible before it goes out onto the floor.
The whole point of continuous improvement, of course, is to continually look for ways to improve. ES3's maintenance team continues to investigate new technologies, such as a Google Glass-type solution for technicians as well as ways to leverage the Lubrication Lab by providing testing services for other ES3 facilities.
"The big picture is that we are focused on becoming a world-class maintenance organization that can deliver uptime performance while keeping costs down," says Fontes.
Adds Jones, "A lot of companies think of maintenance as a cost center. Here, it's an enabler of growth and performance, which is how we deliver value back to the organization."
---
ES3 at a glance
LOCATION: York, Pa.
SQUARE FOOTAGE: 1.3 million square feet, equivalent to 5 million square feet with towers
PRODUCTS: Non-perishable food products
THROUGHPUT: 5 million cases per week
AS/RS: 110 feet tall with 38 cranes and 400,000 pallet positions
MINI-LOAD: 90,000 tray positions; each tray can hold 10 to 14 cases
STAFF: 1,100 including a maintenance staff of between 95 and 100 technicians.

May 8, 2018
About the Author
Bob Trebilcock Bob Trebilcock, editorial director, has covered materials handling, technology, logistics and supply chain topics for nearly 30 years. In addition to Supply Chain Management Review, he is also Executive Editor of Modern Materials Handling. A graduate of Bowling Green State University, Trebilcock lives in Keene, NH. He can be reached at 603-357-0484.
Subscribe to Modern Materials Handling Magazine!
Subscribe today. It's FREE!
Find out what the world's most innovative companies are doing to improve productivity in their plants and distribution centers.
Start your FREE subscription today!
Latest Whitepaper
Insider Q&A: The Robotics Revolution is here. Is your company ready for it?
Download this free Insider Q&A with Matt Wicks, VP, Product Developent, Honeywell Intelligrated for his unique perspective on robotics in the modern-day warehouse.
Download Today!
From the February 2019 Modern Materials Handling Issue
Modern's System Report: Robots at GEODIS
ProMat 2019 to showcase record number of exhibitors, 45,000+ attendees
View More From this Issue