Manufacturing execution systems (MES) meet the warehouse
Manufacturing execution systems are all about production management. Now with e-commerce driving more fulfillment straight from factories, leaner order cycles and more manufacturing taking place in warehouses, a couple of key MES trends are at play. Find out how these trends are bringing the MES and WMS worlds closer together.

Warehouse in the News
ID Label celebrates 25 years
ProMach acquires Code Tech
Motion Industries to acquire automation and robotics company
Pelican BioThermal opens new network location in Jeddah, Saudi Arabia
AMT U.S. Manufacturing Technology Order Report: December dip caps off strong 2018
More Warehouse News
Warehouse Resource
Crossover Businesses: Blurring the Lines Between Manufacturers, Distributors, and Retailers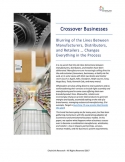 Download the report and uncover how to survive the new challenges businesses are facing and the technology required to keep pace.
All Resources
By
Roberto Michel
·
August 6, 2018
The worlds of production and warehouse management were at one time relatively distinct. Companies would run a factory floor with one type of software system and their warehouses with another. Some data might have needed to pass between the factory floor and warehouse, but the systems typically didn't have to be joined in near real time.
Now, that situation is changing. Warehouses are taking on more manufacturing responsibility and need warehouse management system (WMS) solutions that support that reality. And, e-commerce drop shipments and tighter, leaner order requirements in factories are driving a need to sync manufacturing execution system (MES) and warehouse management system (WMS) solutions so a gap doesn't hinder real-time knowledge over material flow and finished goods status.
This new world in which MES and WMS work in tighter concert promises benefits around inventory reduction and work in process (WIP) visibility, says Tom Coyne, president and chief operating officer at viastore, a provider of WMS and other intralogistics solutions. "We are working to optimize both the data flows and the material flows between the logistics side of an enterprise and its production side," Coyne says. "If you can supply the right amount of materials in real time to the point of production, you can drive big benefits in areas like inventory reduction while also providing better visibility to production people."
In addition to WMS vendors working to integrate their solutions with MES solutions, some WMS vendors are adding more manufacturing capabilities. While many distributors have always needed to create product kits, more are doing assembly or customization in a manufacturing area of a warehouse, says Mark Jensen, senior director of product management with Epicor Software, a vendor of enterprise resource planning (ERP) for distributors whose solution set includes WMS.
"A lot of the focus now with our distributor customers is on providing more value-added services, and that gets into being able to do more manufacturing," says Jensen. "They are receiving components and inventory from manufacturers, and then building that inventory into finished products. They may not have a massive manufacturing floor, and they may not need complex, best-of-breed MES functionality, but they need more than kitting."
Bringing the MES and WMS worlds closer together will involve a few types of vendors, including WMS and MES providers, as well as ERP vendors who have MES or extensive production management capabilities. Vendors of mobile robotics may also play a role by working with WMS and MES vendors so that materials transfer requirements get communicated automatically.
MES meets WMS
A couple of logical touch points exist between MES and WMS, given that MES is the system that governs production, and WMS controls warehouse inventory and warehouse material moves. One is getting components or other WIP materials out to factory work cells so production processes keep humming. The other is at the end of factory lines, where finished goods need to move to a warehouse or out for shipment.
While these touch points have always existed, trends like smaller e-commerce orders, drop shipping, and generally leaner inventories throughout many value chains have combined to make it more important for MES and WMS to work in close concert around issues like WIP inventory visibility and the precise level and location of finished goods. Rather than one system passing a set of data or requests to another in batch mode, increasingly the two worlds should be synchronized.

The merging of logistics and production generates a holistic increase in transparency and efficiency.
---
Further driving the need for integration is that many manufacturers aren't doing extended production runs where they produce thousands of the same product. Instead of moving big loads of materials to large WIP inventory locations, the trend is toward smaller, more frequent WIP replenishment.
"If you think about lean and concepts like a lot size of one, that means that some fairly complex materials handling tasks need to be done as efficiently as possible and with visibility into all the moves," says Coyne. "Now you have to be hyper efficient in how you get the right level of the right components to each point of production."
This type of real-time WMS to MES linkage isn't just theory, Coyne adds. Viastore has integrated its viadat WMS with a MES solution called HYDRA from MPDV. The integration provides for control and monitoring of material flow across warehouse and production, visualization of materials buffers, online equipment monitoring, and needs-based provision of logistics requirements for each order.
One of the first customers to use the viastore and MPDV integration is VACOM, a German manufacturer of vacuum components and systems used in industries such as semiconductors and electronics, says Coyne. VACOM is a long-term user of viastore's WMS, adds Coyne, and with integration to the MES, their goal is to improve production planning supported by real-time visibility into materials movements and levels.
Integration between WMS and MES can also help users dynamically manage fleets of autonomous mobile robots (AMRs) to constantly optimize routes, but initially, says Coyne, most companies interested in real-time integration to MES are after agile production planning. "The lower hanging fruit is getting better visibility and using that knowledge to run production operations better," he says.
While in one sense, just-in-time (JIT) replenishment of materials to factory work centers calls for many smaller replenishment runs rather than huge loads, JIT replenishment can actually streamline materials handling efforts because the people in the warehouse aren't building huge kits of materials to move to work centers, says Michael Ford, European marketing director for Aegis Software, a MES provider.
The problem of the older style of large WIP replenishment kits is that manufacturers tend to have greater product mix or variety today than in the past, so the kits had to be "massive" to support that mix, explains Ford. Some of these materials ended up not getting used and had to be reprocessed back at the warehouse, while in some cases, production people might borrow components from a nearby kit if the warehouse was closed for the night. "There has been a chronic over-supply of [WIP] materials into manufacturing and that causes all sorts of problems," says Ford.
The remedy, Ford explains, is an MES that can supply a dynamic "shopping list" of what needs to move into factory work centers on a JIT basis, with knowledge in the MES of how long it takes the materials to move to each location. Ford says Aegis's FactoryLogix MES can provide for this dynamic shopping list and govern the replenishment moves on its own, or if a user organization prefers, the MES can interface with a WMS or ERP system. "By delivering just in time, we completely eliminate the requirement to prepare these massive kits in advance such that the only materials on the shop floor are those actually in use on the machines and those required for by the machines for just a very short time ahead," says Ford.
This JIT movement of materials can cut WIP inventory space on the factory floor by up to 95%, Ford estimates. Since virtually nothing is coming back from the production floor unused—as is the case with large preplanned loads—and extra picking and reprocessing work is eliminated, on balance JIT WIP replenishment can actually streamline work in the warehouse, Ford contends.
But for JIT WIP replenishment to work, Ford adds, the systems involved need to be able to accept and work with a dynamic list of what each work cell needs and should also be able to communicate requirements to automation including autonomous mobile robots. To this end, Aegis has collaborated with Vecna Robotics on timely, automated communication of material movement requirements.
WMS's role
WMS solutions have long had capabilities like kitting and bill of materials (BOM) features, but as more manufacturing happens in warehouses, greater manufacturing support is needed, says Epicor's Jensen.
In some of the sectors Epicor serves with its Prophet 21 ERP and WMS solution, distributors might have as much as 40% of their activity focused on manufacturing processes. For example, says Jensen, in the fluid power industry, some distributors are producing fluid power assemblies for Tier 1 automotive clients. Users like these find they need more in-depth WIP tracking and costing functionality. They also need to plan the labor and machine center capacity requirements for upcoming orders. "For them, functionality in these areas helps them know how they are doing in meeting these goals around delivery commitments, costs and margins," says Jensen.
A WMS should be able to handle more than basic kitting, agrees Matt Butler, director of industry strategy with JDA, a WMS provider. "The lines between organizations are blurring," Butler says. "Many discrete product manufacturers are working toward postponement of product configuration within distribution or doing more value-added services or drop shipping."
As a result, says Butler, WMS needs various capabilities including BOM, lot tracking, and work instructions to properly "transform" a product item or various items and documents into a unique configuration. For example, Alcon Laboratories uses JDA's WMS to configure and build international shipments that need special documentation and the right mix and quantity of goods depending on the market they are headed to.
Another customer—the electronics distributor Avnet—uses JDA's WMS to ensure the firmware programming steps specific to a customer order are made in the warehouse. Thus, with WMS, adds Butler, "an organization can be transforming a product or set of items and receiving into inventory for shipment of a different product altogether."
As for replenishment of materials into a manufacturing line, JDA's WMS is often used to do that, says Butler. Some users in sectors such as automotive build many variations of a base product on a line and also want the WIP replenishment loads to be sequenced so the items being brought to a location match up with what needs to be built next. For this, JDA offers a tool called Build to Order that determines the makeup of the sequences for replenishment and passes that data to the WMS for execution.
Jackson Bilbrey, a vice president of product management with WMS provider HighJump Software, agrees WMS's main touch points to MES are in support of WIP materials replenishment into manufacturing, and finished goods materials coming out of manufacturing. While these touch points are well established, for HighJump, a recent focus has been integrating warehouse control system (WCS) capability with its WMS. The WCS capabilities come from sister company Inconso, which is part of Körber, the company that acquired HighJump last year. WCS software controls automated materials handling equipment, collects real-time data from automation processes and governs material flow.
The advantage of using a WMS that has integrated WCS functionality is that WCS's real-time knowledge and control over automation could help material movements into and out of manufacturing work centers. A WMS with WCS capability built in could provide better visibility over material flow that needs to bridge the manufacturing and warehouse areas of a facility. For example, WCS could monitor WIP inventory that needs to be sent by conveyor to a transport area, or on the finished goods side, it could track goods coming from manufacturing and into automated pack/ship stations, says Bilbrey. If bottlenecks start to develop with the automation, a WCS-capable WMS makes these potential disruptions easier to spot, adapt to, and avoid.
"There definitely is a different level of a visibility you can achieve with a WCS versus a WMS," says Bilbrey. "And, [WCS-capable WMS] not only helps with visibility, it helps with actual execution in that in gives you far more flexibility."
Future directions
Most vendors agree that AMRs and smart vehicles with natural navigation will make it easier for companies to automate the movement of materials into and out of factory floors. This puts the onus on WMS and MES providers to have the logic in the system to look at material movements at a granular level, send instructions to the robotics, and know enough about expected travel times to orchestrate the movements.
Cutting inventory for the factory with analytics
One of the balancing acts in achieving lean manufacturing is having the right inventory levels. But the trick is to pinpoint ways to reduce without having customer delivery commitments suffer, says Richard Lebovitz, president and CEO of LeanDNA, a new vendor whose Cloud-based analytics provide insights on inventory reduction.
"There is always some tension with inventory strategy and policies," Lebovitz says. "If you want to improve delivery, you generally will carry more inventory, but that can be wasteful. On the other hand, if you cut inventory without knowing how it's being used, you create shortages. But if you have good analytics on how it's being used, you can use less inventory and achieve better performance."
LeanDNA is a relatively new company focused on analytics about inventory, rather than traditional materials requirements planning (MRP) or factory planning tools offered by vendors for decades. It's also not a lean manufacturing system focused on factory execution. Instead, it offers reports to identify and drive inventory reduction opportunities within a factory. The vendor's tools perform analysis and sizing parameters on concerns including lot sizes, min/max levels, fixed order quantity, economic order quantity, and minimum order quantity, while also providing reports that highlight problem areas such as components with excess inventory.
Users of LeanDNA's software include Safran-Zodiac Aerospace, which used the analytics to improve on-time customer delivery performance metrics for their entire cabinet interior solutions division of more than 100 buyers and 500 suppliers. Their vice president of supply chain credits the purpose-built analytics structure with allowing the organization to easily identify inventory action opportunities at individual sites while quickly determining best practices that could be implemented across the entire division, resulting in every site achieving on-time delivery metrics in the 90th percentile.
Lebovitz, whose previous experience includes heading a lean manufacturing software company that was sold to SAP, says inventory analytics complements the work done on improving manufacturing execution system (MES) capabilities in that users can lean out their procurement policies and lot sizes in a way that ensures the factory isn't ever starved for materials, while keeping inventory as lean as possible.
"Sometimes you'll have an issue with throughput or wasted labor time in the factory that can actually be traced back to the procurement side—to the needed materials not being available," says Lebovitz.
Another front is using artificial intelligence (AI) software including machine learning to spot trends involving manufacturing or warehouse activities that could be adjusted to gain efficiencies, says Mike Lackey, global vice president of solution management for SAP's manufacturing line of business. SAP's integrated applications—which span ERP, MES and WMS—already automatically adjust for events that may occur during execution, such as a non-conformance at the MES level that necessitates the need for more materials to be sent to the factory floor. Machine learning as part of SAP's "Leonardo" innovation layer, Lackey says, can comb through all sorts of data to look for ways to adjust operations.
Machine learning could detect, for example, that the last time an operation ran a production order on a particular set of machines under certain conditions, X amount of rework occurred, which resulted in 12 extra parts that needed to be picked and sent to the factory floor. The machine learning could predict these same events were very likely to reoccur, says Lackey, so that changes can be made, either in production or maintenance to avoid the rework, or by prepositioning the extra inventory for rapid replenishment.
Many other potential scenarios arise in which machine learning could benefit execution systems, says Lackey, which lead to "intelligent execution" solutions. "Machine learning will make systems smarter every day because you are collecting more data, and the more data machine learning has, the smarter it gets," he adds. "It's giving us that ability to go from reactive to predictive."
Companies mentioned in this article:

August 8, 2018
About the Author
Roberto Michel Roberto Michel, an editor at large for Modern Materials Handling (MMH), has covered manufacturing and supply chain management trends since 1996, mainly as a former staff editor and former contributor at Manufacturing Business Technology. He has been a contributor to MMH since 2004. He has worked on numerous show dailies, including at ProMat, the North American Material Handling Logistics show, and National Manufacturing Week. He can be reached at
[email protected]
Subscribe to Modern Materials Handling Magazine!
Subscribe today. It's FREE!
Find out what the world's most innovative companies are doing to improve productivity in their plants and distribution centers.
Start your FREE subscription today!
Latest Whitepaper
Insider Q&A: The Robotics Revolution is here. Is your company ready for it?
Download this free Insider Q&A with Matt Wicks, VP, Product Developent, Honeywell Intelligrated for his unique perspective on robotics in the modern-day warehouse.
Download Today!
From the February 2019 Modern Materials Handling Issue
Modern's System Report: Robots at GEODIS
ProMat 2019 to showcase record number of exhibitors, 45,000+ attendees
View More From this Issue