MES: Getting manufacturing intelligence
Manufacturers are managing by data rather than instinct. The next generation of MES systems is helping them get there.

Bob Trebilcock
·
June 1, 2012
Manufacturing is in transition. The shop floor was once managed and monitored by instinct and experience. The manufacturing execution systems (MES) that manage manufacturing processes were transactional. The MES made sure that each of the steps in the manufacturing process, or transactions, were completed according to the rules for that process and the plan for that manufacturing run of product. They were also historical; the data about a shift often wasn't reviewed until after a run was complete.
Today, gut instinct and experience are slowly giving way to fact-based decision making supported by the next generation of real-time manufacturing software tools. At the best manufacturers, these systems are being employed to drive action down on the shop floor as it's happening. They are also connecting the manufacturing plant back to the business at the corporate level.
The transition is enabled by data collected by machine-level control systems and data capture technologies and analyzed by the MES. Much of that data has always been there, locked away in control system databases. Today's MES and manufacturing-centric software systems have added the ability to unlock that data and turn it into metrics to measure and monitor what's happening on the shop floor in real time. If required, that data can be linked to the business strategies being developed in the executive suite.
The transition from instinct to metrics is highlighted in "Pursuit of Performance Excellence," a research report released by the Manufacturing Enterprise Solutions Association (MESA) International and Cambashi last February.
"MESA members have been increasingly clear that the old way of manufacturing is no longer adequate," says Julie Fraser, author, analyst and lead researcher of the report. "The question is: How do you create a metrics program that measures the right things that make a financial difference over time?"
After all, there are thousands of things that can be measured in a manufacturing operation. Figuring out which ones make a difference and then measuring those all the way down the line to the operators and maintenance personnel is the key. "The companies that did manage to improve their business outcomes focused on improving on certain metrics more than other folks we surveyed," Fraser says.
Changing times
A number of factors are driving this transition, according to Fraser and the software vendors that supported the study.
Global competition has raised the bar in terms of quality and customer service. Correcting a mistake can cost you money, a customer and your reputation.
Manufacturing is more complex than ever. Companies are releasing new products faster and in more configurations than ever before. In a global economy, country-specific regulations also impact the assembly line. "A product like the defibrillator used in airports, may get manufactured in a consumer and a medical version and each of those versions may be customers by language or country of delivery," says Susan Lamb, senior manager of customer programs for Camstar. "Each of those variations is a divert on the line. Those complexities cannot be handled on paper."
With outsourcing and the distribution of manufacturing responsibilities across multiple sites, suppliers and countries, the manufacturing network is more complex than ever.
Finally, there is more volatility. "Quite simply, the ground is shifting under the feet of most manufacturers," says Fraser. "There is a lot less certainty from one week to the next whether orders are going to come in the way you thought they would."
That's not to say that experience on the line doesn't count. But, experience can only take you so far in a more complex environment. "You want to combine your gut with data and then refine what it is you're measuring," says Fraser. "It's the ability to see the entire context of your business."
What's more, that data needs to be provided across the business, from the C-level to the shop floor. While many world-class manufacturers are moving in this direction, Fraser says only a small percentage are there now. Among the respondents to the MESA survey, a little more than 30% of the best manufacturers have fully automated data collection processes for metrics related to manufacturing efficiency. Just less than 20% of the best manufacturers were automatically capturing quality data. Among the remaining respondents, an estimated 15% were automatically capturing efficiency data and 10% were capturing quality data.
Meanwhile, although they were capturing the data, only 25% of the best manufacturers were sharing it with line level operators and technicians while only 12% of the rest were sharing that data with their operations staff.
Manufacturing intelligence
This transition is reflected in the challenges manufacturers are presenting to manufacturing software providers. "Manufacturers are getting a lot of high-level data," says Mike Gay, CPG industry manager for Rockwell Automation. "They're not able to use it at a more granular level."
A french fry maker, for instance, knows that it should cost $1.00 to make a unit of product and that the cost of production is running $1.10 at one particular plant. With current systems, that manufacturer can identify all of the raw materials going into a batch of product and quantify what it produced. What it can't tell is what happened at the line that cost the extra 10 cents. "The plant may know that they're getting a 40% yield from each load of potatoes that gets turned into fries," Gay says, "but it doesn't know what's happening to the other 60% of the batch."
Similarly, the plant doesn't know whether something in the washing and prep area affected what happened down the line, whether yield was lost when the finished product was packaged, or whether a quality problem caused the plant to scrap some of the product. "Rework and scrap are two of the biggest wastes in manufacturing," says Lamb. "If you have real-time visibility and you enforce quality into your processes with an MES, you reduce those wastes and increase your yields."
In theory, MES have always been able to capture granular data. What they haven't done is turn it into manufacturing intelligence. Nor have they integrated that manufacturing intelligence data into the broader business systems at the enterprise level. "To really improve your processes, you not only want to increase efficiencies in manufacturing, you want to view it in the context of the entire supply chain," says Ganesh Hegde, senior director of manufacturing solutions marketing for SAP.
For example, a manufacturer may be able to identify that one plant is continually underperforming other similar plants in the network when it comes to uptime, production rates or quality.
Manufacturing intelligence allows the manufacturer to identify the problems affecting that plant. It also allows it to apply whatever was learned from this analysis to the next revision of the product or the next line. "You can loop manufacturing intelligence back into the design process so that the next generation of your product is improved," says Lamb.
But a problem may be a result of a larger issue in the network. "You may have good manufacturing processes, but you are manufacturing the wrong mix of products at a location based on where the customers are for those products," says Hegde. Similarly, a plant may be operating efficiently but quality is suffering because of an issue with a downstream process. "It's not just taking intelligence from one particular plant, but integrating and analyzing that information in a more real-time fashion in a broader supply chain context," says Hedge.
Next generation tools
Manufacturing software providers, including MES, are developing new tools to address the transition to fact-based decision making in a variety of ways.
One is more dashboards that can deliver role-based operational metrics across an enterprise. Role-based means that the information being generated is pertinent to an individual based on their job. A C-level executive responsible for multiple plants may want information on finished goods being produced at each plant. Meanwhile, a supervisor or operator on the line may need throughput, rework or yield rates so they can make real-time adjustments to machines and equipment when performance metrics are out of line.
A second is the creation of new tools that extend the capabilities of conventional controls, MES and ERP. One example is a cloud-based, unified manufacturing software platform that sits atop other systems. The platform collects information being generated by the underlying infrastructure of PLCs, devices and distributed controls systems that are running manufacturing equipment and systems. It also accesses information generated by disparate software systems within an enterprise. The solution then isolates the relevant information from those various systems to make critical business decisions at a role-based level. "The platform has the ability to connect to virtually any data source that a company has and pull data in sub-second times if required," explains David Gustovich, president of iQity Solutions.
A yeast manufacturer, for example, sends blocks of yeast across an inline scale at a rate of 32 blocks a minute, or nearly 2,000 blocks per hour. In a conventional plant, a quality inspector takes 10 blocks every 15 minutes to verify the weight on another scale and manually chart the weights on a control chart to make sure they are in compliance. If those blocks are out of compliance, the inspector may alert the line. Meanwhile, nearly 500 went across the line in that 15 minute period that may have to be reworked. "Instead, we connect to the inline scale and read every block in real time and apply rules to those data points to determine whether the product is in compliance in real time," says Gustovich. "If they're out of compliance, the system can proactively alert someone at the line level all the way to the C suite if required to take action."
Meanwhile, manufacturing-centric ERP systems are developing tools to connect the shop floor to the enterprise with analytical tools that identify issues related to overall equipment effectiveness. "We're providing tools that monitor and measure whether machines are available when they should be, whether the line is making the quality of product that it's supposed to make and whether the line is running as fast as it should run," says Andy Amalfitano, vice president and general manager for Solarsoft. "The goal is to identify the top three losses in any organization, fix those and then make sure they stay fixed." (See the sidebar to see how one manufacturer put these tools into action.)
As MES and other manufacturing software tools like these proliferate on the shop floor, Julie Fraser sees big improvements for early adopters. "The most successful companies have combined lean manufacturing practices with manufacturing software systems that give them visibility into their operations and put those metrics in a context and continually measure an outcome," says Fraser. "Those are the manufacturers who were really able to improve their financials more than the rest of the pack."

June 11, 2012
About the Author
Bob Trebilcock Bob Trebilcock, editorial director, has covered materials handling, technology, logistics and supply chain topics for nearly 30 years. In addition to Supply Chain Management Review, he is also Executive Editor of Modern Materials Handling. A graduate of Bowling Green State University, Trebilcock lives in Keene, NH. He can be reached at 603-357-0484.
Subscribe to Modern Materials Handling Magazine!
Subscribe today. It's FREE!
Find out what the world's most innovative companies are doing to improve productivity in their plants and distribution centers.
Start your FREE subscription today!
Latest Whitepaper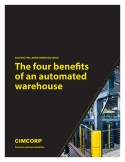 Solving the Labor Shortage Crisis: The Four Benefits of an Automated Warehouse
Not enough warehouse staff? Finding it difficult to keep up with orders during peak periods?
Download Today!
From the March 2018 Modern Materials Handling Issue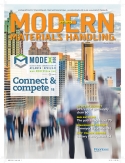 Conveyors & sortation: Carrying the e-commerce burden
2018 Productivity Achievement Awards
View More From this Issue
Latest Webcast

Emerging Technologies for Your Distribution Center
Come get an insider's view of the latest technologies for inside your Distribution Center. You'll learn which technologies are being piloted, which are having success and moving from concept to implementation and into production on the maturity scale, and what's coming on the horizon.
Register Today!