Modern's 2013 Casebook
The 2013 Casebook features 43 case studies that put the spotlight on successful innovation projects that have come to fruition over the past year.

Michael Levans, Group Editorial Director
·
October 1, 2012
After several years of slow economic progress, we're beginning to see two clear schools of thought emerging in terms of warehouse and distribution center investment. There are those companies that remain cautious, staying conventional with minimal plans for expansion; but there are also those that tell us that they're on the verge of making significant investments and are ready to revolutionize their distribution operations.
The results of our 2012 Warehouse and Distribution Center (DC) Operations Survey validate our reports that there indeed seems to be mixed signals in terms of spending within the nation's four walls. We were surprised to find that about half of the respondents said that they're adopting a more cautious approach heading into 2013, with plans to spend about $250,000 for warehousing equipment and technology. While this group may not be planning on opening new facilities, they do report that they're eager to upgrade racking as well as their lift truck fleet.
At the opposite end of the spectrum, we found that 17% of respondents spent $1 million or more on warehouse and DC equipment and technology this year, and another 16% say they plan to spend that same amount in 2013—an indication that a significant amount of readers will be doing more than just replacing some worn out equipment.
This is also and indication that some of these stronger companies have been diligent in shaving points off their operating costs over the past few years—and now all the low hanging fruit is gone. Due to this hard work and belt tightening, these leaders are starting to get more aggressive and are prepared to pull the trigger on more significant investments such as facility upgrades and automation.
It's for those savvy materials handling professionals that Modern Materials Handling proudly offers the 2013 Casebook, a reference guide designed to inspire innovation and investment. It's jam-packed with case studies as well as the most comprehensive directories available of materials handling equipment manufacturers and related information management technology vendors.
The 2013 Casebook features 43 case studies that put the spotlight on successful innovation projects that have come to fruition over the past year. Modern readers will learn how savvy operations are solving lift truck management issues by putting some of the latest narrow aisle reach trucks and AGVs to work; implementing new packaging solutions; putting new automation and conveyor systems to the task; and taking steps to implement or upgrade information management and software to improve visibility and streamline labor relations.
The editorial team at Modern is well aware of the challenging fiscal environment in which materials handling professionals have been operating over the past several years; however, we also understand the costs of not following through on overdue improvement projects that are designed to boost productivity in the long run.
It's our hope that the 2013 Casebook will inspire the innovation and investment that will keep your warehouse and distribution operation on the road to success for many years to come.

October 17, 2012
About the Author
Michael Levans, Group Editorial Director Michael Levans is Group Editorial Director of Peerless Media's Supply Chain Group of publications and websites including Logistics Management, Supply Chain Management Review, Modern Materials Handling, and Material Handling Product News. He's a 23-year publishing veteran who started out at the Pittsburgh Press as a business reporter and has spent the last 17 years in the business-to-business press. He's been covering the logistics and supply chain markets for the past seven years. You can reach him at
[email protected]
Subscribe to Modern Materials Handling Magazine!
Subscribe today. It's FREE!
Find out what the world's most innovative companies are doing to improve productivity in their plants and distribution centers.
Start your FREE subscription today!
Latest Whitepaper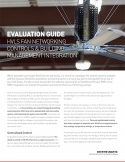 How to Invest Smartly in Industrial Fans
Read this white paper to learn the 7 defining factors to consider about your facility so you can maximize the benefits of your fan investment. HVLS High volume low speed fan white paper, Entrematic fans white paper. Benefits of HVLS fans in the warehouse.
Download Today!
From the April 2018 Modern Materials Handling Issue
Why smarts are central to Internet of Things in the warehouse
New warehouse gives winemaker a "Smooth Finish"
View More From this Issue
Latest Webcast
Industry 4.0: What you need to know today
This webinar takes a closer look at industry 4.0 and provides a roadmap for building and effectively utilizing Industry 4.0 capabilities.
Register Today!