Modex 2012: 300+ shuttles installed by TGW
TGW Systems (Booth 4307) has implemented several installations of its Stingray automated storage and retrieval shuttle solution since its introduction in 2011, said John Clark, director of marketing.

Sara Pearson Specter
·
February 6, 2012
TGW Systems (Booth 4307) has installed more than 300 of its Stingray automated storage and retrieval shuttles over several facilities since its introduction in 2011, said John Clark, director of marketing, in an interview. "It's a solution for ergonomic piece picking, where it brings the order to the picker in the right sequence and in the right order," said Clark.
Ideal for highly dynamic storage and buffer applications, the shuttle even works in applications with varying ceiling heights for maximum storage density. The system enhances picking processes, including each picking and small case box picking, by delivering highly accurate storage.
"Because of its flexibility, the shuttle can work in facilities with low and high walls. With more facilities becoming landlocked, particularly in the metro areas, the system helps companies get more storage out of the space that they currently have," Clark said. "And it increases density in areas where pickers don't have to travel into; instead the product comes out to them."
Additionally, as TGW expands globally to support its customers around the world, the company has opened three new offices in China, Switzerland and Brazil. "We recognize the importance of having a local office staffed by people who understand the unique needs of that particular region," he said.
Modex 2012 is scheduled to be held February 6-9, 2012 in Atlanta's Georgia World Congress Center. The tradeshow will showcase the latest manufacturing, distribution and supply chain solutions in the material handling and logistics industry. Modern's complete Modex 2012 coverage.

February 15, 2012
Latest Whitepaper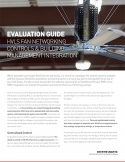 How to Invest Smartly in Industrial Fans
Read this white paper to learn the 7 defining factors to consider about your facility so you can maximize the benefits of your fan investment. HVLS High volume low speed fan white paper, Entrematic fans white paper. Benefits of HVLS fans in the warehouse.
Download Today!
From the April 2018 Modern Materials Handling Issue
Why smarts are central to Internet of Things in the warehouse
New warehouse gives winemaker a "Smooth Finish"
View More From this Issue
Latest Webcast
Industry 4.0: What you need to know today
This webinar takes a closer look at industry 4.0 and provides a roadmap for building and effectively utilizing Industry 4.0 capabilities.
Register Today!