MRO Roundtable: The State of MRO in Automated Distribution Centers and Plants
What are some of the MRO challenges and best practices at leading organizations? To find out, we spoke to executives at three companies working with automation every day.

Technology in the News
Solving the Labor Shortage Crisis: The Four Benefits of an Automated Warehouse
Other Voices: Optimizing WES with integrated order consolidation
NextGen Supply Chain at DHL
Big Picture: On the path to lights out
Other Voices: Seven surefire ways to fuel warehouse productivity
More Technology News
Technology Resource
Solving the Labor Shortage Crisis: The Four Benefits of an Automated Warehouse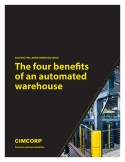 Not enough warehouse staff? Finding it difficult to keep up with orders during peak periods?
All Resources
By
Bob Trebilcock
·
November 29, 2017
With more automation comes more maintenance. To learn more about the state of MRO in automated distribution centers and plants, Materials Handling MRO brought together executives from three organizations last September at Dematic's Material Handling & Logistics Conference in Park City, Utah.
They were:
Here's what they had to say.
---
MHMRO: Let's start by looking at what encompasses MRO in your operation, and who do you report to? Mark, we can start with you.
Franke: At C&S Wholesale Grocers, MRO is part of our operations, and I report to the executive vice president of operations. We do virtually everything in house in our distribution centers. The exception, depending on the location, might be a service contract for the HVAC system. Otherwise, we believe in doing everything in house if we can.
Kooima: We're a very flat and small organization with just 165 people. Our MRO team reports to the plant manager who reports to me, the owner. We do a blend of in-house maintenance and some that we purchase. We like doing things in house because we're reliant on our system. If we have a problem, we want to bring our resources to the job. However, we do contract with Dematic and some other solution providers for planned maintenance and code work with our software. The mechanical work is easy for us, and the software presents the big questions.
Cole: I report to the executive vice president at Schwan's, and we do a mix of in-house and outsourced maintenance. For instance, we outsource the maintenance of our refrigeration system and we outsource our software support to Dematic, since they know the system better than us. We're now outsourcing our truck maintenance. But, all of our automation is handled in house.
---
MHMRO: Let's do a broad question. What's the biggest challenge you're facing within your MRO operations today?
Franke: My biggest worry looking out over the next 10 to 15 years is staffing. The number of technicians reaching retirement age is outpacing the number of technicians coming out of schools. We're trying to circumvent that with partnerships with schools and trade schools, but it's still a concern.
Kooima: I worry about the black swan events, like the long-term loss of electricity or a data breach, something that would disrupt the flow of our product to our customers for more than a day. We make daily deliveries to the assembly lines of the major agricultural equipment manufacturers. We have had a six-hour disruption and got back online, so I don't worry about that kind of outage.
Cole: My biggest issue right now revolves around the maintenance of our automated storage and retrieval system (AS/RS) cranes because of how we're structured. We have cranes in Salinas, Kan., and in Suwanee, Ga. In Georgia, we have a technician assigned to each crane. It's their job to keep that crane running, and they have a real sense of ownership. The primary job of the technicians in Kansas is to keep the production lines running and the customers happy. They're not dedicated to the cranes in the DC. They do a great job keeping the plant running, but the cranes are not their priority. So, that's what I worry about.
---
MHMRO: If you've all worked with a mix of conventional, automated and highly automated equipment, what advice would you have for another end user making that same journey?
Kooima: Since ours was a Greenfield facility, we had the luxury of designing just what we needed on a sheet of paper, and we installed automatic guided vehicles (AGVs) and an AS/RS. The key for making the system work was finding a champion within the plant who would take ownership.
Franke: My advice is to develop an inventory management strategy, because the amount of money invested in inventory goes up by about five times with automation. You start with the recommended parts list from your OEM, but what you find is that it's always lacking that $7 part that no one thinks is critical until the system goes down. We manage it with min/max levels in the computerized maintenance management system (CMMS), and the system controls the ordering quantities. Doing that requires discipline around the technicians using the CMMS. Something we started doing is manufacturing some of our own parts. A lot of our suppliers are German, and there can be long lead times on parts, so we installed a CNC machine. We're only in our first year of doing this.
Kooima: We're a machine shop, so we can make our own parts. It's electronics that we have to purchase.
Cole: Our facilities are 22 years old, so we have a lot of history. We know, for instance, that a shuttle table will last six months and that there are certain motors that have a longer lead time, so we stock those kinds of items. With others, we might just have one. Culture is also important. We're fortunate that we don't have a lot of turnover and right now, we have a fairly young technician team of workers that are in their 30s.
---
MHMRO: What do you do to bring technicians along or instill that culture?
Cole: When we bring in someone new, we have them work for two years with an experienced technician. You get someone right out of school, they have to learn your system. What I've found is that it starts with heart. If they're dedicated and willing to learn, you can train them.
Kooima: I agree with that, and I believe that maintenance guys need more support than they get from management. It's a tough job because every time they get a call, something is down and they need to get over there right away. We do things like give them passes to the waterparks and take their families out to eat. But we're a small company and can do those kinds of things.
Cole: I'm also a big believer in investments in preventative maintenance (PM). Someone asked me why I spend the money on PMs, since the system never breaks down. I said: It never breaks down because I spend the money on PMs.
---
MHMRO: Mark mentioned the labor shortage earlier, and the availability of labor is a theme at every conference I go to. What are you doing to mitigate the shortage?
Franke: The two issues that everyone is facing are retirement and turnover. Refrigeration technicians, for instance, are at a premium. Like other companies that are located in areas with other distribution centers, we've lost technicians because a new building goes up and they pay $2 an hour more to staff it. We try our best to counter that when we can, but sometimes, people just want to move on. We try to do some of the soft things, like what Phil mentioned, but we do it informally.
Cole: The low unemployment rate is a challenge. We manage it facility by facility. In Georgia, for instance, we have an employee of the month for both shifts. A lot of times, it goes to a mechanic because they keep us running. In Walton, Ky., there are a lot of distribution centers, which means there's a lot of competition and most of those other jobs don't involve working in a freezer. In that kind of situation, you have to compete on culture and making it a good place to work.
Kooima: I share the same frustration as Mark and Jeff. I only have four technicians, so if I lose one, I'm losing 25% of the team. That means we're always recruiting.
Cole: We try to have regular one-on-ones with the maintenance team to find out what they want to do. You might have a forklift operator whose been there for 25 years and that's what he wants to do. Other technicians might want to expand their knowledge. If they have ability, we'll put them through an apprentice program to see where they might fit. We call it succession planning. This year, we had one experienced employee leave and because of planning, we had someone standing by to take their place.
---
MHMRO: Have any of you worked with community colleges or technical high schools to get trained technicians?
Kooima: One of the local community colleges has started a technical program for the maintenance and operation of CNC machines. Fifty percent of their time is in the classroom and 50% is real-world experience. We're going to have two people from that program working in our plant, but we won't know the benefit for a few years.
Franke: We've had some success developing a relationship with a particular professor at one school, and he brings his class in to our operations. And, we sponsor a high school robotics program.
Cole: We've had some success with apprenticeship programs in Kansas and Minnesota. When they graduate, they know they have a home in our operation. Now, we sometimes lose them after they get experience.
---
MHMRO: Going forward, what is the biggest change you're anticipating in your MRO activities?
Franke: I think the future of maintenance is more predictive technologies. The hardware, the Internet of Things (IoT) and the ability to wirelessly monitor conditions is going to unlock things for us. It's in its infancy, but in the coming years, the price of IoT is going to come down and our industry is going to get serious about this. One thing we recently did was to create a lubrication lab, where we can remotely monitor the condition of the oil in our systems and create work orders based on that information.
Kooima: It's going to be remote diagnostics, remote monitoring and remote expertise. Our technicians will be able to draw on the experience of OEMs like Dematic. We'll be able to go to a device, show Dematic with video what's happening and take care of the problem. Training may be less of an issue.
Franke: With the technician shortage, third-party diagnostics and maintenance is going to become more prevalent.
Cole: I think we'll be able to leave the diagnostics to the OEMs. We'll send the information from the system to them, and they'll be able to diagnose it and tell us to replace the programmable logic controller (PLC), as an example.
Kooima: We're already doing some of that. For instance, our lasers are made by Mitsubishi. They monitor them and tell us what we need to look at.
---
MHMRO: Thanks everyone for participating.

November 30, 2017
About the Author
Bob Trebilcock Bob Trebilcock, editorial director, has covered materials handling, technology, logistics and supply chain topics for nearly 30 years. In addition to Supply Chain Management Review, he is also Executive Editor of Modern Materials Handling. A graduate of Bowling Green State University, Trebilcock lives in Keene, NH. He can be reached at 603-357-0484.
Subscribe to Modern Materials Handling Magazine!
Subscribe today. It's FREE!
Find out what the world's most innovative companies are doing to improve productivity in their plants and distribution centers.
Start your FREE subscription today!
Latest Whitepaper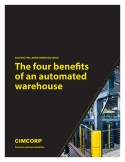 Solving the Labor Shortage Crisis: The Four Benefits of an Automated Warehouse
Not enough warehouse staff? Finding it difficult to keep up with orders during peak periods?
Download Today!
From the March 2018 Modern Materials Handling Issue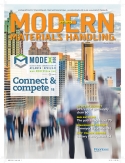 Conveyors & sortation: Carrying the e-commerce burden
2018 Productivity Achievement Awards
View More From this Issue
Latest Webcast

Emerging Technologies for Your Distribution Center
Come get an insider's view of the latest technologies for inside your Distribution Center. You'll learn which technologies are being piloted, which are having success and moving from concept to implementation and into production on the maturity scale, and what's coming on the horizon.
Register Today!