MRO Spare Parts: When spares equal uptime
Automated warehouses increasingly run the risk of derailing hundreds of orders if mechanization goes down at the wrong time. MRO provisioning best practices protect against extended downtime by assessing which spares are most critical and keeping spares up-to-date, organized and accessible.

Warehouse in the News
Other Voices: Optimizing WES with integrated order consolidation
5 food and beverage technology trends
Other Voices: Seven surefire ways to fuel warehouse productivity
Stretch wrapper eliminates product damage in transit for metal fabricator
New conveyors improve food maker's process in less space
More Warehouse News
Warehouse Resource
Case Study: Nilfisk Uses Voice for Inspection
Learn how Nilfisk, a leading provider of commercial cleaning solutions, chose to implement voice into their picking process to help improv
All Resources
By
Roberto Michel
·
March 1, 2016
Uptime is everything in an automated distribution center. Equipment maintenance might seem like a secondary issue in DCs focused on processing hundreds or even thousands of orders per day, but if a key piece of equipment goes down at the wrong time, the level of attention paid to issues like spare parts provisioning shifts from a support activity to an operational difference-maker.
"These provisioning processes are easily overlooked, but if they aren't done well, they can turn into serious problems when you don't have the right part," says Dave Trice, senior director of business development for logistics and supply chain at Intelligrated. "We've had customers tell us the cost of downtime in a DC can be anywhere from $50,000 to $250,000 an hour. The math on downtime can get real scary, really quick."
So how do you avoid downtime and all that goes with it—from unhappy customers to expedited freight charges? Solid maintenance practices are the answer, according to providers and integrators of automated materials handling systems, including best practices for provisioning of spares or other maintenance, repair and operations (MRO) materials.
That might sound simple enough, but there are layers of complexity involved, given that a "part" for a materials handling system today might be a software update or the upgrading of a programmable logic controller (PLC). In addition, many DCs have been around for decades and have gone through expansions and upgrades, and may lack online, computerized maintenance management systems (CMMS) that serve as a way to keep tabs on asset history and spares inventories.
Best practices for MRO spares provisioning can address these complexities. They include identifying the most critical spares, factoring in lead times for spare parts, and lowering inventory holding costs. The operator of a DC can turn to materials handling system manufacturers, integrators or independent firms that specialize in MRO support services for help. Success with spares also hinges on effective upkeep of asset data and inventory, perhaps even tapping help from partners for parts audits.
More DC operators are moving toward these best practices, suppliers say, driven by the order picking velocity of e-commerce and the business risk of unplanned downtime. "When we discuss recommended parts and critical spares with our customers, we consider whether that customer is going to view the lack of certain parts on hand as low-risk or high-risk," says Steve Brandt, vice president of business development and customer service for Dematic. "If it's a dot-com or other facility doing e-commerce fulfillment that has to get orders out by a certain cut-off time or pay expedited shipping costs, they are going to see the lack of certain critical spares as being a high-risk situation."
What's critical?
To assess which parts are critical to uptime, some industries have employed sophisticated analytics for failure mode effect analysis (FMEA) and reliability-centered maintenance (RCM). According to Chuck Wallace, vice president of engineering services for SDI, not every company needs to go that far.
"Even a list of five critical pieces of equipment or components from the people who maintain your operations can be a place to start," says Wallace. "You also have to assess availability and lead times involved in procuring parts."
The needed spares for an automated warehouse might span a range of small components or larger pieces of equipment, from belts or rollers for conveyors, motors and reducers and other drivetrain components to power supplies, PLCs, photo-eyes or other types of sensors. OEMs typically have studied failure rates for parts and use this knowledge as a starting point for recommendations. But, OEMs also consider other factors such as parts logistics.
Dematic, for example, has a support services department of about 650 people who help operators of DCs assess which critical parts they must have on site in the right quantity.
"We may adjust the initial recommendation based on their geographic location and supply network factors, and based on the similarity of equipment within their own DC network," says Brandt. "Companies do have a carrying cost for inventory that they need to be mindful of. Our goal is to reduce those inventory costs while still addressing their risk level and critical component concerns."
The most progressive operations are looking to tie maintenance concerns into facility and automation design to standardize key parts across facilities, according to Wallace. Standardization might allow for some parts to be held centrally rather than at each facility and that also simplifies technician training.
"Ideally, you want to design a new line or facility so it makes sense from the maintenance perspective, but you have to introduce maintenance information into the design stage of the lifecycle to accomplish that," says Wallace. "The smart operators are taking this lifecycle approach, and this is where much of the savings can come from in terms of being able to standardize."
Another factor in assessing criticality is to look at the material flow of a facility and consider the choke points. If a particular system would cause a bottleneck if it were to go down, the components in that system need to be highly reliable, spares should be on site, and preventative maintenance practices must support that system, according to Jim McLafferty, director of professional services for W&H Systems.
"In one client's system, nearly every product has to go through one area of the facility that has a shoe sorter," he says. "So we have to make sure that system is always supplied with plenty of spare parts on site. You have to look at the big picture risks. A few thousand dollars in additional spares is a cost, but it's like an insurance policy against extended downtime."
Software tackles the hard work
Once a DC operation identifies its most critical spares, they key is to effectively manage those spares and their use in ongoing maintenance processes. Increasingly, DCs are turning to CMMS—also known as enterprise asset management (EAM) software—to help manage spares.
A CMMS or EAM system acts as a management system for all things maintenance. It keeps a current record of asset data, manages spares inventory, tracks repair and maintenance work orders, and supports preventative maintenance schedules. Some EAM systems have full-fledged procurement modules used to buy MRO materials, though a CMMS may need to link the purchase request to a back-end enterprise system.
While largely manual warehouses typically haven't used CMMS, as warehouses have transformed into high-velocity facilities reliant on automation, the need for CMMS is on the rise. "We're seeing more and more people who want to track their assets through these systems," says McLafferty. "Even five years ago, you wouldn't have seen as much interest."
W&H uses a CMMS from a cloud-based vendor called eMaint to support its maintenance services, including "resident" maintenance services where it places its technicians at a client's DC. Currently, the use of the CMMS is mainly by W&H staff, though it is possible for a client to request a maintenance work order through the system.
Intelligrated offers a CMMS solution to its clients. Recently rebranded as IRIS, Intelligrated Reliability Intelligence System, Trice says an advantage of getting CMMS functionality from the materials handling system OEM is that CMMS comes preloaded with the correct data about the facility's equipment and spares, as well as the recommended preventative management information.
Mobile apps are helping some DCs simplify the spares ordering. Conveyor provider Hytrol offers a mobile app that end users, integration partners and support staff use to identify spare parts for a specific conveyor system and generate a parts wish list right from a smart phone or tablet while in the field.
The app's users can either scan a Hytrol conveyor or enter the serial number for the system, and the app will pull up the parts data for that conveyor, says Phillip Poston, Hytrol's director of communications. "They can see exactly what was on the order when it was shipped, and from that, they can use the app to build a wish list for parts," he says. "They can add quantities and e-mail the list to an integration partner or to Hytrol's customer service team."
The main advantage of the app is it allows users to build accurate parts wish lists in the DC environment without dragging around a laptop or taking paper based notes, and later calling an integration partner or re-keying information.
Organizing the nuts, bolts and bytes
Keeping better control over spares inventories often comes down to basic discipline in parts organization and storage. Trice says Intelligrated sometimes will visit a customer's DC to perform an inventory analysis and help them organize the layout of a storage room. "It mostly boils down to proper identification and labeling, and having an accurate put-away process," says Trice.
Dematic also performs parts audits for customers, says Brandt. He says some DCs are well organized with spares storage, and some even use automated systems such as vertical carousels to manage spare parts. However, he adds, the audits often find an excess of some parts, a shortage of others or obsolete parts. "An audit is a good, economical way to get control over your spares inventory and get rid of inventory that is no longer needed," says Brandt.
Because equipment is increasingly driven by controls and software, change management for software or firmware also requires close attention, says Brandt. While you don't "stock" a software update, it's important that those maintaining a DC are able track technology updates to support any troubleshooting that might need to take place.
Major systems suppliers or integrators are in some cases taking over the maintenance function for their clients on an outsourced basis. This may include spares provisioning, but is driven mainly by the desire of DCs to focus on order fulfillment rather than maintenance, which now requires a higher technology skill set. "With the levels of automation that have been pumped into DCs over the last few years, it can be daunting for some of these operations," says McLafferty.
The good news is that more DC operators recognize the risks inherent in not having the right spares for critical pieces of equipment, as well as not having good MRO practices in general. McLafferty says he sees the changing mindset reflected in some clients who say they know they've been "running risky" and need help with maintenance or spares assessment. "We see risk tolerance driving almost everything now.
Traditionally, many companies were not good about preventative maintenance; they pushed it off as long as they could," he says. "Now people are actually doing it because they are afraid something will fail."
Companies mentioned in this article
• Dematic
• Hytrol Conveyor
• Intelligrated
• SDI
• W&H Systems

October 6, 2016
About the Author
Roberto Michel Roberto Michel, an editor at large for Modern Materials Handling (MMH), has covered manufacturing and supply chain management trends since 1986, mainly as a former staff editor and former contributor at Manufacturing Business Technology. He has been a contributor to MMH since 2004. He has worked on numerous show dailies, including at ProMat, the North American Material Handling Logistics show, and National Manufacturing Week. He can be reached at
[email protected]
Subscribe to Modern Materials Handling Magazine!
Subscribe today. It's FREE!
Find out what the world's most innovative companies are doing to improve productivity in their plants and distribution centers.
Start your FREE subscription today!
Latest Whitepaper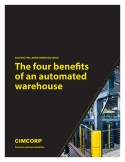 Solving the Labor Shortage Crisis: The Four Benefits of an Automated Warehouse
Not enough warehouse staff? Finding it difficult to keep up with orders during peak periods?
Download Today!
From the March 2018 Modern Materials Handling Issue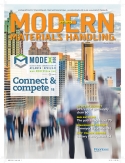 Conveyors & sortation: Carrying the e-commerce burden
2018 Productivity Achievement Awards
View More From this Issue
Latest Webcast

Emerging Technologies for Your Distribution Center
Come get an insider's view of the latest technologies for inside your Distribution Center. You'll learn which technologies are being piloted, which are having success and moving from concept to implementation and into production on the maturity scale, and what's coming on the horizon.
Register Today!