New bottle packer increases speed while reducing glass breakage for distilled spirits maker
Design of the machine allows the bottler to reduce costs by using thinner glass

MMH Staff
·
January 5, 2012
Saint Louis, Missouri-based distilled spirits manufacturer and bottler Luxco is enjoying the sweet sounds of silence since upgrading its packing line to technology that almost eliminates bottle breakage while increasing packer speed.
Luxco is a leading beverage alcohol supplier. The company receives bulk alcohol and then blends, packages and ships its own lines of bourbon, brandy, vodka, rum, and tequila, as well as a range of flavored cordials and liqueurs.
During the installation of a new bottling line, Luxco sought a packing system that would increase speed and offer better and more consistent control of bottles. It opted for a soft catch case packer (Standard-Knapp, http://www.standard-knapp.com). In addition to increasing speed, the packer significantly reduces bottle breakage. Other benefits include reduced changeover time and easier and more efficient preventative maintenance.
Need for speed spurs quest for new packer
The need for increased speed was the biggest motivator for replacing their older system, according to plant manager Chris Wieczorek. As the firm gradually upgraded its machinery to keep up with market demands, it started shopping around for a packer that would complement the new line, from the de-palletizer to the case packer. "Our old drop packer just didn't do the job properly," said Wieczorek. "The bottles had a tendency to drop through the head too hard, which created too high a level of breakage. This has negative effects on our operations, as we have to stop the line and clean up the breakage."
According to Wieczorek, the company chose the new packer system in part because it was already being used successfully by other distilled spirit manufacturers for handling bottles with minimal impact. The results definitely met their expectations. "The new packer offers better control of bottles and operates extremely consistently."
Getting under the hood of the case packer
Soft catch technology is specifically designed for high-speed packing of fragile containers. It reduces the shock energy to bottles by 80 percent over a conventional drop packer. Reducing shock energy enables the use of thinner gauge bottles as well as thinner glass.
It is also versatile with the ability to pack multiple products. The machine includes a laner at the upstream end which divides incoming product from a single file line into the appropriate number of lanes for the particular carton, for example a case might be 6 bottles, packed in a 2x3 configuration or 12 bottles, packaged in a 3x4 pattern.
A two-axis servo system allows the packer to actually catch the product while it descends into the case. The lift table moves the case to the up position and waits for a full grid. When the grid is full, the riding strips shift to the side and initiate the bottle descent. The lift table simultaneously moves the case downward on a velocity curve that ultimately achieves the same speed at the point of contact.
The technology increases speed while minimizing or preventing breakage altogether. Many manufacturers are moving towards using thinner and thinner glass as part of green initiatives aimed at reducing raw material use.
Luxco also found that changeovers of the packer, which used to average 20 to 30 minutes, now take only 8 to 10 minutes. Change parts are numbered and color coded, which makes changeovers easier. The time savings is appreciated for the company, which produces and packages hundreds of different products.
Luxco's maintenance manager, Rick Hallquist, found that another benefit of the new packer is that all the maintenance procedures are built into the HMI (human machine interface), making preventative maintenance a snap. "Displaying maintenance on the HMI makes this packer more efficient than most of the plant's other equipment, because it tells us when it needs to be maintained," says Hallquist.
Wieczorek summed it by saying, "the packer is consistent, simple to use and straightforward. We installed an entire new line and this was one of the best pieces of equipment we purchased."

February 15, 2012
Subscribe to Modern Materials Handling Magazine!
Subscribe today. It's FREE!
Find out what the world's most innovative companies are doing to improve productivity in their plants and distribution centers.
Start your FREE subscription today!
Latest Whitepaper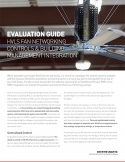 How to Invest Smartly in Industrial Fans
Read this white paper to learn the 7 defining factors to consider about your facility so you can maximize the benefits of your fan investment. HVLS High volume low speed fan white paper, Entrematic fans white paper. Benefits of HVLS fans in the warehouse.
Download Today!
From the April 2018 Modern Materials Handling Issue
Why smarts are central to Internet of Things in the warehouse
New warehouse gives winemaker a "Smooth Finish"
View More From this Issue
Latest Webcast
Industry 4.0: What you need to know today
This webinar takes a closer look at industry 4.0 and provides a roadmap for building and effectively utilizing Industry 4.0 capabilities.
Register Today!