The Magic of the Process
TGW's Steve Schwietert points out the importance of materials handling processes.

Steve Schwietert is a member of TGW Systems Integrated Sales Team
·
March 3, 2011
Editor's Note: This following by TGW's Steve Schwietert is the first guest column in Modern's new Other Voices series, which will feature ideas, opinions and insights from end users, analysts, systems integraters and OEMs. Click on the link to learn about submitting a column for consideration.
Which comes first: systems, people or process? We hear this question all of the time. It's the supply chain equivalent of the chicken or the egg.
In the supply chain, the answer always has to be process. That takes nothing away from the importance of people or systems. But without the foundation of a good process, consistent and repeatable results are impossible. That's where the magic happens.
That may be stating the obvious, but sometimes we all need to get back to our roots. Process is a part of everyday life; just about everything we do has some process behind it, whether we think about it or not. That's true in the supply chain, where process dictates how product will flow. Even as supply chain professionals, most of us take for granted that when we visit our local stores, whatever we want will be available and at a price we are willing to pay. Although supply chain technology makes this happen, at the root of this success is the process upon which it is built.
When we begin to break down the supply chain, there are actions we take in a series to get a desired result. That typically means getting the merchandise from manufacturing through distribution and onto its final destination where it can be purchased. In theory, that sounds simple. Unfortunately, too often the business takes over, with new rules, promotions and customer service offerings. Trying to meet all those demands sometimes results in poor processes that ultimately compound on one another and result in lost revenue.
When change happens, logistics professionals need to ask some basic questions.
1. By changing the process, how does it enhance the current process?
a. Does it increase productivity?
b. Does it allow for additional revenue? Sell more?
c. Does it support our customer service objectives?
2. By changing the process, how does it affect my downstream processes?
3. By changing the process, how does it affect my upstream processes?
The answers to those questions will begin to build the business case. First we need to understand the business rules that are required. Once those are determined, we outline the viable options to achieve the goals and we develop the processes for each. It is then that we apply the people, systems and tools necessary for each process to achieve the desired results. The process is the foundation on which success is built and with this foundation we can begin to apply the other components that make up the porcess.
Take people. The right people can make a good process better, but bad people can destroy a good process. Therefore when developing the process, people must be taken into account to ensure the process will be successful.
Systems are an extension of the process. If a system does not have the series of steps required for success then the system does not have a framework to exist.
Finally, we need the right tools – the software, technology equipment and machinery that will get the job done.
In the right setting, automation can be an enabler of a good process. That's because automation can improve production, increase capacity, lower overall costs and, hey, it's really cool stuff. But we can't just automate for the sake of automation. Like systems, automation must be thought of as a tool. For instance, a hammer is required to drive a nail efficiently but other tools can be used with vary degrees of success. The same is true of automation. Problems can be solved with many different processes and we need to look at the viable paths to determine how to achieve the results.
At the end of the day, our measuring stick for whether we've chosen the right tools for the process is the return on investment. Most process changes will have some financial impact. Done right, the financial improvement from a new way of doing business will outweigh the cost to implement a change. That's the magic of process.
Click on the link to learn more about submitting an Other Voices column to MMH.com.

March 4, 2011
About the Author
Bob Trebilcock Bob Trebilcock, editorial director, has covered materials handling, technology, logistics and supply chain topics for nearly 30 years. In addition to Supply Chain Management Review, he is also Executive Editor of Modern Materials Handling. A graduate of Bowling Green State University, Trebilcock lives in Keene, NH. He can be reached at 603-357-0484.
Subscribe to Modern Materials Handling Magazine!
Subscribe today. It's FREE!
Find out what the world's most innovative companies are doing to improve productivity in their plants and distribution centers.
Start your FREE subscription today!
Latest Whitepaper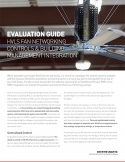 How to Invest Smartly in Industrial Fans
Read this white paper to learn the 7 defining factors to consider about your facility so you can maximize the benefits of your fan investment. HVLS High volume low speed fan white paper, Entrematic fans white paper. Benefits of HVLS fans in the warehouse.
Download Today!
From the April 2018 Modern Materials Handling Issue
Why smarts are central to Internet of Things in the warehouse
New warehouse gives winemaker a "Smooth Finish"
View More From this Issue
Latest Webcast
Industry 4.0: What you need to know today
This webinar takes a closer look at industry 4.0 and provides a roadmap for building and effectively utilizing Industry 4.0 capabilities.
Register Today!