Other Voices: Steps to becoming a preferred warehouse shipper
Open communication with your warehouse and its needs will build relationships and efficiency while bringing you closer to becoming a preferred shipper.

By
MMH Staff
·
August 28, 2018
Editor's Note: The following column by Ryan Prouty, director of sales, Freightquote, is part of Modern's Other Voices column. The series features ideas, opinions and insights from end-users, analysts, systems integrators and OEMs. Click here to learn about submitting a column for consideration.
———
It has become increasingly important in today's market for shippers to be viewed in a positive light. In a world of tight capacity, carriers are able to choose who they want to work with and at what price points, which is adding an additional layer of pressure for shippers.
When it comes to becoming a preferred warehouse shipper, there are different factors to take into consideration. Working with warehouses requires shippers to have their process down to a science due to the number of moving parts. With various outside factors affecting the outcome, it's always good to have a refresher on best practices. Here are a few pointers for becoming a preferred shipper when shipping into and out of warehouses.
What does it mean to be a preferred warehouse shipper?
What makes a shipper preferred primarily includes the movability of their freight, how well it's packaged, and how easy the shipper is to work with. Being a preferred shipper means fitting the entire profile, not just certain components. If a carrier sees that a shipper is flexible, organized and their freight isn't difficult to move, they're more likely to select them for business.
Take a look at your current warehouse process to determine if you are taking the right steps towards becoming a preferred shipper. First, starting with…
● The type of freight you move. Ask yourself how easy it can be moved and whether or not you're preparing packages well enough. Carriers are looking for dense and compact freight that can be easily moved on and off of a trailer with a forklift. If your freight doesn't fit these criteria, carriers may turn away your business or will quote you at a higher price point.
● The way you package your freight. Incorrectly packaging your freight creates more opportunities for damage, which could then lead you to a claims process. This makes the process more challenging for both the warehouse and the carrier, and you may form a subpar reputation.
● The amount of communication you have. Of course, this is all dependent on the type of relationship you have with the actual warehouse. If you are able to have open communication with your warehouse, you can then work harder on creating more flexible windows of time and having your freight ready to load when the trailer arrives.
Becoming a preferred shipper in today's climate
With the current capacity crunch, it is important to build and maintain a strong relationship with drivers. If a shipper takes up more time than they should at the warehouse, the driver is the one who has to deal with angry workers at other facilities for the rest of the day.
That being said, making the driver's life easier is now a part of becoming a preferred shipper. Being a truck driver is a really difficult job that comes with plenty of hurdles and added pressure along the way, and drivers are now seeking that personal feel in their day-to-day.
What drivers ultimately want is an easier, open relationship with shippers that ensures they aren't wasting their time. And with the current driver shortage, shippers cannot afford to lose them. Something as simple as grabbing your driver's cell phone number to keep consistent communication with them along their route or greeting them with a bottle of water when they come in for work goes a long way.
Taking the steps in the right direction
As you look to the future, think about making decisions based on what other factors are affecting the process. While carriers set out saying "I want low in cost," that typically turns into "I want more of a partnership." Understand what the carrier wants up front so you can make sure you're providing them with what they need.
Carriers will typically try to find profitable business when it is sitting with the broker. This should give you pause to evaluate the product you're shipping, your pickup and delivery process and your customer base. If you have a transportation management system (TMS), utilize the data output. Analyze the data you have to better understand your freight, origin of destination and what conversations you could have with your partners to make this process more efficient.
Final Thoughts
Once again, open communication is key. Creating a dialogue with your warehouse and your warehouse's needs will bring you closer to becoming a preferred shipper. The relationship you develop with your warehouse and drivers will matter in parts of the process you may have never considered before. And at the end of the day, focusing on how to make their lives easier will make your life a lot easier too.

August 28, 2018
Subscribe to Modern Materials Handling Magazine!
Subscribe today. It's FREE!
Find out what the world's most innovative companies are doing to improve productivity in their plants and distribution centers.
Start your FREE subscription today!
Latest Whitepaper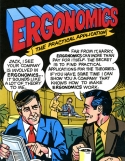 Southworth Brouchure Shows Practical Applications of Ergonomics
This little booklet done in comic book style uses simple illustrations to take readers on a walk through a hypothetical, yet typical, plant where the plant manager, safety director, and controller point out a variety of problems that were solved through the practical application of ergonomics.
Download Today!
From the December 2018 Modern Materials Handling Issue
Educational Development Corp. writes a new chapter in distribution
2018 Top 20 warehouses
View More From this Issue