Packaging Corner: New pallet on the block
A new composite pallet offers reusable, returnable benefits to new markets.

Warehouse in the News
ID Label celebrates 25 years
ProMach acquires Code Tech
Motion Industries to acquire automation and robotics company
Pelican BioThermal opens new network location in Jeddah, Saudi Arabia
AMT U.S. Manufacturing Technology Order Report: December dip caps off strong 2018
More Warehouse News
Warehouse Resource
Crossover Businesses: Blurring the Lines Between Manufacturers, Distributors, and Retailers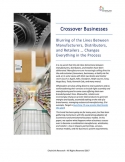 Download the report and uncover how to survive the new challenges businesses are facing and the technology required to keep pace.
All Resources
By
Sara Pearson Specter
·
April 1, 2016
While the benefits of reusable, returnable pallets have long been enjoyed in certain industries—consumer packaged goods (CPG), food and beverage, and automotive among them—for other industries, the switch from wood to another material (like plastic) hasn't been feasible.
That's because the strength-to-weight ratio of plastic pallets generally isn't high enough to accommodate ultra-heavy loads, while still being lightweight enough for manual handling and durable enough to withstand multiple return trips.
"We chose a composite material that is stronger than steel to form the BLOCKPal pallet," explains David Kalan, senior director of business development for RM2 USA. "It even feels like steel, but it's made of fiberglass and resin."
When compared to the 2,800-pound, edge-racking specification for a 48 x 40-inch GMA pallet, "the BLOCKPal's racking load measures at 6,500 pounds, static loads at 60,000 pounds, and dynamic loads at 9,800 pounds," Kalan adds.
That means the BLOCKPal gives industries handling heavy, dense materials—such as stone, masonry, metal, tooling and others—the chance to reduce their logistics costs, including cost per trip, damaged pallet waste, or product losses caused by weakened shipping platforms.
Additionally, thanks to the inherent strength of the material, BLOCKPal pallets can be formed in a lower height profile with larger lift truck openings than 9-block wood or plastic pallets. "That means we can get 640 of our empty pallets in a load versus 540 plastic or wood pallets," Kalan adds. "That's a 17% freight savings."
Non-porous and rackable, the material can be affordably pultruded into myriad standard pallet dimensions, as well as specific sizes unique to other industries, he says. Further, the material is naturally fire-resistant without additives, and withstands temperatures from -40°F to 176°F. Like plastic, the material can be recycled through a re-grind process at the end of a pallet's usable life.
Unlike plastic, however, the BLOCKPal's material has no aftermarket value. "It essentially returns to silica sand,
reducing the chance of mass theft," says Kalan.
To help users keep closer tabs on each pallet's whereabouts and fully maximize the benefits of a pallet pooling system, the company includes tracking with its ERICA asset management system, which also monitors other returnable assets and equipment, regardless of the supplier.

August 22, 2016
About the Author
Sara Pearson Specter Sara Pearson Specter has written articles and supplements for Modern Materials Handling and Material Handling Product News as an Editor at Large since 2001. Specter has worked in the fields of graphic design, advertising, marketing, and public relations for nearly 20 years, with a special emphasis on helping business-to-business industrial and manufacturing companies. She owns her own marketing communications firm,
Sara Specter, Marketing Mercenary LLC
. Clients include companies in a diverse range of fields, including materials handing equipment, systems and packaging, professional and financial services, regional economic development and higher education. Specter graduated from Centre College in Danville, Ky. with a bachelor's degree in French and history. She lives in Oregon's Willamette Valley where she and her husband are in the process of establishing a
vineyard and winery
.
Subscribe to Modern Materials Handling Magazine!
Subscribe today. It's FREE!
Find out what the world's most innovative companies are doing to improve productivity in their plants and distribution centers.
Start your FREE subscription today!
Latest Whitepaper
Insider Q&A: The Robotics Revolution is here. Is your company ready for it?
Download this free Insider Q&A with Matt Wicks, VP, Product Developent, Honeywell Intelligrated for his unique perspective on robotics in the modern-day warehouse.
Download Today!
From the February 2019 Modern Materials Handling Issue
Modern's System Report: Robots at GEODIS
ProMat 2019 to showcase record number of exhibitors, 45,000+ attendees
View More From this Issue